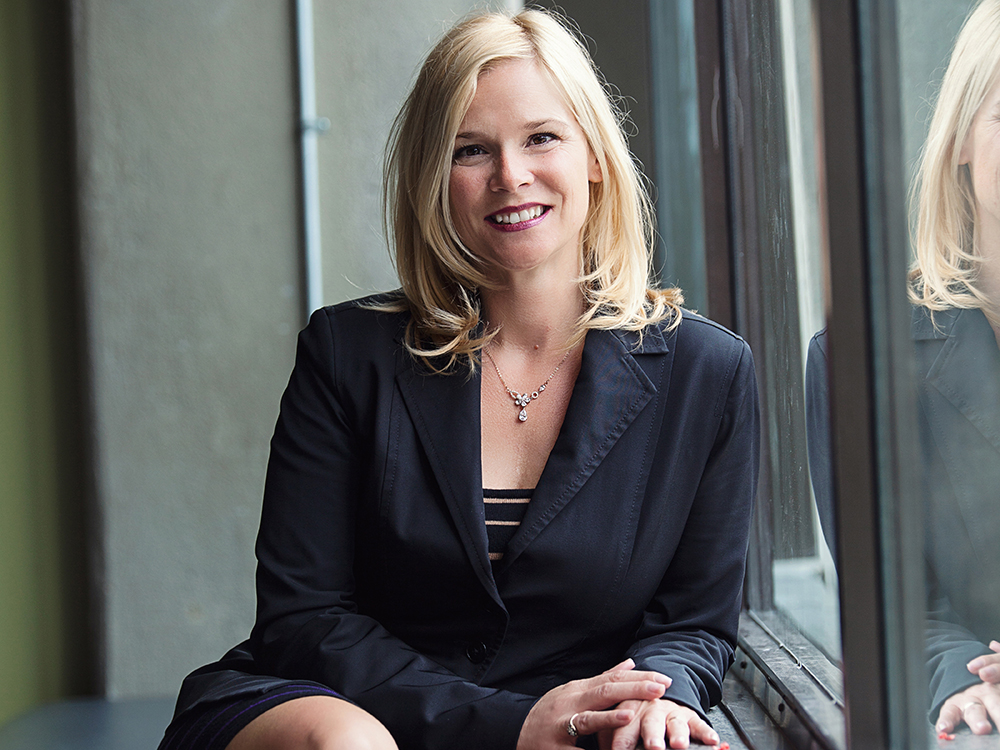 Télénet Communications: Networking the Saguenay spirit
Annick St-Pierre's Story
Annick St-Pierre knew that someday she would head her own company—after all, her long-time source of inspiration had been her mother, who was an entrepreneur for over 50 years. St-Pierre's dream became a reality in 2019, when she was named president and CEO of Télécom Communications.
St-Pierre had first cut her teeth working in customer service at her mother's hair salon. "For as long as I can remember, I've always said that I would work for myself one day," she emphasizes.
But she did follow a different path than her mother—into telecommunications—and her trajectory wasn't a direct one.
An unusual adventure
As part of UQAC's first graduating class in communications and adventure tourism, St-Pierre started off her career working outdoors. It wasn't a beginning that could have foreshadowed her next move: a switch to a career at Bell Canada as assistant to the regional director, another kind of "adventure" which became the focus of her interests for almost 20 years.
"I was fascinated by this technological sector where one day was never the same as any other, and where there was no time to rest on your laurels if you intended to stay ahead of the pack," explains St-Pierre, who occupied several roles at the company in departments ranging from communications to public relations, sales and management.
"In the meantime, I had started my MBA," she recalls. "At the time I was nearing my forties and I wanted to take control of my professional life more than I ever had before."
It was during this period of existential contemplation that she was approached by Luc Vandal, also a former Bell employee who had become president and CEO of Télénet Communications. At the time the company was preparing for mergers and acquisitions with several players in the telecommunications sector.
Proving yourself during a growth period
Upon her arrival in November of 2016, initially as vice-president, St-Pierre worked with management on the company's five-year growth plan.
This growth period was marked by the merging of five companies—D-Tech, Tell-Tech, Pagex Sécurité, Procom and Télénet Informatique—which are now all included within Télénet Communications. After the merger, the company could offer businesses a full range of services in security, telecommunications and IT with a sizable fibre optic network serving all the urban areas in Saguenay–Lac-Saint-Jean.
For two years, St-Pierre and the company's management team needed to ensure the proper functioning of the merged operations. "We expended huge effort harmonizing the work methods of each team and ensuring we had the right resources in place in sales," she explains. "It took quite a bit of elbow grease to successfully maintain unparalleled customer service during these changes."
Training, business development and communications, both internally and externally, were part of St-Pierre's day-to-day activities during this stage, which was also a period when she needed to prove her worth, having already been selected to take over the organization.
She became president and CEO on January 28, 2019.
 
Regional economic development as a recurring theme
Beyond her desire to become an entrepreneur, St-Pierre firmly supported the economic development of her region. "With the brain drain and loss of young people, I wanted to contribute to promoting the region," she emphasizes. "I was also the mother of a young boy and I really wanted to be able to offer interesting employment opportunities in the area."
The development should also take the form, in her view, of increasing the visibility of Saguenay–Lac-Saint-Jean residents' expertise throughout the rest of Quebec and Canada.
Télénet Communication's avenues of growth—its fibre optic network, customer contact centre and two data centres—also relied on the uniqueness of the company's offering, which was adapted to the needs of the region's residents. "The 1,200-kilometre fibre optic network experienced its strongest growth, particularly due to the need for broadband," she specifies.
She adds that her company is also the only one that maintains a customer contact centre in Saguenay, which is another advantage for businesses in the area. "Our data centres diversify our offering even more, given our high-quality services at prices that are attractive for SMEs in Saguenay–Lac-Saint-Jean," she states. "These kinds of centres are normally constructed outside of the region and are aimed at serving larger companies."
Having now arrived at year 3 of the five-year growth plan, Télénet Communications predicts that the next two years will include, on the one hand, a diversification of its services and an extension of its customer base, and on the other hand the realization of other mergers and acquisitions or partnerships.
"The telecommunications sector breathes a lot, kind of like your lungs: merge and acquire, then consolidate."
Annick St-Pierre
 
Télénet communications in numbers
1,200: Number of kilometres covered by the company's fibre optic network in Saguenay–Lac-Saint-Jean
60: Number of employees 
2: Number of data centres, one located in Saguenay and the other in Saint-Félicien
 
4,000: Number of customers  
WANT TO LEARN MORE?
Visit Télénet Communications's website