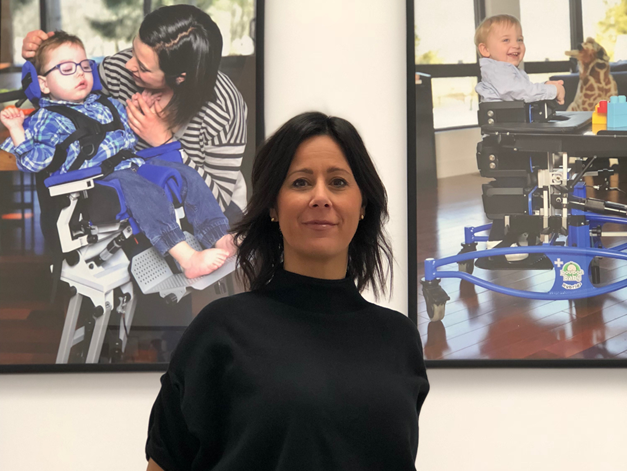 Synetik: Designed solutions
Caroline Saulnier's Story
A designer by training, Caroline Saulnier had always been interested in the development of products that could contribute to the physical and general well-being of people. It was this interest that led her to launch a company offering ergonomic equipment and solutions, a business that hasn't stopped growing since its inception.
Conception
Already as a student, Saulnier was interested in the creation of products in the medical field. Preoccupied with the question of how people's lives could be improved, she even worked for a year on developing an intensive care mattress for cardiovascular resuscitation as her end-of-year student project. Following her studies, Saulnier wanted to continue to pursue work in this niche area, but discovered that jobs in industrial design in the Joliette area were few and far between. So she started off her career working for a friend who had newly jumped into entrepreneurship. After just two months, her boss recognized that Saulnier herself also had an entrepreneurial streak and began introducing her to people who could help her start a business.
With the help of her supporters, Saulnier began looking for financing and participated in many entrepreneurship contests, which she won, thereby facilitating the financing of her company.
Execution
Synetik ErgoDesign saw the light of day in 2004. The company offered stools and other equipment for the aeronautics and transportation industries. Two years later, in response to a growing demand for ergonomic workspace solutions, the entrepreneur created a side business called Synetik ErgoSolution, which brought together a range of specialists (ergonomists, occupational therapists, etc.) to train workers and factory managers in good ergonomic practices. "The company, which was very successful, required a lot of educating," explains Saulnier, "because what might seem a necessary part of a workspace today wasn't obvious 13 years ago." This new business entity was quickly followed by a third, launched with the help of partnerships, which managed clinics for the physical and mental rehabilitation of workers in order to help them return to their jobs. That company was sold in 2015. 
Development
According to Saulnier, her biggest growth challenge of the past 15 years was her first acquisition, made in 2015. That year, the Synetik president became the new owner of Prodije, a family business specializing in positioning devices for wheelchairs and postural and mobility tools for children with mobility issues. Although integrating the new team into her existing one to create the Synetik ErgoCare division took a lot of time and effort, the results really paid off for the entrepreneur. "What we do in this division is a labour of love, because it's wonderful to take part in improving the quality of life of the people for whom these products are intended." 
Now the leader of almost sixty employees, Saulnier is developing her company to continue serving customers whose needs are specific, yet very wide-ranging. With her teams united under the same roof, skill sets can be put to use in any division, thereby enabling greater versatility, which is an asset given that some devices are manufactured on-demand for rehabilitation centres or private companies within tight deadlines. "For the last three years, we've had a big increase in sales—we double our revenue every year."
Innovation
The Joliette company's numerous products are distributed throughout Canada, the United States, France, Switzerland and Germany. The next year will be dedicated to continuing the development of markets in North America and Europe, but above all to creating new products.
"Our main avenues for growth are new regions and this involves a lot of product development, because it's through those new products that we find new partners. You really have to be on the cutting edge, which our dedicated research and development team is, and this is why we always reinvest part of our profits in innovation."
Caroline Saulnier
After so many years spent heading a company, Saulnier has become an active figure in the area of entrepreneurship. In addition to her longtime involvement in the Association des industriels de Lanaudière, for which she acted as president for two years, she is also a member of the Groupement des chefs d'entreprise. Today, she's happy to be able to rely on her team managers to deal with day-to-day management issues, which has allowed her to spend more time with team members and focusing on increasing sales, which she prefers. "As a manager, it's important to check in with employees working on the floor, because it's easy to lose momentum in an SME. And being close to my team is really great!"
Synetik in Numbers
Approx. 30: Number of products offered by the ErgoDesign division (ergonomic stools and furniture for industry)
Approx. 12: Number of positioning devices for mobility-reduced children offered by ErgoCare
Between 5,000 and 6,000: Number of wheelchair devices produced by ErgoCare
WANT TO LEARN MORE?
Visit Synetik's website