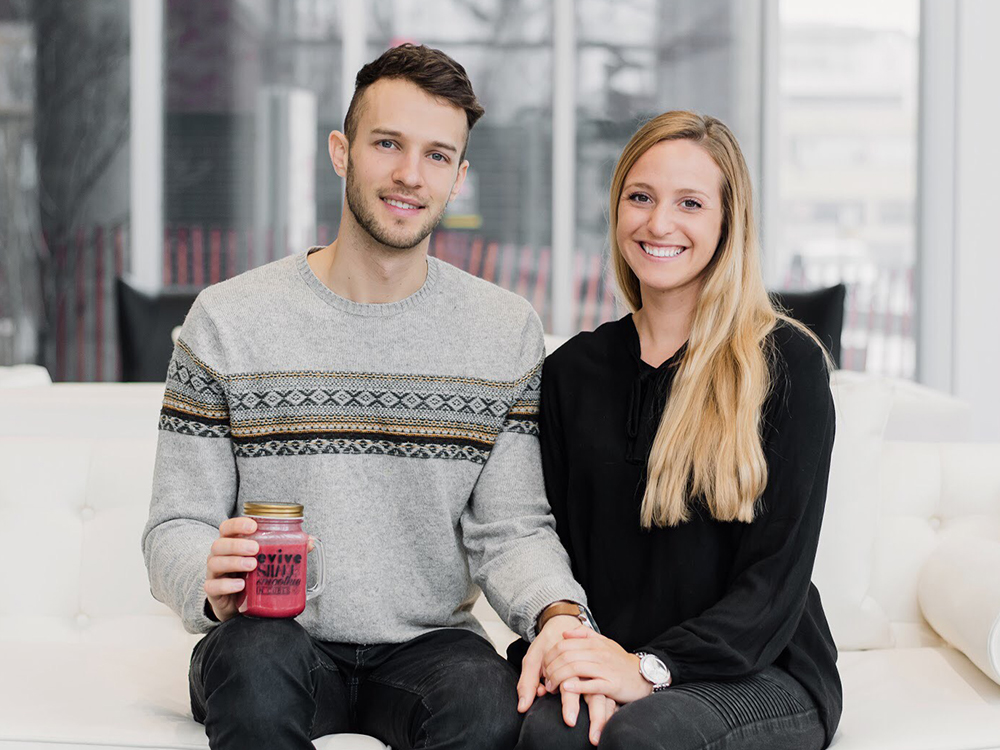 Evive: Simply nutritious
Claudia Poulin's Story
Evive offers frozen cubes of fruit, vegetable and vegetable protein concentrates for preparing smoothies more quickly, making people's lives easier and encouraging them to eat healthily.
Every morning, Claudia Poulin would spend around thirty minutes preparing nutritious smoothies to start the day. At the time she was sharing an apartment with friends who had schedules that were very different from her own. "My roommate would often just have a granola bar because he didn't have time to eat a proper meal," explains the young entrepreneur. "I thought there was a way to find a balance between those two extremes, and that we should simplify the way we prepare healthy food."
Thus was born the idea behind Evive, a brand offering eight smoothie flavours in the form of frozen cubes, made from original recipes created by Poulin that were tested and approved by nutritionists. And the best part? There's no need for a blender. The cubes are composed of a puréed mix of fruits, vegetables and vegetable proteins—just let them melt in your choice of liquid, such as soy milk or almond milk, for around twenty minutes, then mix well and enjoy an organic, vegetarian beverage containing no added sugar or preservatives.
Learning entrepreneurship
Although Poulin had conceived of the idea of offering healthy smoothies that could be quickly and easily prepared at home, going into business for herself was far from being a  natural choice of career. "I had never even considered entrepreneurship before," she admits. "My plan was to work in a school." Poulin realized her idea had potential while she was working on her master's in psychoeducation at the Université de Sherbrooke and her boyfriend, Dominic Dubé, was getting his bachelor's in mechanical engineering from the same school. Nevertheless, she decided to turn her idea into reality. The couple first began by experimenting in their kitchen: They bought a ton of organic ingredients, did a lot of experimenting, and after months of trial and error they finally succeeded in developing the ideal format for making their frozen smoothie cubes. 
Their first year was full of challenges. "We knew nothing about business, or about the food sector," explains Paulin. "That was really hard because we had to start from nothing to achieve our dream. We had little jobs on the side here and there to survive, but hardly any real work experience because we had just got out of university. I would think to myself all the time how I was doing all this without even knowing if it would turn into anything. But I was really passionate about the idea." To make up for their lack of expertise, the entrepreneurs surrounded themselves with experts so they could better understand the reality of the marketplace. At Espace-inc, an accelerator and incubator in Sherbrooke, they encountered mentors and members of the network that would have a decisive impact on their project's success. From product presentations to order taking, production and distribution, the team supported them through every step of developing the company. "We were really like sponges soaking up all the advice we could get. Being a good listener is important at the beginning, because you always have something to learn." 
Although their product was not quite ready and they were continuing to refine their business model, Poulin and Dubé were already visualizing their next step. They designed a website to enable online orders through subscriptions and started to promote their smoothies using social networks. They also started talking to grocery stores and taking steps to ensure Evive would have a presence in the retail world. "At the start, we needed to prove ourselves," admits Poulin. "I had to knock on a lot of doors, one grocery store at a time, and try and convince the managers. I followed their advice to promote our products amongst the general public." Every weekend, Poulin participated in tasting events and would personally offer samples of her smoothie flavours at local points of sale. And it worked! Only one week after the frozen cubes started to be offered online in 2016, Evive garnered 300 subscribers. And barely two years after that, the company amassed over 600 points of sale across the country. 
Making your mark with a unique product
Evive is one of only a few brands in North America offering frozen smoothie cubes. This gives the company a good chance of dominating the market, since it has created a whole new product category as well as a community of subscribers who can take advantage of the company's home delivery service.
"We're passionate about helping people eat better by offering them healthy products. What has helped us position ourselves in the market is the innovative solution we offer to fulfill that need" 
Claudia Poulin
In July of 2018, a notable appearance on Dans l'œil du dragon had an immediate effect on Evive's sales, producing an 800 percent increase in less than three weeks. At the start of 2019, Evive also attracted the attention of investors on Dragon's Den, a program broadcasted by the CBC, which has enabled the company to consider expanding further across the country and even into the U.S. While Evive's products are available throughout Canada, 85 percent of its points of sale are located in Quebec and 10 percent in Ontario. "Our goal is to increase our market share in the rest of the country while developing a new range of flavours and products," states Poulin.  
"I'm proud of what we've accomplished so far," she concludes. "We did it all ourselves, with no training in nutrition, without even taking a course in marketing. It's really tough when you don't have a lot of money, or experience, or knowledge, but in the end you wind up understanding all of your processes better than anyone else. The most important thing is to persevere. You might feel like quitting a thousand times, but you keep going anyway because you believe in your idea."
 
Evive in Numbers
25: Number of employees at Evive
800: Approximate number of grocery stores across Canada where you can find Evive products
6,000: Number of subscribers who receive a box of smoothies delivered to their home after placing their order online
 
Want to learn more?
Visit Evive's website