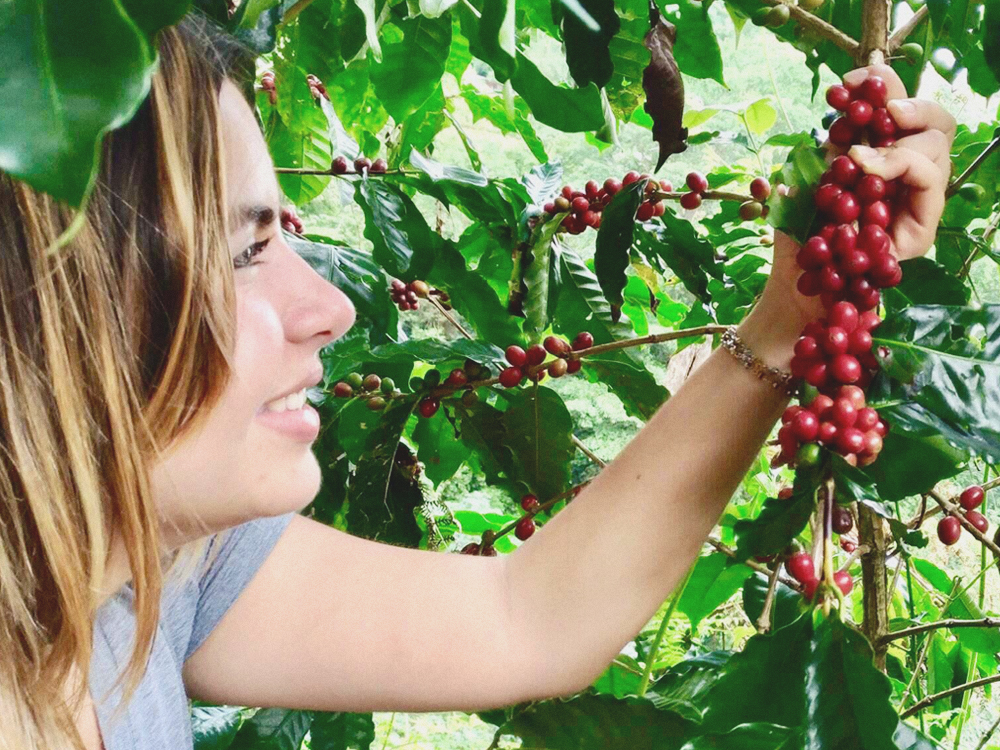 Mareiwa Café: The joy of coffee
Lorena Meneses' Story
Lorena Meneses arrived in Quebec from her native Colombia barely 10 years ago. She launched Mareiwa Café, a purveyor of fine Colombian coffee, in the spring of 2016. Here's a portrait of an entrepreneur who's working to change the coffee industry one bean at a time. 
When she was a student enroled in political science and immigration at university, Lorena Meneses searched for a café in Saint-Hyacinthe were she could read, but with no luck. Nothing fit the bill. But out of this frustration came a desire to start  her own business, one that would connect with her cultural roots. Having grown up on a coffee plantation, her goal was to bring consumers and producers together through the promotion of fair trade and high-quality beans. "This was about my family after all!" exclaims Meneses, for whom a coffee's provenance is of primary concern.
That's what led her to launch her own brand of coffee at the age of 25. While creating her business plan, she decided to concentrate first on importing, roasting and distributing coffee beans. In June of 2017, her dream became a reality when she opened her coffee business in downtown Saint-Hyacinthe. "I wanted people to be able to see all the steps that led to the coffee they find in their cups," explains the entrepreneur, who also provides educational seminars on coffee to customers.
To be able to offer a high-quality product, Meneses visted many coffee co-ops before deciding on plantations in the Sierra Nevada de Santa Marta, located in the Colombian Andes. Today, Meneses imports three container-loads of coffee, which she roasts and resells at around 50 different points of sale in the region of Montérégie, including Metro supermarkets, amongst others. She intends to extend her activites throughout all of Quebec, but there are a few steps Mareiwa Café needs to take first before it can reach that level. Meneses understands that growth has to be approached with patience, but she's still on the lookout for opportunties. "I'm constantly thinking about it," she states. What's more, she's about to announce a large export project that will require million-dollar funding.
Meneses was happy to have found a mentor in François Grisé, the owner of Le Bilboquet microbrewery. "It's important to have a mentor that shares your values," explains the entrepreneur. "François never imposes his vision—he acts as a guide, not a manager. And since we're in similar fields, we're both able to develop as businesspeople together." 
Proving yourself
Even though her company is a success, Meneses still feels the need to prove herself. "I've never met any other women coffee roasters," she admits. "When I introduce myself, people often think I'm the company secretary. It's a really male-dominated environment." But with Mareiwa Café, Meneses is trying to change the face of the industry. She is proud to do business with women and indigenous peoples from her country of origin.
Since Mareiwa Café launched in the spring of 2016, Meneses' work has been recognized by the business community, including receiving awards from entrepreneurship contests, such as Business of the Year at the Chambre de commerce latino-américaine du Québec gala and the Grand Prize at LADN Montérégie 2018.
Her determination and ambition have led to Meneses' success, and so have her skills. Before starting her company, she enroled in the School of Coffee in Vermont in order to learn more about roasting and ensure her product would be high quality.
Integrating into a new culture through entrepreurship
Lorena Meneses' story would be inspiring to any born-and-bred Quebecer, but it's also an inspiration for newcomers. She maintains that entrepreneurship allowed her and her family to integrate more easily into Quebec society. "Actually I feel at home here now, even though I still have a connection to my native country." 
"I notice that a lot of immigrants start businesses. That seems logical, because when you arrive in a new country, you have nothing to lose and everything to gain."
– Lorena Meneses
Lorena nurtures family values in both her personal and professional life. Her brother, who also shares her passion for coffee, has started working full-time for the business. "I have a great team. Without my family or my boyfriend, I wouldn't be able to invest as much effort into my business," she admits.
Mareiwa Café in Numbers:
50: Number of points of sale
5: Number of employees
60: Amount of coffee imported, in metric tons, since the company's launch
28: Lorena Meneses' age
Want to learn more?
Visit Mareiwa Café's
Facebook page