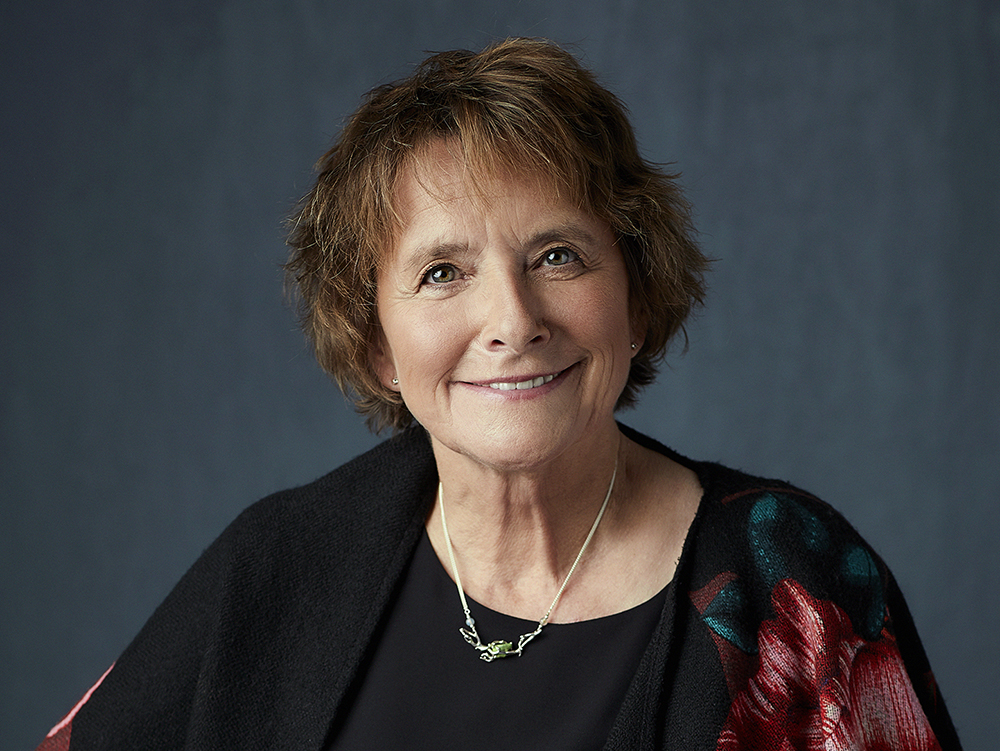 Making the Gaspé Peninsula a lifelong entrepreneurial project
Claudine Roy's Story
From the berry jam she would sell to her neighbours as a child to her many ventures in restaurants, hotels and events, Claudine Roy has always had an entrepreneurial spirit. Appointed a Knight of the Order of Quebec, then a Member of the Order of Canada, this serial entrepreneur's only limit is the region of her birth, the Gaspésie, which she intends to make everyone fall in love with.
A native of Pointe-à-la-Frégate, a small village in the Gaspé Peninsula, Claudine Roy believes she was practically born with a nose for business. "My parents were financially poor, but rich in love," she explains. "From my earliest childhood I've had to work to earn money."
Collecting empty bottles at the village's ice rink, selling handicrafts at roadside stalls, providing thalassotherapy to American clients at her aunt's hotel… Her thirst for bringing projects to life has never lessened over the years, in fact it's even increased.
Starting off with a bang
After pursuing studies in fitness, then teaching, during which time she held two or three jobs at a time, Claudine Roy started teaching and managing recreational activities. She switched to "real business," in her words, in 1985 when she launched the bistro-bar Brise-Bise, which was among the first establishments in the region to offer draft and local beer. "I went to Montreal for inspiration, then to Paris to see what they were doing in their bistros," she states.
Her company was able to rely on crowdfunding before the term was even in common  use. "I first issued 50 category F stock certificates at $2,000, through which I collected $100,000," she explains. "One year later, I issued 350 since that had gone very well, in fact so well that I bought the building and built the bistro on two floors with a little space for shows."
She sent hand-written cheques with a personal letter to the 400 people who put their faith in her. Over the years, the bistro established itself on the scene, becoming "the pulse" of the city of Gaspé and a place where a good number of artists have performed, from Michel Rivard to Richard Desjardins and Ariane Moffatt.
She led the business for 30 years, then handed it over to Simon Poirier in 2014.
A serial entrepreneur
This "real" launch into the entrepreneurial world marked the start of a lifelong venture for Roy.
Buying buildings and land, acquiring a church in the centre of the town that was going to be demolished and turning it into a cultural centre… Though she didn't keep everything, she ensured that when it came time to resell, the buyers would want to perpetuate the property's mission and take care of it. "I get fulfillment just as much from founding a company as I do from leading it into a secure future."
She finances all her ventures herself in large part, as well as with the help of friends that lend her money, which she then pays back at an advantageous interest rate. "When you build your credit over the years and business is going well, you have access to really good credit margins and you can then do transactions quickly," explains Roy, who has been financially independent for a long time, despite never having made it her explicit objective.
In 2003, she turned towards event management with Traversées de la Gaspésie, an annual event that promotes her little corner of the world for one week each winter (featuring skiing and snowshoeing) and in the fall (with walking tours), aimed at Gaspé residents, as well as Canadian and international tourists. The event has attracted as much attention from the Canadian press as it has from the American and European.
More recently, she bought a heritage building dating back to 1865, which became the Auberge Sous les Arbres in 2014, a property she manages with her two sisters. Once again, the venture quickly became a success, receiving the prize for Best Hotel in Canada in 2018 from the online reservation site Hotels.com, a first for a Canadian establishment.
The one thing that unites all these experiences is their humanity. "In business, if you want to mobilize the population and charitable people, especially today with the shortage of labour and financial resources, you have to know how to listen and be the most humane of people."
This is just one of the things that explains her success, in her opinion, because it enabled her to forge links with people across the country and internationally, something she is proud of: "A Gaspésie woman who's been around the world."
Passing on the torch
According to Roy, keeping a company sustainable happens by being able to let go of the reins. "I see too many business owners who hold on so tightly, refusing to let go and thinking they are the only people capable of properly managing the business."
As an example she mentions Brise-Bise, the bistro that has been of interest to many buyers, but who all finally declined, saying that no one could possibly run the Gaspé restaurant except Roy, because it was so heavily associated with her. "I went against this thinking and transferred the business 100 percent to a young Gaspé man, whom I backed financially and who is a better manager than I am," she explains. "It's a question of will and of confidence." She has served as his mentor, coach and advisor ever since, describing their relationship as "a bit like mother and son."
Finally, she also took a course to become a certified trustee six years ago and holds a seat on many boards of directors, to which she lends her knowledge of the region, particularly to Investissement Québec and the sports bar chain La Cage, in addition to being vice-president of the Association des restaurateurs du Québec.
Claudine Roy in Numbers
$3 M: Business revenue from bistro Brise-Bise in Gaspé, a city of only 17,000 people.
$800,000: Revenue of the Auberge Sous les Arbres, which has 15 rooms.
72%: Occupation rate of Auberge Sous les Arbres; the average occupation rate in Gaspé is usually 52%.
2: Number of times Roy has received appointments by the provincial and federal governments, being named a Knight of the Order of Quebec in 2010 and a Member of the Order of Canada in 2019 respectively.
WANT TO LEARN MORE?
Visit the websites of the Auberge Sous les Arbres, the Brise-Bise bistro and Traversées de la Gaspésie.