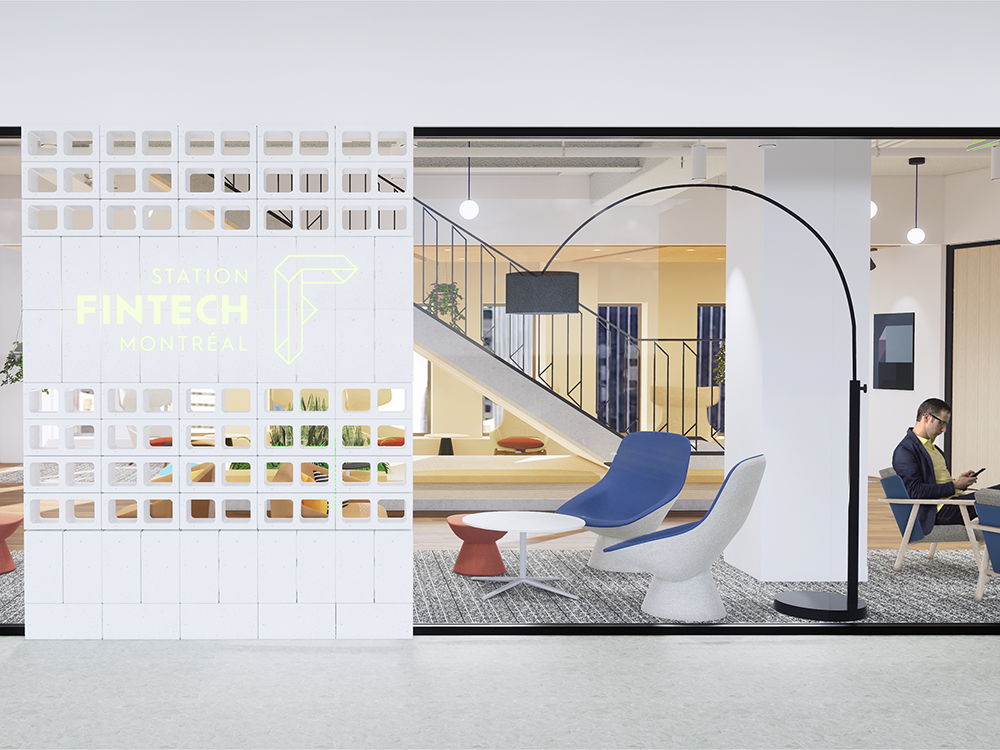 FinTech Station: An emerging space for emerging businesses
Horizons
FinTech Station, an organization recently created by Finance Montréal, supports the rise of young upstarts in the financial technology sector. Matthieu Cardinal, vice-president of fintech development and corporate affairs at Finance Montréal, explains the project.
A new space dedicated to the development of financial technology companies will open its doors at the end of 2019. The initiative is aimed at start-ups in the local and foreign fintech sector who are at a stage of their development between initial financing and their series B round. More specifically, targeted companies will have been in existence for under seven years and have 50 or fewer employees, yet must already be offering a product or service. "So these are not companies that are still in the brainstorming phase," specifies Matthieu Cardinal, "but that have a client and are earning revenue or that, at least, have raised enough money to be considered credible and of interest to financial institutions."
Why FinTech Station?
Finance Montréal, an assemblage of players from the local financial sector, promotes the economic development of the industry, and it is under exactly this aegis of promoting more interaction amongst young, often B2B-focused companies that the project was first launched. 
"We work towards supporting our institutional members, which includes banks, insurance companies and asset managers, during their digital transformation, and in this sense putting them in contact with emerging companies is a good way of making this happen."
Matthieu Cardinal
As Cardinal explains, new companies are often more flexible and offer innovative solutions that might be attractive to big organizations. On the other hand, emerging companies benefit from proximity to big financial institutions, from whom they can learn about the sector's various players, business challenges, work methods and investment. FinTech Station is therefore a place where both stakeholders in the financial sector and start-ups can work, network and collaborate. As Cardinal sums up, "Our work is in the interest of our members, and one of the keys to the success of FinTech Station is that the start-ups that set up here will get access to institutions through our help." 
What does FinTech Station offer?
At its offices, FinTech Station has both private as well as open-concept offices, which are offered to answer the varying needs of entrepreneurs while promoting physical spaces for exchange and the sharing of advice, contacts and business realities. 
FinTech Station does not operate according to the cohort model like other accelerators, but rather by rental leases of variable (and renewable) duration, ranging from 3, 6 or 12 months and up to a maximum of three years. This approach allows greater adherence to the often changing reality of new businesses and promotes action.
The site can host between 25 and 35 companies across 144 workstations. Interested businesses must submit a rental application which will be subjected to a qualitative analysis and thorough verification check before being studied by FinTech Station's advisory committee and manager. 
The Station's management team, which is focused on facilitating the growth of its renters to the fullest extent possible, has signed several partnerships with legal and accounting consultants and professionals in order to support entrepreneurs during every stage of the development of their company. Inspired by new incubation models and international co-working organizations such as Level 39 in London and LHoFT Luxembourg, the team aimed at implanting a new, more "holistic" approach locally that would include various methods of support.
In addition, a variety of advisory, coaching and mentorship services will be offered, as well as privileged access to a financial data and technology laboratory.
What is the future of fintech?
Cardinal emphasizes that he's noticed an increasing dynamism in the fintech sector over the past five years. In his opinion, there are an estimated 100 to 120 fintech companies in Quebec, the majority of which are in Montreal. There are also close to 500 across Canada, with the majority located in Ontario.
This dynamism, also evident in neighbouring markets, will provide a boost to FinTech Station's development plan, which will take advantage of international connections with the Northeastern U.S. and Western Europe in the coming years.
"We think these are the places that might benefit from having an office and customer relationships on a local level, but still have developers, coders and programmers at FinTech Station," states Cardinal. "There is a cost advantage here, that's undeniable, also the availability of talent and nearness of location, for example with New York which is in the same time zone."
Since Finance Montréal also strives to develop good relationships with French-speaking Europe, Cardinal admits that he hopes to see FinTech Station become a jumping-off point for emerging francophone businesses that would like to develop their North American market. 
WANT TO LEARN MORE?