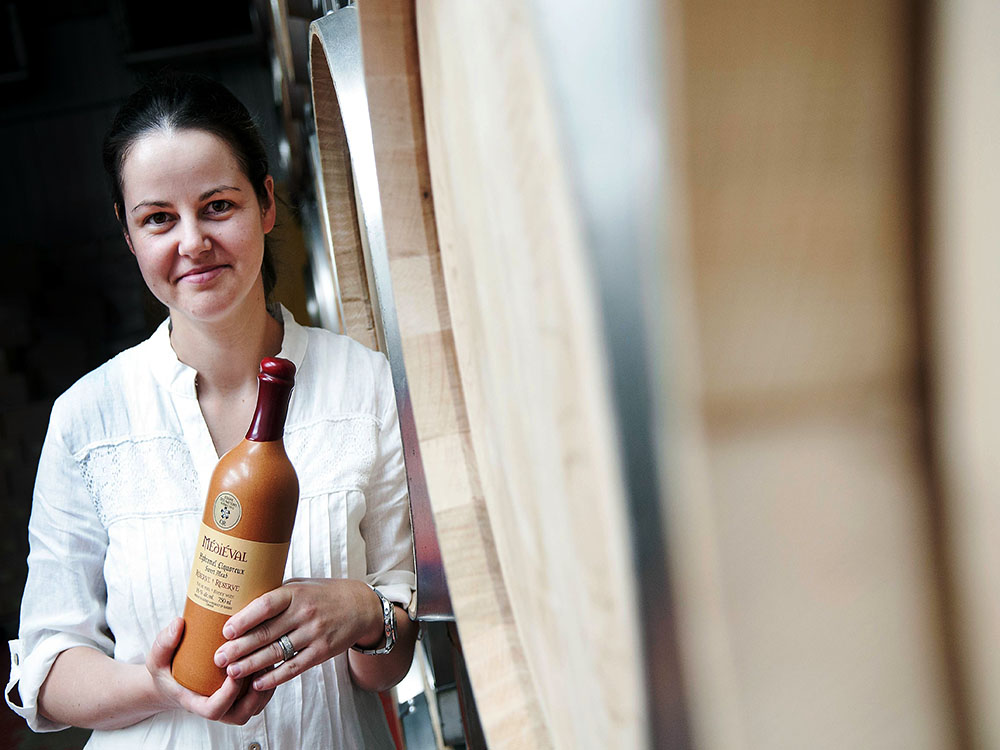 Intermiel: A hive of entrepreneurship
Éléonore Macle's Story
The Macle family of entrepreneurs are at the head of Intermiel, an apiary in operation since 1976. The estate also includes an 18,000-tap maple farm and an orchard with 600 apple trees. Éléonore, the daughter of the founders, is now running Intermiel and is going after the agritourism market by adding an educational component to the business.
Originally from France, Viviane and Christian Macle moved to Quebec in 1969. Passionate about beekeeping, Christian bought a small honey bee farm in Mirabel in 1976. In a little over 40 years, the company has gone from around a hundred beehives to over 10,000. Éléonore decided to take over the business in 2016 and change the company's initial business model.
Born into business
Éléonore received a bachelor's in international business from the John Molson School of Business at Concordia University. Feeling the need to travel, she visited Asia and also worked in a large milk cooperative in New Zealand. Having gained some perspective while she was away, she returned to Canada and felt she was ready to take over the family business.
"At home, becoming an entrepreneur was innate. I was born to it, and seeing my parents as an example helped me make the decision. I knew what I wanted to do since I was a teen, but I took my time because taking over the family business is a major decision that lasts a lifetime."
– Éléonore Macle
 Viviane and Christian started preparing for the takeover in 2005 by offering advice and sharing their expertise with their daughter. "My parents allowed me to really achieve work-life balance. I was lucky to have such good support," admits Éléonore.
On the administrative end, the family of beekeepers were counselled by a tax advisor who specialized in farming. He decided to effect a partial transfer of shares to Éléonore, with Viviane and Christian remaining as shareholders in the business. This reorganization proved to be essential to transporting the company to another level.
Diversifying the offer and new horizons
When she took over at Intermiel, Éléonore wanted to evolve the company's business model. Her mother had been the one to originally start welcoming customers into her home in order to organize demonstrations and product tastings. After over 25 years in business, the farm receives school tours, but its agritourism component took a decisive turn in 2010 when it received its "100% made in Quebec" certification from the Québec.
Éléonore views this as a major step. "It was very important to us to have the quality of our products recognized. While the honey market can sometimes be a little opaque, we're proud to offer our customers products that are truly traceable."
Intermiel offers visits that are hosted and educational. In fact, education is a key component to the company's new initiatives. In addition to over 100,000 annual visitors, 12,000 students are introduced to beekeeping each year. Intermiel even offers visits for very young children.
Managing growth and agritourism
The success of the agritourism initiatives meant Éléonore needed to establish new procedures to support the growth. She first focused her efforts on marketing in order to distinguish the company from its competition. The business developed new points of sale, increasing its number of retailers in Quebec to 250. Intermiel products are now available throughout Canada as well as in Asia, particularly in Japan.
In such a constantly evolving market, it's imperative to stay ahead of the curve. However, beekeeping is also a business based on living things and susceptible to the uncertainties of climate. In the spring of 2018, Intermiel recorded a loss of 14 percent of its hives. While managing an apiary is a question of rigour, beekeepers are still sometimes subject to certain contingencies.
For Éléonore, the biggest challenge is the human element. She recognizes that the success of her business lies first in human relationships. "Whether it's in terms of customers or co-workers, we surround ourselves with people who share our values. It's more than having customers or colleagues—we form alliances. It's not unusual for people to visit when they were children, then come back to see us as adults and bring their own children. That's the best reward."
Intermiel in Numbers
100,000: Number of visitors each year
$6 million: The company's revenue
420: Annual production of honey in metric tons
Want to learn more?
Visit the Intermiel website