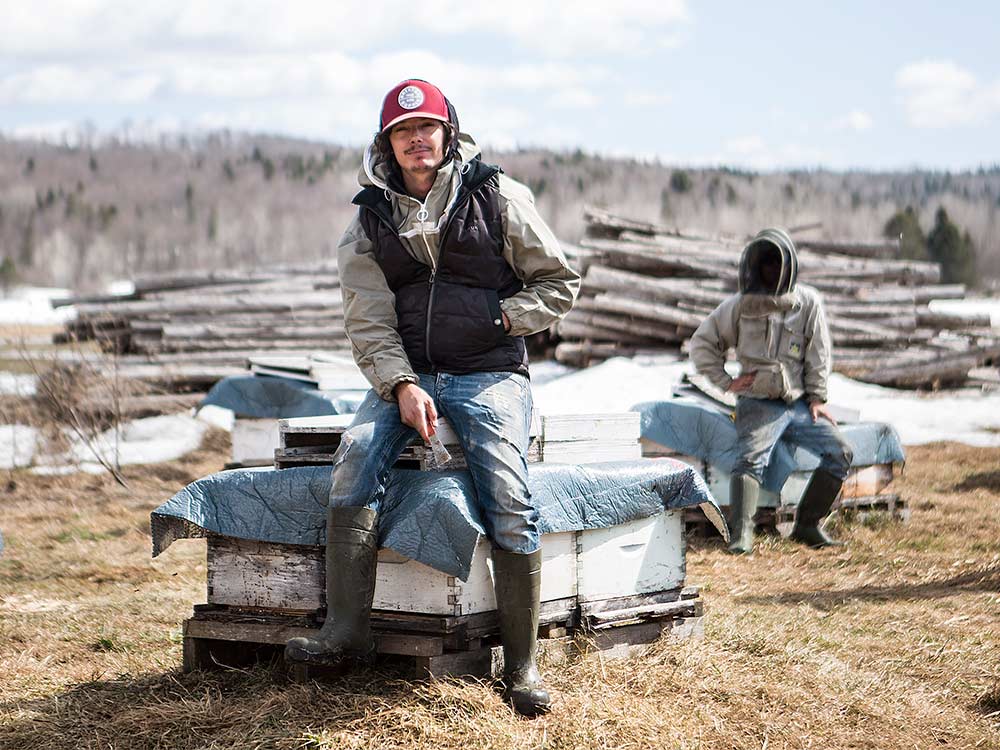 Miels d'Anicet: A honeymoon that lasts
Anicet Desrochers's Story
Although Anicet Desrochers was born into a family of beekeepers, it took a trip to the other side of the world for him to decide to devote his life to bees. It was a passion that would transform into an entrepreneurial success, one that diversified honey into a variety of products.
When he started university, Anicet Desrochers, who was not at all attracted to raising bees, chose to study anthropology, then specialized in ethnology and medicinal plants. In 1997, the young man left the province to take up residency on several islands in the Indian Ocean, including Madagascar and Réunion. While there, he got to know a family of Creole beekeepers who harvested honey made from litchi.
His experiences there were a revelation. "It was only by going to the ends of the earth that I understood that the beekeeping practised by my parents had a link to anthropology and other sciences," he explains.
After coming back to Canada, he studied bee biology in Vancouver, where he learned about the genetic selection of insects.
See also: Alvéole: Changing the urban landscape one roof at a time
A well-known honeybee farm
In 2001, Desrochers returned and set up shop in the same region of the Hautes-Laurentides where he grew up. There he created Miels d'Anicet, a farm for raising queen bees as well as for creating wild honey and other niche products. In an area devoid of intensive monoculture farming, prairies alternate with forests, offering a diversity of plants that is reflected in the honey itself. "Right from the start I focused on the organoleptic characteristics of honeys, since I wanted to bring an added value to my products," explains Desrochers, who recalls that at that time honey was synonymous with the generic product sold in those plastic bear-shaped bottles.
Two years later, his girlfriend, Anne-Virginie Schmidt, joined the business. With an educational background in accounting, she had no hesitation about leaving Montreal to manage the company and bring its products to market. "We're a perfect match for each other," Desrochers beams. "Today, being just a simple farmer producing honey out in the fields somewhere isn't enough. You have to be an entrepreneur and master marketing skills that are becoming more and more complex." 
Strength through diversification
Over the years, Desrochers and his wife have overseen a collection of 1,500 beehives and have become the largest queen bee producers in Canada. Their bees are specially selected for their ability to withstand the harsh Canadian winters. "We also work with universities to develop bees that are resistant to climate change," he emphasizes. To provide the best quality genetic material to beekeepers across the country, he established a breeding facility in Napa Valley, where the California sun allows bees to be sent to beekeepers earlier in the season.
The entrepreneurial couple also created a honey house, a learning centre, a seasonal restaurant and a boutique that sells (what else?) honey, as well as bee propolis, mead, fine grocery products and cosmetics made from beeswax.
Desrochers constantly and enthusiastically engages in product diversification, which is vital for a company whose honey production can vary depending on the year. "We always approach it as a fun activity, and we're happy to contribute to the regional economy," he says. "It's important to love what you do in order for it to be good."
The entrepreneur also frequently acts as a beekeeping consultant, which sometimes takes him as far afield as Tanzania.
"I didn't create Miels D'Anicet in parallel with my life, my business is my life."
Anicet Desrochers
Pride before everything
Offering around a hundred different products, Miels d'Anicet opted for direct selling and has a network of over 300 partner stores. For approximately three years, the company had also started selling online, which allows it to export its products. Currently around 15 percent of orders come from abroad.
Desrochers sees the future of his business in international projects, particularly in Corsica and the Caribbean. He also intends to start doing more with less. "It's about using our resources and our land's potential more effectively," he explains. "I don't want to just increase our revenue, I'm also thinking about what kind of legacy we're leaving behind. Handing down a strong brand that offers high-quality honey is something to be proud of!"
Les Miels d'Anicet in Numbers
60,000 to 75,000: Number of kilograms of honey products produced each year
10,000: Number of queen bees sent each year across Canada
18: Number of full-time employees
Want to learn more?
Visit the Miels d'Anicet website