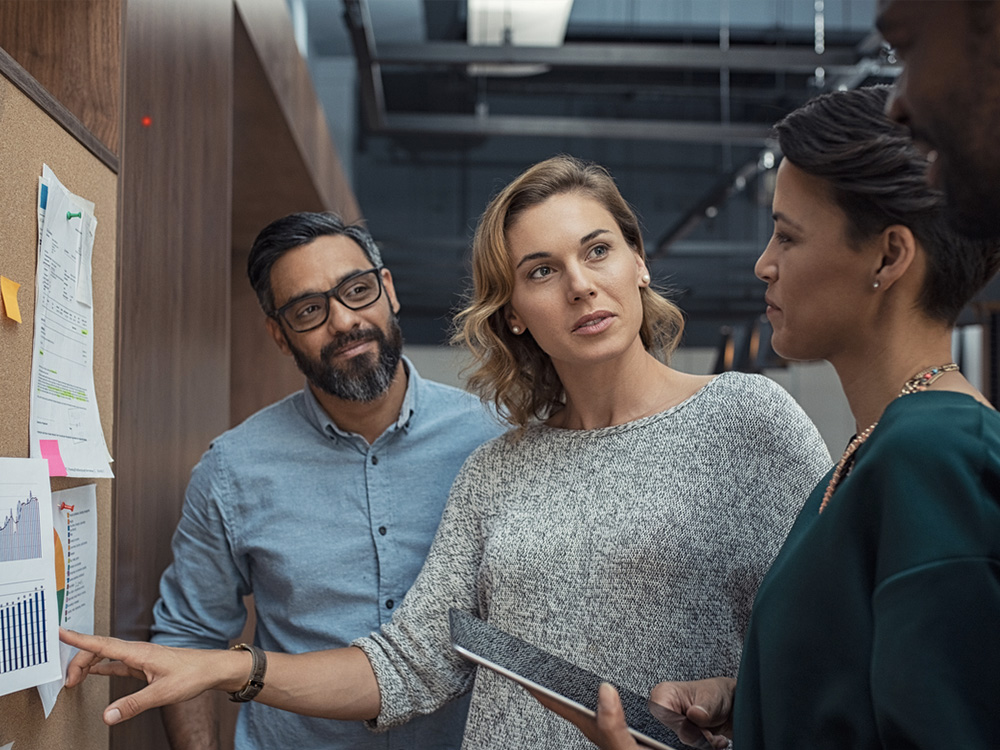 What is Growth Hacking?
How-to
Presented by

Presented by   
Growth hacking is a collection of marketing strategies based on data, user and customer analysis that is used to make a service or product grow fast at a low cost. Find out how this approach could increase your chances of success in business. 
What is growth hacking?
This technique that's shaking things up remains a mystery for many, including businesspeople. The term "growth hacking" appeared at the beginning of the 2010s in Silicon Valley start-up jargon.   
The idea came from the desire to experience fast growth despite the limited financial means of a start-up company. It's a creative approach to using data that is relatively new and is now part of a collection of growth solutions for websites. 
Based in particular on the principle of online community creation, engagement and retention, the strategy for growth hackers is to increase user engagement. The ultimate goal is to quickly convert the audience into customers. 
Growth hackers have to be daring to showcase their company's products or services, attract visitors to their website and turn them into customers. This can be done without investing large sums: 
User search engine optimization techniques, such as optimizing visibility on Google My Business listings.
Write content related to user interests and intentions, such as topical news or current trends.
Use gamification techniques to encourage user engagement and customer referrals.
Gamification refers to the application of game principles to other areas, such as websites and social media.
The main advantages to growth hacking
Growth hacking strategies allow you to limit costs while ensuring rapid growth by leveraging the number of channels used simultaneously. The ability to quickly adjust the strategy also means that growth hacking is a very agile approach.
Its success depends largely on the tricks and innovations put forward to automate their business's growth acceleration. The entrepreneur or the initiator of the strategy must also be agile so they can make real-time changes and adjust to user behaviours.   
Reduce costs and favour agility
Sylvain Carle is an associate at Real Ventures, a private investment fund, and a mentor to FounderFuel, a tech start-up accelerator. He believes that the main difference between growth hacking and traditional marketing lies in the real-time analysis of consumer behaviour. The data allows you to adjust your methods and adopt even more effective strategies, rather than waiting until the end of a marketing campaign to evaluate its reach.
"Everything has to be measurable and instrumented," he explains. "Each offer must have a link the visitor can click on, and you have to be able to measure whether they've done that. Tinker and adjust constantly to keep increasing the number of users. The entrepreneur has to come to understand which aspects of their website convinces people to buy."
Adapting to customers
While there's no magic formula, there are three essential elements:
Collecting and analyzing data to understand visitors' behaviours and changing what could stop them in their tracks and make them leave before buying.
Collecting client information that will allow you to contact them digitally, such as emails and phone numbers (for SMS and push notifications).
Being agile, which will allow you to do quick tests and optimize your strategy.
 "If a visitor doesn't make a purchase, I would write them the very next day to ask them why they didn't," advises Jean-Luc Brisebois, Marketing Director at ShareGate and GSoft.
This is one of several sure-fire communication strategies for converting new customers. Of course, this must be done tactfully and legally, taking into account Canada's Anti-Spam Legislation, which came into effect on July 1, 2014. 
Innovate and create
While it's seen as a series of strategies, growth hacking is first and foremost a state of mind, according to Jean-Luc Brisebois.
 "Every day, my mindset revolves around growth. In fact, that defines the culture of our team here at ShareGate. I read a lot about it. I'll try things out and implement all kinds of techniques, regardless of whether it turns out good or bad, if only to keep learning so I can try something else after that. You have to be daring to find worthwhile solutions."
Growth hackers form a community focused on sharing. They'll describe their latest experiments on the platforms where they're active. To them, the idea of company secrets doesn't exist.
"They won't hesitate to let others know about their success, like in replacing a blue button with a red one to get visitors to make a purchase, thus growing their business numbers," explains Jean-Luc Brisebois. "It's a very open community because what works for one business won't necessarily work for another. That's why it's important to test everything out and to check the results before making any decisions."
Some advice to get started:
Get analytics tools that will allow you to collect and measure quantitative and qualitative data on your number of visitors, the amount of time they spend on each page, the documents they download, etc. Then study the data to find ways to retain visitors on your website for longer.
Find out when it is that visitors leave your website (bounce rate) and think about ways to retain them for longer.
Analyze the aspects that help convert visitors into buyers, such as positive comments from other customers or special offers, and exploit them as much as you can to increase your conversion rate.
Use other platforms to attract visitors. For example, have a presence on social networks like Twitter and Facebook.
Integrate catchy visuals, like recent photos, animations or illustrations, that will entice visitors to spend more time on your website.
Encourage visitors to give you their email address by subscribing to a newsletter or signing up for a contest.
Encourage your customers to refer others to your website on social media by holding a contest, for example.
Offer up a short survey to collect relevant data on your visitors.
Create a newsletter or a blog and invite your visitors to subscribe to it.
Help search engines rank your website better. Figure out the keywords for each of your pages and optimize them.
Since the goal of growth hacking is to accelerate growth, this will not occur "as long as the business hasn't sufficiently validated the compatibility between their product and the potential market," warns Sylvain Carle. Depending on your business's stage of development, other growth strategies may be considered.
If you want to learn more about this topic, follow growth hacking experts like Alex Schultz, VP of Growth at Facebook, or Neil Patel, Co-Founder of Kissmetrics and Hello Bar and Founder of CrazyEgg.
 
For more tips on business finance go on National Bank website