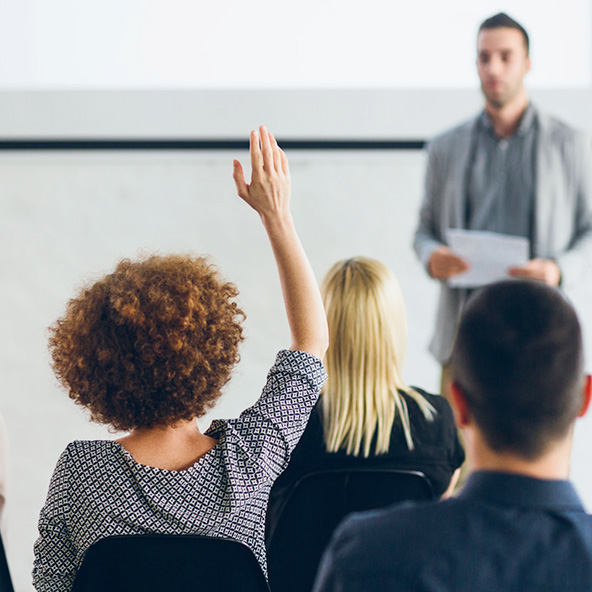 Knowing yourself in order to perform better
How-to
Presented by

Knowledge of oneself and of business in general is essential when starting a business. Young entrepreneurs of the next generation, sponsored by the Adopte inc. contest, attended the "Se connaître pour mieux performer" training camp at the École d'entrepreneurship de Beauce. They had the occasion to fill their professional toolbox thanks to valuable advice from coaches. Four participants share what they gained from their experience.
The contest
These young entrepreneurs are the second cohort of the Adopt inc. entrepreneurship contest, of which Desjardins is a founding partner. The program aims to develop the full potential of young entrepreneurs, also known as "adoptees," through training like the 2018 boot camp offered by Desjardins in partnership with the École d'Entrepreneurship de Beauce.
For some of the adoptees, being mentored by an experienced entrepreneur means an additional financial contribution and personalized coaching. This was the case for Karine Foisy, of Veille sur toi, who was adopted by Marie-Claude Boisvert, Executive Vice-President, Business Services Executive Division. "It gives a passionate entrepreneur access to the advice, resources and business events that all young people dream of when they start a business. It's a great way to pay it forward and see young people grow!" explained Boisvert.
The 4 participants
Karine Foisy - Veille sur toi
Adopted by Marie-Claude Boisvert, Executive Vice-President, Business Services Executive Division

Sara Dagenais - Collations santé Vitali-t
Adopted by Daniel Germain, founder of the Breakfast Club

Nancy Couture - Pot de bonheur
2018 adoptee finalist

William Leclerc - Ebenor Percussion
Adopted by Nathalie Bondil, Director and Chief Curator of the Montreal Museum of Fine Arts
The takeaways
Better self-knowledge
The Dynamix personal profile was used during workshops. "Each personality type is assigned a colour. This helps people better understand their strengths and weaknesses. My dominant colour is blue because I like to know the littlest details before I make a decision. By getting to know myself better, I can manage myself better! When I build a team using people with all different colours, I can make sure we all complement each other. It's a winning formula for my company!" explained Dagenais.
Want to know more ?
Read the complete article on Desjardins' website