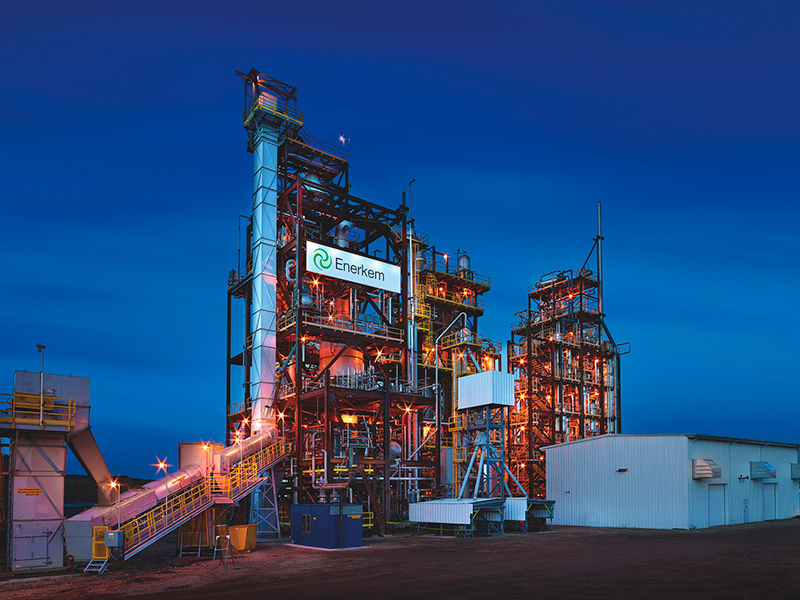 Enerkem: Energy to spare
Horizons
Enerkem, a company launched in 2000 by Vincent Chornet and his father Esteban Chornet, is revolutionizing the biofuel market. Often the best ideas are simple. And it follows that the intentions that drive this dynamic family are simple: make the world a better place and change things. This is a technology we'll definitely be hearing more about in the future.
It was while he watched his father work in a sawmill in Spain that the idea of ​​a waste-to-energy technology was born. At that time, Esteban Chornet, future Professor Emeritus at Université de Sherbrooke, hoped to turn wood waste into electricity.
Patented technology recognized worldwide
 
"Enerkem offers a technology that is revolutionizing the energy market."
— Vincent Chornet
The principle is very simple and comes down to producing methanol, ethanol and renewable chemicals from biomass (municipal waste). The objective is to recycle carbon that we throw away in landfills. Through this process, our waste is transformed into biofuel.
Professor Chornet's research, the very source of this technology, has been recognized internationally. For many years, the former researcher at Université de Sherbrooke was interested in biomass and the conversion of non-recyclable waste. And his son Vincent also became interested in the field while studying at HEC Montreal.
In 2000, they founded Enerkem together, which soon became an industry leader in the production of cellulosic biofuels. This Quebec company offered a revolutionary process of gasification and catalysis that converted sorted municipal solid waste and forest waste into ethanol and other biofuels. Vincent Chornet refers to the process as a cutting edge technology, which leaves behind conventional incineration and landfill technologies.
Thanks to the Chornet family, there is now a biofuel invented in Quebec and manufactured worldwide. Enerkem is an innovative and sustainable solution for waste management and energy diversification.
A process that is attracting major investors
Enerkem has distinguished itself in a market that is very hard to penetrate. How is the company different from its competitors? "From materials that were neglected up to now, we can produce known molecules, such as methanol (a chemical base found in glue or vinegar) or even ethanol," explains Vincent Chornet. "Our company is revolutionizing the petrochemical industry."
Today, Enerkem is a leading brand whose reputation extends far beyond the borders of the province and has attracted the attention of many investors. Indeed, in November 2014, an agreement was announced between Enerkem and Shanghai Environment Corporation, which manages 70% of the municipal waste in a city of 25 million inhabitants.
Quebec energy is now freely crossing borders and knows no boundaries.
WANT TO LEARN MORE? 

Visit Enerkem's website