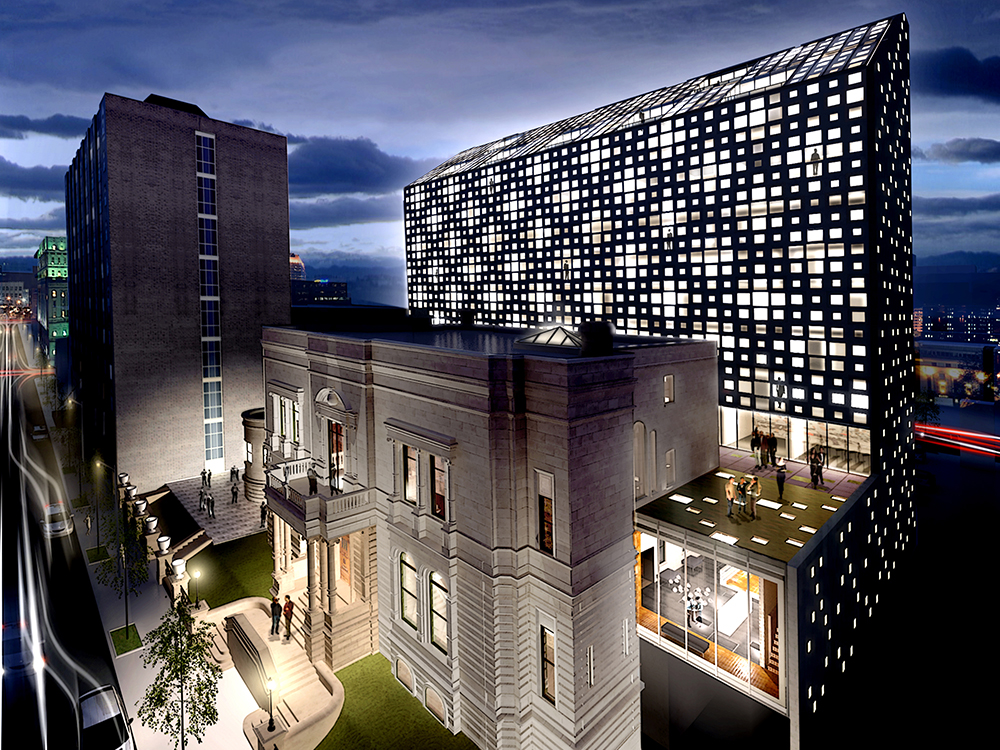 Architecture according to Lemay
Horizons
Thursday, October 8, 2015
With offices in China, Algeria, and Costa Rica, Lemay is now a jewel in the crown of architecture in Quebec, the company being ranked fourth in its industry in Canada and amongst the top 100 worldwide. Having taken Quebec's creativity and talent far and wide, the company's significant international growth in recent years is a true success story.
Originally a family entity, the Montreal architectural firm Lemay is now a leading North American player in the built environment industry. According to president Louis T. Lemay, after almost 55 years in business the firm has become a company with a truly international scope that continues to grow.
Acquisition in China
When asked about success, Lemay responds by playing down this notion. A humble employer, he is constantly seeking new markets to conquer, pursuing a growth strategy through acquisition abroad. Thus, as Mr. Lemay confided last December to La Presse Affaires, the company generated 15% to 20% of its business abroad, and aims to increase this to 50% over the medium term. In the coming years, his company's growth will occur outside Quebec. With the acquisition in 2014 of three Quebec subsidiaries of the Toronto group IBI (Martin Marcotte Architects, Cardinal Hardy Architects and DAA), Lemay has strengthened its international footprint. In addition to its operations in the Caribbean, Lemay now has offices in Shanghai and Beijing.
With these acquisitions, Lemay has become a world-class key player and strategic partner able to bring quality, experience, and talent to its projects. The company's workforce has grown commensurately from 160 to 500 employees. Mr. Lemay takes his inspiration from the Chinese proverb "Alone, you go fast, but together you go further."
Partners are key for business development abroad
Whatever the field of expertise, finding a good business partner is a critical and necessary step in any company's globalization project.
Lemay's CEO admits he has occasionally made the wrong decisions in his choice of partner. "Sometimes we haven't surrounded ourselves with the right people. It's very challenging– it takes quite a few meetings and going by word-of-mouth. I just returned from a business trip to China where I met a dozen different partners, each with very different business models. In business, relationships come first."
The excellence of Quebec training
Like Lemay himself, who attended Université Laval and McGill University, the firm features a distinctly Quebec identity. Lemay praises the education he received in the province. "Quebec companies succeed abroad because Quebecers are willing to listen rather than dictate their ideas," he claims. "Listening, understanding others, and respecting their values are essential virtues if you want to export your expertise. The subtle approach that Quebec firms have and their ability to integrate cultural and social realities are attributes that facilitate a company's establishment abroad."
In many sectors, he says, creativity and the ability to find a solution are clear competitive advantages. Lemay adds that Quebecers "have a unique ability to achieve great things with very little."
Creating to last
"Upon reflection, ultimately you must follow your instinct."
Louis T. Lemay
Lemay is an integrated design firm covering all disciplines related to the built environment, including architecture, landscape architecture, urban design, urban planning, interior design, image trademarks, and graphic design. The company houses many talented individuals who can create exciting environments for its customers irrespective of citizenship.
As professionals in creating environments, the Montreal firm recognizes that its "intervention must be positive and sustainable. We keep life cycle in mind. We have a direct influence on our planet and therefore a responsibility towards it."
want to learn more? 
Read the announcement of the establishment of Lemay in China in Canadian Architect magazine