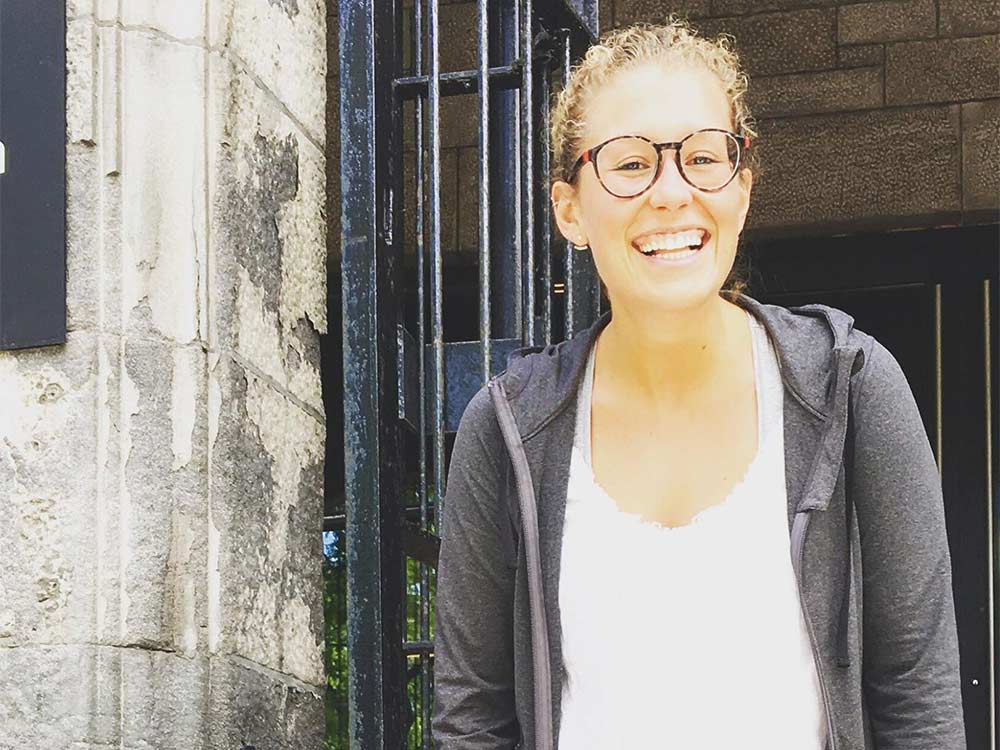 Gueule d'érable
Florence Montuoro-Kervin's Words of Wisdom
The third edition of the Gueule d'érable festival will take place April 26 to 28, 2019, in Montreal's Old Port. Created by Florence Montuoro-Kervin and Karl Deslisle-Pagé, two master's students in the entrepreneurial management program at HEC Montréal, the project won third place in the Course entrepreneuriale Rémi-Marcoux. The two students used the grant they were awarded to organize the festival, which first launched during Montreal's 375th anniversary festivities. In this blog post, Florence reflects on her entrepreneurial journey.
Starting a business in the maple syrup sector in Quebec is a crazy idea! Even crazier is launching an "authentic" maple syrup festival in Montreal!
But when I met Karl during the entrepreneurial master's program at HEC, we took up the challenge of creating nothing less than Montreal's own Oktoberfest for maple syrup!
For me, building a business represents a way of giving back to society by offering something innovative and stimulating! Gueule d'érable is first and foremost a meeting place where proud Quebecers can celebrate a product that is truly emblematic of Quebec—it's a part of our culture! And as long as we're celebrating, why not invite the tourists too?
As a young entrepreneur, I've taken on the mandate of coming up with projects that will benefit the community. My objectives are to unite local businesses, but also to work with Quebec entrepreneurs who strive to promote their products to a larger audience. I'm also interested in emerging artists in order to provide them with a platform for their art that is worthy of their talent.
When I registered to do my master's, my goal was to completely immerse myself in it in order to get something positive and constructive out of the experience. The adventure started when I learned that Gueule d'érable had won third place out of 150 projects at the Course entrepreneuriale Rémi-Marcoux. At that moment, I started to realize the seriousness of the situation.  To this day, I am constantly involved in establishing my brand in Quebec's entrepreneurial ecosystem, and especially in the maple syrup industry.
I am quietly making a place for myself in this male-dominated, yet highly stimulating sector. I noticed that for the Parcours entrepreneurial Rémi-Marcoux, there were a minority of women participating, and this was also true of my university courses. But Lise Watier, Christiane Germain and Danièle Henkel, to name just a few, have proven that women have a place in the world of entrepreneurship. That is really inspiring! Through their ambitious projects and determination, they opened the door for young female entrepreneurs who dream of successfully developing their own creative project, one that they really believe in.
With a lot of modesty, and little actual experience, I have realized that entrepreneurship provides a rich emotional experience and allows me to develop many aspects of my personality for the better. Both the business world and the many occasions on which I have been able to meet extraordinary people have led me down a path of daily self-discovery, and have also helped me define the principles upon which I aim to base my career. Through all the challenges I have faced with Gueule d'érable, I have been able to develop a diverse range of skills and challenge my creativity. I'm quickly learning how to work with and develop my multitasking skills, which used to be something only adults needed to do!
Want to learn more?
Visit the Gueule d'érable website