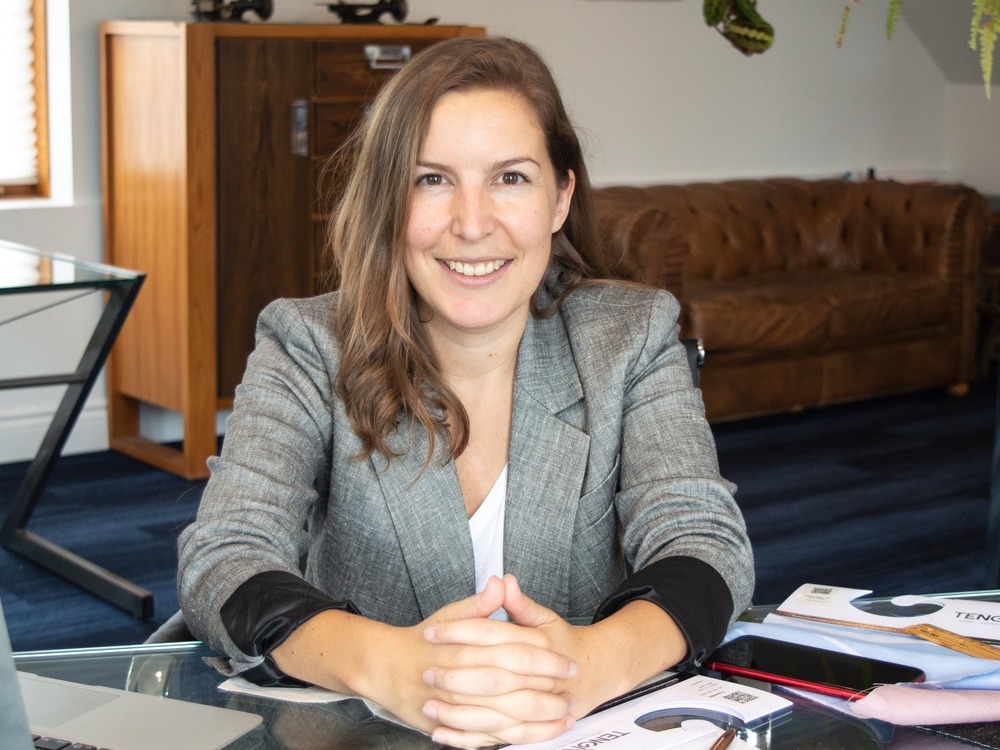 Tengiva: Modernising the Textile Industry
Annie Cyr's Story
Tuesday, September 6, 2022
Discouraged with seemingly endless fabric delivery times in the textile industry, Annie Cyr and her business partner launched Tengiva in 2018. Success was immediate for this first company in the world to provide a digital supply chain manager for real-time access to textile inventories. Tengiva now has a presence in more than 30 countries.
By 2018, after having already spent several years working in the clothing industry, Annie Cyr made THE observation that would change everything: the textile supply chain was failing, and was far too complex. She took her vision to Carlos Agudelo, an engineer with a specialty in textile science, and the two partnered together to launch a new tool on a global scale.
"It didn't make sense to spend months on emails and phone calls just to get fabrics we knew we'd be ordering several times a year. We needed a quick solution that would simplify the supply chain. So we came up with that solution," Annie explained.
THE WORLD'S LEADING READY-TO-SHIP PLATFORM FOR TEXTILES
Annie and Carlos tested several marketplaces, researching websites and e-commerce platforms that connected sellers and buyers, to build their own platform based on already proven models and improve on them.
"The first thing I tell people who want to develop a new solution is to try the technologies that are already on the market, and then build on those. It's a strategy that allows you to go faster, and to avoid the mistakes others have already made," said Annie.
Tengiva is designed to facilitate communication between fabric manufacturers, textile designers, and clothing brands. Thanks to Annie's and Carlos' vast experience, they knew they would have to use language that everyone would understand, and develop a practical database with information that was quick and easy to find.
COMING UP WITH A LANGUAGE THAT EVERYBODY SPEAKS
The biggest language barrier in the textile industry isn't cultural; it's related to differences in trade lingo. On one side, there's the clothing industry. On the other, there's the textile industry. And between the two, a wealth of potential misunderstandings, simply because the two sectors happen to use different terms. For example, what a designer might call "organza" is what a manufacturer would just call "plain weave." No surprise, then, that developing a database meant to be used by both sectors turned out to be quite a challenge.
"A good database starts with accurate data. For example, you can't just use the word 'red' to describe a color, because there are millions of reds. But you can use the RGB color code for that red. That's one simple way to make sure that everyone gets the same message."
In 2020, after two years of testing, learning, trial, and error, Tengiva launched its new technology, developed entirely in Quebec: a digital supply chain manager designed to facilitate fabric supply. The company is prepared to make waves in the textile industry.
LEARNING NEW WAYS OF DOING THINGS… BY PAYING ATTENTION TO HOW THINGS ARE DONE
Before the launch of Tengiva, the apparel market was struggling with digital transformation, and for the most part, manufacturers had no inventory management systems. One of the largest, most venerable industries in the world had to be convinced that the way things were done had to change. This was no small feat.
"You can't just arrive in an industry without respecting the ecosystem that's already in place. In the textile industry, we needed to find a way to ensure that our tool would be a benefit to all professionals, from manufacturers to designers, to sales representatives."
A PROMISING FUTURE FOR EVERYONE
Tengiva no longer needs to prove its worth; that battle's been won and then some. Annie is currently increasing its focus on positioning within the textile industry, transforming traditional operation techniques, and reducing the sector's greenhouse gas emissions. "By facilitating access to real-time data, we want to optimize the industry's use of resources, and promote durability in materials." This is long-awaited news for the industry.
THE COMPANY IN NUMBERS
25: the number of Tengiva employees
11: the number of sellers who use the Tengiva online platform; based in eight countries
900%: increase in Tengiva's production capacity in its first four years of operation (scaling up from 5,000 to 50,000 units)
More than $1,000,000: the amount invested in research and development
LEARN MORE
Visit Tengiva's website to find out more about their unique solution for the textile industry.