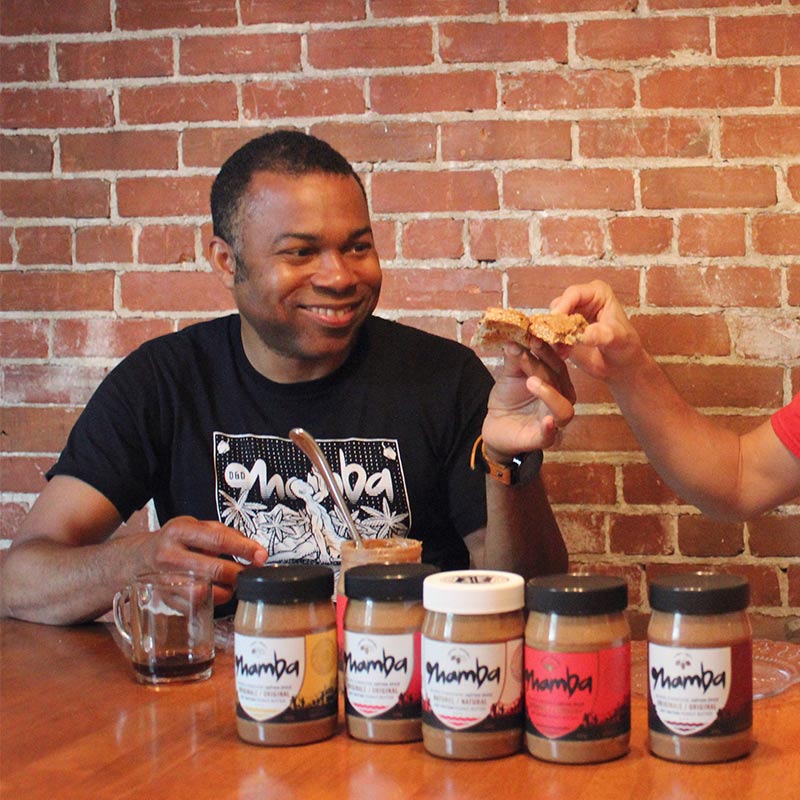 Dumornay-Delis: A taste for Haiti
Stanley Dumornay's Words of Wisdom
Wednesday, September 20, 2017
This blog post was written by Stanley Dumornay, one of the two entrepreneurs behind the young Quebec company Dumornay-Delis, which makes and distributes Haitian peanut butter.
My name is Stanley Dumornay, I come from Haiti and I'm a co-founder of Dumornay-Delis. I met my business partner, Jason Delis, while studying for my MBA at&nbspHEC.
During a school holiday, Jason and I stayed in Haiti in order to host a workshop in entrepreneurship for a charity for around a hundred Haitian entrepreneurs.
It was then that I became reacquainted with the well-known Haitian peanut butter called mamba, and also when Jason discovered it for the first time. For him, it was love at first sight! When we came back to Montreal, Jason noted that mamba didn't exist in the Canadian marketplace and came up with the idea of turning it into a business idea. We had never considered starting a business before that moment, not to mention getting into the food&nbspsector.
What motivated us?
Two things.
First, we wanted to spread the word about Haitian peanut butter, an old culinary tradition going back more than a century. Mamba has a unique spicy taste and creamy texture. D&D Mamba uses high-quality ingredients in order to reproduce the same delicious flavour you would find in the Haitian&nbsporiginal.
Second, although we live in a time when technology and progress have brought humanity to an unprecedented level of abundance, paradoxically there are still millions of people worldwide who live on the edge of poverty and in conditions properly belonging to the previous century. So Dumornay-Delis was born out of the desire to do something concrete to benefit Haiti. We are a for-profit company, but our objective is to have a positive social impact by importing Haitian peanuts, thus supporting Haitian farmers. We're proud to be able to say that every pot of D&D Mamba contains 100 grams of Haitian-grown peanuts.
The delicate balance between challenges and&nbspopportunities
In October 2015, the Jean-Talon Market gave us a weekend to prove ourselves. It was there that we made our very first sale, and it certainly wasn't our last! In two days we succeeded in selling 300&nbsppots of D&D Mamba. That was proof that our business had&nbsppotential.
We felt compelled to prove the value of Haitian culture. It is true that Haiti is still one of the poorest countries in our hemisphere and that its recent history of political instability and pathetic administration is far from inspiring. But it is time to introduce the world to the many riches Haiti has to offer, especially in the areas of culture and food. That was the challenge we gave&nbspourselves!
And we certainly did meet with a few challenges along the way. First off, importing peanuts from Haiti was a major problem. Finding a reliable producer that conformed to all the requirements of the Canadian Food Inspection Agency took a lot of time and energy. We then had to find a factory to produce our product locally. After searching for several months we finally found&nbspone.
Our greatest challenge on a daily basis continues to be increasing our sales. Managing a young company with limited resources in a sector as dynamic, complex and competitive as the food industry is far from easy. You need to spread the word about your product through marketing on social media and in-store tastings. You also have to constantly ensure your product's quality and minimize any variations in your production process. That's why choosing good strategic partners is essential. Whether you're talking about distribution or marketing, it's a difficult choice to make, and one that needs to be made with a good dose of&nbspperspective.
What's next?
Our vision for our product is clear: Mamba will be the spicy peanut butter in Canada and south of the border. And we're still thinking big at Dumornay-Delis: We want to bring more and more exceptional products to established markets that come from the developing world.
Feel like trying it? Believe me, you won't regret&nbspit!