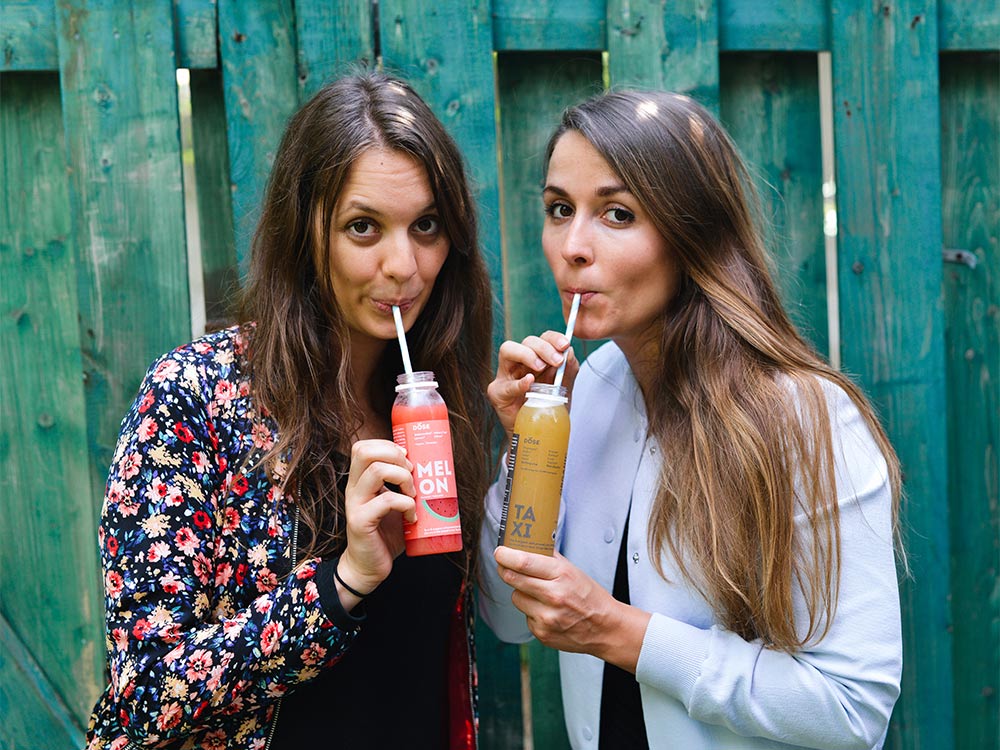 Creating a business one DOSE at a time
Geneviève Brousseau Provencher's Words of Wisdom
By Geneviève Brousseau Provencher, the co-founder of DOSE, a cold-pressed juice company
DOSE was born by chance in 2013 in the kitchen of our condo. We were looking to take better care of ourselves and our health, and to add more raw fruits and vegetables to our diet. That's when we discovered the world of cold-pressed juice.
For us it was an effective way of consuming more of the vitamins, minerals and other nutrients found in fruits and vegetables without necessarily having to eat a salad for breakfast, lunch and dinner. Obviously we were in love with the concept.
On the other hand, as with anything that's good for your health, pressing your own juice takes discipline and time. We hoped to find an alternative or a similar product at our local grocery store... but we quickly realized that no such product existed in Quebec.
After a few years working at Frank and Oak, and at a particularly wild and crazy moment J, we decided to create DOSE, an organic, raw, cold-pressed juice company. We wanted to create something completely different than what we saw in stores. We had no idea where DOSE would lead us, but today we're happy to find ourselves with 11 employees, our own juice plant and a growing community that we love almost as much as our juice!
In this blog entry I'll share a few things that had a direct effect on DOSE and that also influence many other new businesses.
How do you launch a new product in virgin territory?
Four years ago, organic cold-pressed juice was not a thing in Quebec. We were the first to try to market it, which might be hard to imagine now, since there are more cold-pressed juice companies today than restos in Montreal (I'm only slightly exaggerating). So we had a huge challenge in front of us: to educate the consumer about cold-pressed juice and its benefits, as well as promote our brand. As you know, education is what costs the most. So what do you do when you have no money but want to market your product? For us the answer was to make the juice attractive and fashionable.
When we started, most organic products had a sort of "granola" look. So we decided to be different and create a brand image that was completely the opposite of that, with a transparent bottle, bright colours and names that brought a smile to your face. The goal was to incite people's curiosity and send them to our website and/or social media. We created the hashtag #dosejuice and encouraged people to take selfies with our juice. It was free and it turned out to be great advertising.
To raise our profile, we sent juice to a few influencers and simply said that if they liked it, they should tell people about it, and if not, well too bad. Luckily, they loved it! So little by little DOSE became better known. We have also done more than 300 product tastings since launching DOSE.
So while people may have bought our product out of curiosity at first, they ended up happily falling into the world of organic cold-pressed juice, one DOSE at a time.
Is there a good time to launch a product?
No, but... "No" because now is always the right time and you can never predict every possible future event. BUT it is important to understand the ins and outs of first-mover advantage and second-mover advantage in your industry. In some cases, being the first means having more time to build clients and create entry barriers for competitors. In other cases, it means putting more time into developing the market and investing more money. In our case, being the first cost us two years: one year for developing the market and raising the necessary money, then another year for testing our cold-pressing technology and making it accessible, a factor that allows us to naturally extend the life of our juices. We have no regrets about the path we took since it forced us to quickly get our own plant as well as develop expertise and a capacity for easy growth, but being a pioneer has its costs. You have to be ready to face this head-on and find a source of long-term capital.
What are the benefits of being surrounded by an engaged community?
Starting from DOSE's beginnings, we put a lot of effort into developing our community. It's crucial, but it takes more work and perseverance than you can possibly imagine. Also, the return on investment is slow. But there will come a day when you start to receive emails from customers taking the time to compliment you on your products, and others who send you a photo of themselves with your juice. Over time, your community will become your ambassadors. They'll suggest points of sale or tell you when there seems to be inventory problems with certain retailers. That is worth its weight in gold. It's what helps us grow!
In closing, being an entrepreneur is far from easy. The road is full of doubts and challenges. However, the beauty of entrepreneurship is the fact that it is your road, which you created to realize your dreams. You just have to stay the course. When you feel unsteady, just pretend you're a runner doing the 100-metre dash: Never look right or left, but always straight ahead, toward your brighter future.