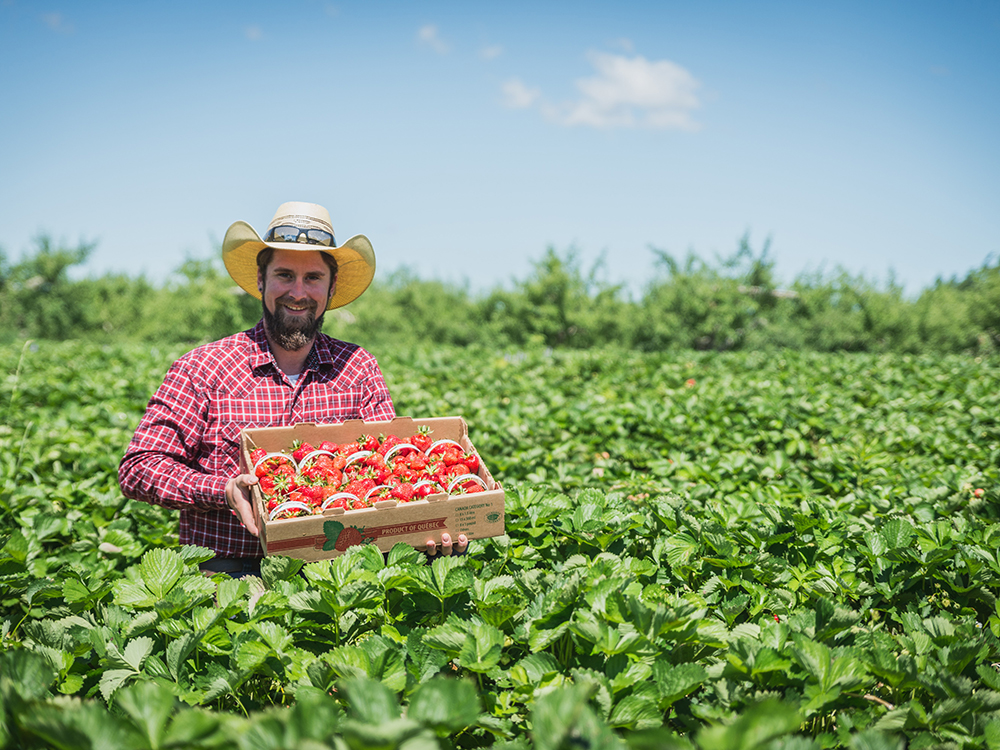 A childhood dream becomes a reality
Philippe Beauregard's Words of Wisdom
Friday, September 7, 2018
Philippe Beauregard is part of the fourth generation of the Potager Mont-Rouge farming family, and his mission is to bring people and agricultural producers together by offering an agri-tourism site that is open to the public. It's a place where you can pick your own produce, or purchase what has already been picked, and have fun at the same time!
The family business
As the son of market farmers from Rougement, in Montérégie, I was brought up following the seasons between the fields and Jean-Talon Market, where we sold our harvests for four generations. My great-grandparents were subsistence farmers and sold their surplus produce to stores. My grandparents sold their cows in order to specialize in retail sales. Finally, my parents, in less than 20 years, quadrupled the production size of the family farm. In 2018, Potager Mont-Rouge operated for its vegetable production, employed over 100 people during the high season and had points of sale while also supplying grocery chains.
The farm's specialty is its production of over 70 different varieties of tomato, which allows us to enjoy close ties with the Italian communities in Greater Montreal. In fact, my grandfather was the first producer of Italian tomatoes at Jean-Talon Market. Following the wave of Italian immigration in the 60s, he diversified his offering in order to satisfy the needs of Italian kitchens for Roma tomatoes. So we're very proud to be serving the third generation of Italians, as well as Quebec foodies!
An unusual career path
"I always wanted to take over the family business. I even have some of my writing from back in primary school that says I want to be like my parents. However, my natural curiosity and boldness led me onto some less well-trodden paths in order to finally get there." 
Philippe Beauregard
At 21, with my college technical training in mechanical engineering and my class 1 permit in hand, I continued my studies at McGill University in order to earn a professional designation as an agronomist. My decision to study in English seemed like an interesting challenge to undertake, and all my internships were completed abroad.
Thursday nights, instead of going out with friends, I would go to the farm to finish the night deliveries, plus there were some semesters in which I took more than 18 credits of classes. No one was more tired than me the next morning, not even my friends who had been partying all night!
In 2016,  I started an MBA in management part-time, which I completed over the winter, when there was less work to do on the farm. It was an investment I made in myself, since I would put my new knowledge to work right away in the family business.
Seizing opportunities
Despite my involvement and increasing responsibilities in the family business, I still had no idea what role I would play in continuing the family tradition. The in the spring of 2016, a neighbouring orchard went up for sale. One visit to the property and its country store was all it took to convince me! Going on deep intuition, I launched a business along with my sister—together we co-founded the family's agritourism division: Le Potager Mont-Rouge Halte Gourmande.
The site is a gourmet destination for stocking up on freshly harvested fruits and vegetables or local products, and for picking your own produce (like strawberries, tomatoes or pumpkins). Families really appreciate our giant trampoline, the tractor rides, the mini-farm, the corn maze and other attractions.
Challenges
When you start a business, even though you think you've thought of everything, there are many obstacles and unforeseen events that arise. After renting the orchard in the spring of 2016, we had only four months to get everything ready before the busy season. Since we were renting until September, our appropriation of the site and its optimization would have to continue into 2017.
At the same time while this race against the clock was going on, my sister and business partner, Marjolaine, was experiencing complications with her pregnancy. So I was on my own when I launched the Halte Gourmande for the 2016 season. Nevertheless, we had been able to get through the ups and downs of starting a business with our exemplary communication and coordination skills.
I completed many administrative records for the purchase transaction, as well as preparing for the apple-picking season that was soon to arrive. To get everything done in time, as soon as the purchase was made, we hired over 18 employees, renovated the store and equipment, which had endured years of neglect, handled orders from providers, promoted our agritourism site, etc. In its first season, we welcomed closed to 400 vehicles a day on weekends in September and October. And don't forget we were also coordinating sales of squashes on the part of the family business to grocery stores. We didn't expect it, but the success of this unlikely adventure was a big plus! 
2018, our third season
The family and both companies have never been better. We've now attained cruising speed despite our exponential growth. Our wide range of diverse products line the walls of our store and our customer service is improving every day. The biggest surprise, in my opinion, in creating the Halte Gourmande is that it allowed me to gain the necessary experience and equity to purchase the family business in the not-too-distant future!
WANT TO LEARN MORE?
Visit the Potager Mont-Rouge website