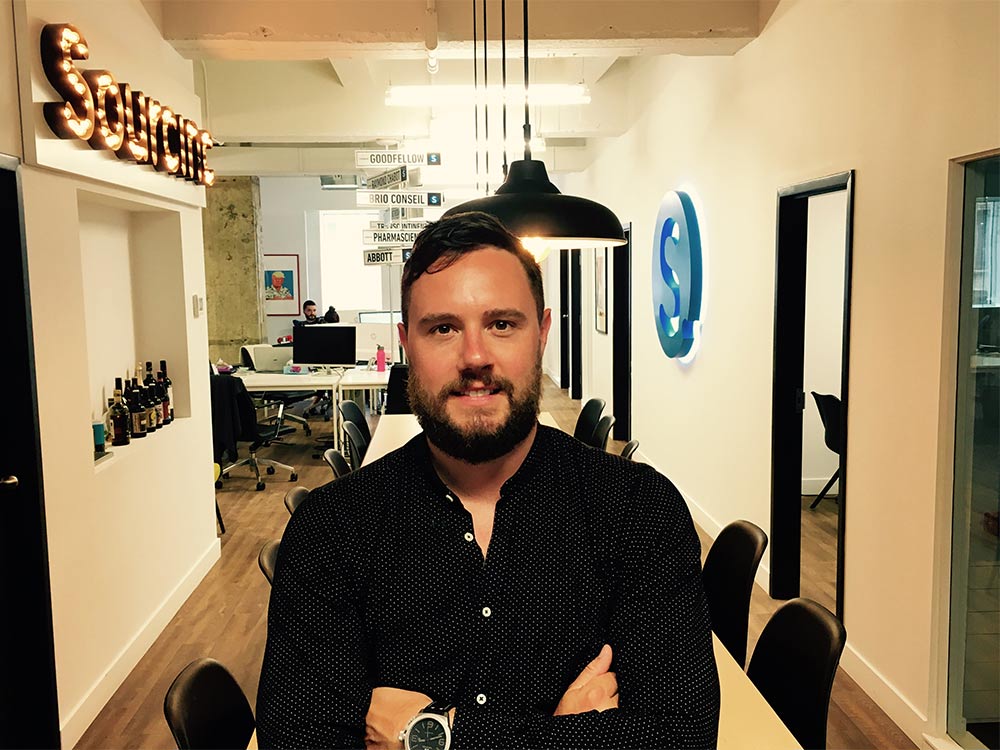 Being an entrepreneur is like being a professional sports team
Sébastien Savard's Words of Wisdom
Wednesday, August 2, 2017
Sébastien Savard is an entrepreneur and President of Sourcinc.
Before starting a business, I worked in big companies. Recognized as an expert in my field, I held some good jobs, gave conferences, travelled for work and enjoyed great working conditions and professional advancement. I was really on top of things, a young professional in full sail... But there were things I wanted to try—I wanted to move into the big leagues. With my wife pregnant at the time, having just bought a new house and with my boss offering me a promotion, I felt it was the perfect moment to say no, quit and start a business.
My thinking was simple: The fear of never starting my own business and having regrets had become stronger than the possibility of starting something and failing.
Thus Sourcinc was born!
The new recruit
On Day 1, I was taking care of everything (you have no choice when you're the only employee). So I did the accounting, marketing, sales, IT... even cleaning! Like a new recruit during his first games, you have to take a few risks to stand out. By starting Sourcinc, I was moving into an already mature market, but with a completely different, untested idea—I was looking to revolutionize the industry. The vets might be skeptical, but I was determined to succeed. The new kid was finally on the court and there could be no turning back.
A few months later, I had achieved a few victories, accumulated some good stats and experienced some growth. Then came one of the most important moments for an entrepreneur: tracking down and hiring top talent.
The talent scout
By the way, I forgot to mention that I'm a recruiter and the business I started, Sourcinc, specializes in sourcing talent on the web and through social networks. So in principle, hiring someone for my business shouldn't be a problem since I was a professional recruiter. Little did I know how hard it would be to handle recruiting for your own project! Until that point I had always found people for other businesses. Suddenly, hiring an art director in Australia for Cirque du Soleil seemed a lot simpler than finding Sourcinc's first employee. When you're an entrepreneur, selecting your team is a priority and the key to your success. You need to find the best players on the market. Like a lot of entrepreneurs, I started by hiring people I knew in the industry, which is a safe bet that I would recommend to others. (I even sought out my old boss, the one who offered me the promotion! 
The team captain
After a certain amount of time, once my team started taking shape, my entrepreneurial role became a lot more like being the team captain. In order to lead by example you have to do the work, get your hands dirty and take the initiative so your team will follow you. You need to be the key player in decisive moments but also lead the team through hard times and take a few hits. That kind of pioneering leader expects excellence and self-sufficiency from his team while still being part of the action. Wearing the "C" on your jersey comes with big responsibilities.
The coach
Like a coach, an entrepreneur is often under pressure. He is not in control of every element, needs to be a good strategist and sometimes stays above the fray in order to be able to make quick, tough decisions. "You can't be common, the common man goes nowhere; you have to be uncommon," as coach Herb Brooks said. An entrepreneur needs to keep his organization moving forward, despite adversity, without losing focus; he needs to take care of his team's development and advancement, and to adapt his management style to the individuals and resources available in order to maintain a standard of performance and also keep everyone happy 
The General Manager
Business intelligence is the ability to gather, process and distribute useful information to the entrepreneur so that he can use it to stay up to date on what's happening in the market and continue to innovate. Basically, it's understanding new advancements on the market in order to stay relevant, especially if technology is involved—like being a general manager in a market of free agents. Recruiting technology is rapidly advancing, and we are seen as being the headhunters of the future, so we need to act like it. A club's general manager needs to be the person with the most contacts in the league.
The Owner
With entrepreneurship comes a few business considerations, such as your choice of business structure, financial statements, budgets, the business plan and the administration involved in the daily management of your company. Everyone has a specialty, so I recommend finding a good team (lawyers, a tax specialist, accountants) while remaining interested and involved in understanding these facets of your business in order to ensure the healthy management of your company. After all, you're also the owner 
So now all you have to do is win the championship—what are you waiting for?