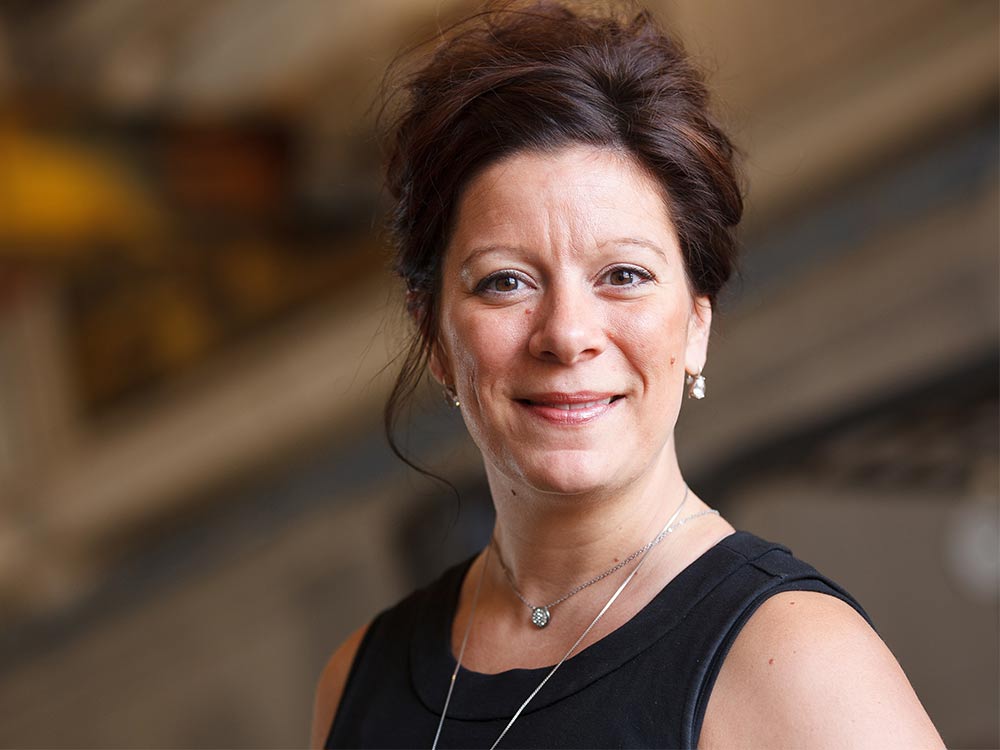 Techno Diesel: When entrepreneurship is a family affair
Caroline Thuot's Story
Based in Joliette for the last 40 years, heavy duty truck repair firm Techno Diesel is a good example of a successful family business transfer. The firm is headed by Caroline Thuot, the eldest of four sisters working at the company.
Caroline Thuot began working in her parents' business in 1977 at the age of 12. Today she is the head of Techno Diesel, a leader in the repair of heavy-duty trucks and tractor-trailers.
 
Taking the reins and making your mark
After completing a degree in human resource management at Concordia University, Caroline joined the planning department at her parents' business, where she organized work flow and organized repairs. She quickly moved on to heading the production department before becoming director of operations. In 2013 she joined the company's executive management and in 2016 she became president.
« Taking over the family business is a privilege. You need to take your time and handle the transition calmly. »
But this rapid rise did not happen without any trepidation—Caroline admits to receiving support from the École d'Entreneurship de Beauce, which helped her find her feet as an entrepreneur. "I started a training program in 2011. That changed my life, because I didn't think I was an entrepreneur. There I developed the abilities I still have today in client relations and working collaboratively."

Originally from Lanaudière, Caroline credits her parents as her main source of inspiration, with her father giving her a taste for hard work and a certain kind of freedom and her mother the social skills and desire to care for others.
See also: Cambli Group: Armoured succession
A unique model for business transfer
Marcel Thuot had always hoped his four daughters would join the team at Techno Diesel. The Thuot family took plenty of time to arrange for an orderly business transfer. To handle the emotional aspect, a family council was set up and led by a pair of therapists, who would help the family clarify and organize elements of the transition four times a year.

"The family council allowed us to question what our values were in relation to the business. As a family, emotion often gets the upper hand. You need to be able to channel that energy in order to ensure a successful future for the business."

The Thuot family put together a completely transparent plan for succession and a consulting committee of entrepreneurs to coordinate the transfer. A coach evaluated each sister's management abilities and developed a plan in line with those abilities. Establishing such well-defined procedures paid off for the family, with all four sisters and both parents fulfilling roles within a company in constant growth.
 
The future, in Quebec and beyond
Technological solutions were what enabled Techno Diesel to stand out from its competition. The company was one of the first in Quebec to take on the natural gas engine repair market. The company also investigated a partnership in order to develop expertise in repairing electric engines—it's all about staying current in order to provide customers with the best service.

After enjoying 40 years of success in Lanaudière, Caroline wants to extend the company's activities elsewhere in the province and even beyond. She and her sisters aim to establish the business in other sectors of activity by developing heavy truck repair service centres. But no matter what the future brings, one thing is certain: The growth of Techno Diesel will never happen at the expense of family relationships.
 
Techno DiesEl in Numbers
6: Number of Thuot family members working at the company
100: Number of employees
$7.5 million: Total revenue of Techno Diesel
12,000: Number of repair orders issued each year 
 
Want to learn more?
Visit the Techno Diesel website