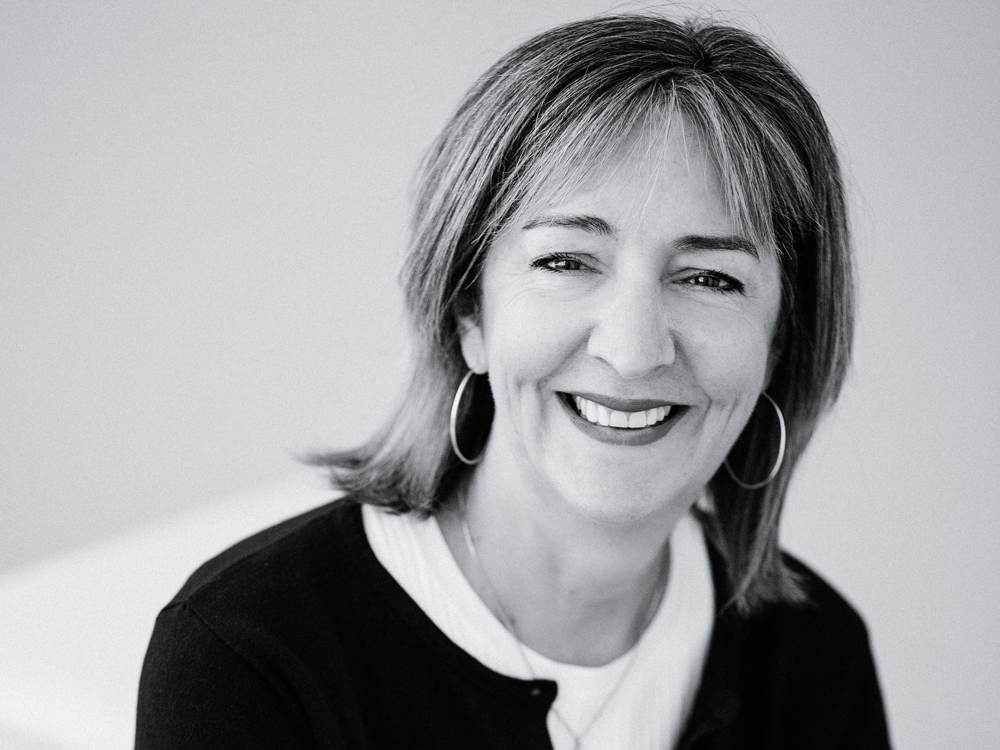 Perlimpinpin: A very big brand for very little people
Danielle Déry's Story
Friday, September 18, 2020
En 1986, Danielle Déry, âgée de 23 ans et fraîchement sortie du collège, a décidé de se lancer dans les affaires en fondant Perlimpinpin afin de s'assurer un emploi stimulant. Près de 35 ans plus tard, la marque, qui habille et abrie les tout-petits d'ici et d'ailleurs, est toujours aussi jeune.
In 1986 at the age of 23, new college graduate Danielle Déry decided to start her own business to ensure herself a source of stimulating employment. Almost 35 years later, Perlimpinpin is a brand that has kept its youthful vitality by dressing and comforting infants both here and abroad.
After leaving school with a DESS in fashion design in hand, Danielle Déry decided to launch a business with a classmate from school, not so much out of a sense that entrepreneurship was her calling, but more because, at the end of the 1980s, the economic crisis and lack of jobs held little promise of ushering in anything too exciting. "I felt like I needed to test my abilities," explains the entrepreneur. "I had something in me to put out there, some energy, and to respond to that I needed to create something." Having worked for two years at a company in the children's clothing sector, she understood how to position herself in that niche, kids' clothes being the most creative and diverse area in terms of colour and pattern, from her perspective. Thus Perlimpinpin was born—a children's clothing and accessory business.
The early years
In the beginning, Perlimpinpin had a store in Quebec City, but the two co-founders quickly abandoned it to focus on distribution. Their decision to sell through the intermediary of retailers proved wise, and their first growth period resulted in a move into larger offices. While working on expanding their network of distributors, the entrepreneurs refined their business model and began slowly putting aside ready-to-wear to concentrate on a more specific niche: baby clothes. Keen to offer articles for the best price, the team also started to build a network of overseas manufacturers to handle production starting in the early 90s. The small team focused on designing products while keeping a portion of their production local, whenever possible.
 
By of the start of the 2000s, Perlimpinpin still offered outerwear, but focused particularly on sleep bags and layettes in specialized fabrics like bamboo and muslin.
The company's star product, sleep bags for babies available in a range of fabrics, has ensured its continued growth. Given the growing demand for these secure sleep bags for infants, Déry has sought accreditation for her products over the last ten years by international certification authorities in order to be able to distribute them both in Europe and the United States. The internationalization of Perlimpinpin had begun.
Crossing the ocean
The Perlimpinpin brand is now distributed in six countries: the U.S., Canada, Great Britain, Ukraine, South Africa and New Zealand. The scattered nature of this selection of countries is due to a well-thought-out strategy on Déry's part to ensure the penetration of markets in a sustainable way. "It's pretty easy to sell in many countries, but without putting in the energy you need to deploy your brand, it's not worth it. The fact that Perlimpinpin has a presence in this sort of haphazard collection of countries is because of the interest people had there in our products."
Up until 2020, soliciting sales was done through intermediaries such as distributors, retailers and trade shows, but the pandemic necessitated that the entrepreneur review her growth strategy. "The crisis caused us to review certain positionings," states Déry," but it wasn't a negative thing, quite the opposite! The situation forced us to adapt more quickly than we might have thought and shift towards international development based on digital." The company is now invested in an awareness offensive to be deployed next year in targeted markets.
The web has also enabled Perlimpinpin to continue its sales through a transactional site, but above all to stay in touch with customers through social networks. Since the bulk of its revenue comes from retailers, their ability to showcase products online has become much more important. "We also had to revisit the way in which we collaborate with retailers," explains the entrepreneur. "Because at the moment, we're revamping our entire strategy for our web presence, on our platforms and with retailers. The question is how to promote our brand on their site. At the moment, we need to completely rethink our way of doing marketing—it's like launching a new business! It's hectic and brings a whole new energy."
What Déry has taken away from the crisis is the importance of good relationships: with suppliers, retailers and customers. She also hopes that the popularity of buying local amongst Quebecers during the pandemic continues afterward, whether in terms of their choice of business or, within those businesses, their choice of product.
What's next
Well equipped to face the next few months with her new marketing and development plan in hand, Déry will continue to keep her brand up to date, as always. Perlimpinpin, while looking to grow as a company, also plans to stay close to its customers that have long followed the brand, in some cases for two generations. "I believe there are values in the company that will give it longevity," states the president of Perlimpinpin humbly, "an expertise that has been acquired over the years that we didn't even know we had."
Having bought out her partner's shares in 2014, Déry is also thinking about the future, having onboarded four employees as partners in order to involve them further in the business and, in the long term, pave the way for the next generation.
Perlimpinpin in Numbers
15: Approximate number of employees of Perlimpinpin, in Quebec City
6: Number of countries in which Perlimpinpin's products are available
15%: Percentage of production located in Canada
500: Approximate number of retailers who carry Perlimpinpin products