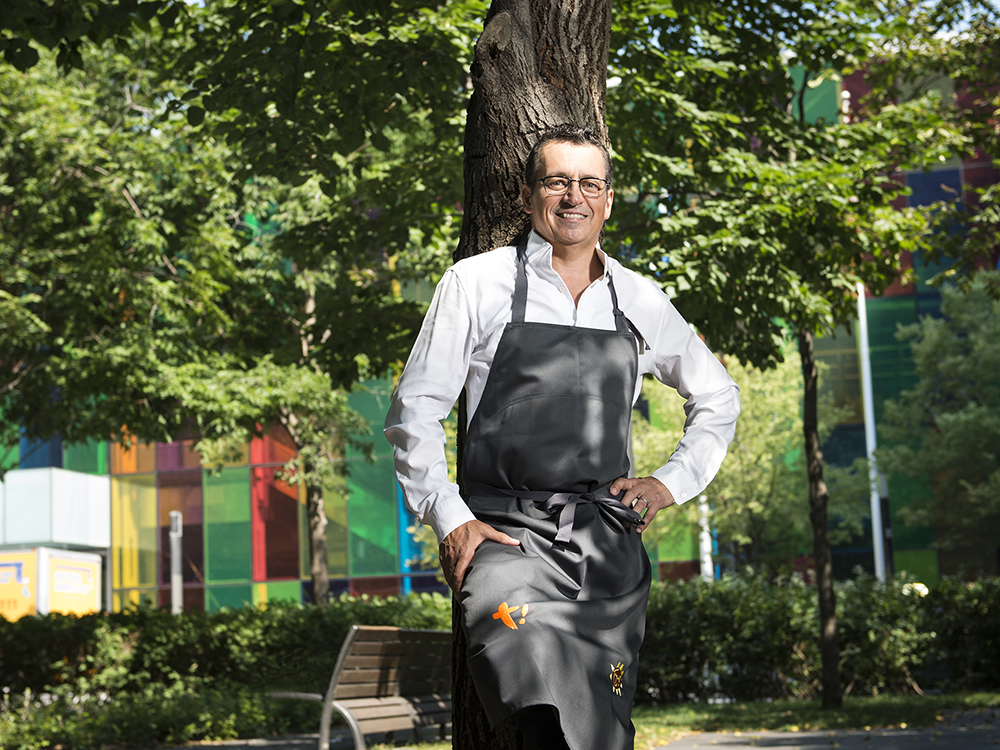 Out to lunch? Pure brilliance!
Normand Laprise's Story
Early in his career, Normand Laprise had a vague ambition of one day becoming a chef one day. But chef/owner? Not necessarily what he had in mind. However, life quickly appointed him this role, and Chef Laprise discovered he had some unexpected entrepreneurial qualities.
Build a network first. The rest will follow.
After his internship at restaurant Marie-Clarisse in Quebec City, the young cook wanted to travel to broaden his horizons. In France he discovered the old adage, "It's the product that makes the chef," which really spoke to him. From that point on, he no longer wanted to create menus; instead, his idea was to  build a solid network of producers that would source quality ingredients.
"We first start with the key ingredient, around which we create our menu. Not the other way 'round," said the chef, who makes all his business decisions based on his desire to broaden access to fresh produce and improve the traceability of products to their source. This approach may seem obvious today, but thirty years ago? It was purely revolutionary.
A coincidental defining moment
Because he could not find a job as a chef that would allow him to pursue his product-first concept, he accepted the position of head chef at Citrus. That adventure ended after four years, and very quickly, entrepreneurship fell right into his lap.
"One day, I ran into some former clients," he explains. Affectionately nicknamed Mr. and Mrs. Foie Gras because they came in every Tuesday to order this dish, "they offered to finance me so I could open my own restaurant."
Normand Laprise agreed, but on his terms. His freedom was paramount: He wanted the financial boost, but no partners, and he was strongly committed to repaying every penny. Fears of failing were certainly high, especially since this industry has a way of challenging professional practices.  "People would say, 'That Laprise is out of his mind. His products are too expensive. There are too many people in the restaurant business.'"
Toqué! grows, Laprise builds
Did someone order success? In their location on Saint-Denis, the kitchen team grew from five to 14 members in 10 years. Laprise and his accomplice, Christine Lamarche, never kept track of their hours. "Mr. Abraham at Le Café de la Paix once told him, 'Young man, when people work, you work, but when people are having fun, you're still working.'" Laprise shares this advice with the many young people who spend time in his kitchen and are often too eager to open their own restaurant. "First take the time to build yourself. After, you can build something."
"First take the time to build yourself. After, you can build something."
Normand Laprise
And building is what Laprise wants to do as a chef. Not just increase the number of restaurants (he has declined many such offers, at least 30 to date), but rather continue to innovate and act as a mentor to his employees. This is why he moved Toqué! to Place Jean-Paul-Riopelle in 2004. His hope was that this move would enable the restaurant to become part of Relais & Châteaux, a place where he could develop a large, bright kitchen conducive to the natural flow of creative juices. Brasserie T, which offers the same quality, rigour, and freshness as its big brother but in a friendlier format, was opened for similar reasons.
The next innovation for Normand Laprise: a food depot, where we can find, in-store and on table, fresh produce from the many producers with whom he has created relationships with over the past few years. "My dream is to keep pushing traceability, sourcing, and the quality of the ingredients used and make them accessible to everyone. Quebec's quality potential is huge. It must be developed."
Want to learn more? 
Visit Toqué!'s website