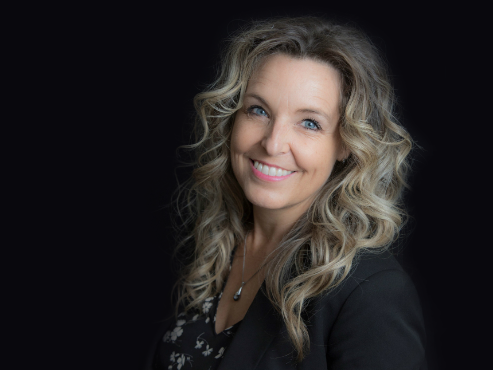 Nubik: Coding growth
Katie Bussières's Story
Katie Bussières earned her stripes in business as the vice-president of a company that underwent rapid growth through a series of acquisitions. After that experience she decided to continue her career by leading her own company, which offers personalized business solutions using the Salesforce platform. 
Bussières started off as a programmer. She then spent seven years working for a company operating in the Microsoft environment and was quickly promoted into a management position, where, as the right-hand woman to the president, she had to do some fast learning so she could successfully participate in six acquisitions herself. The experience led to the realization, in her words, that "my next acquisitions would be my own." Her idea to become an entrepreneur wasn't a new one—actually it was something she had been dreaming about since she was in her twenties. "But I never landed on an idea or opportunity for starting my company," she explains. "I earned a good living and had young children, so the idea would need to be really promising for me to risk it. I found it hard to make the decision to leave everything in order to launch myself into something unknown. So I realized that starting from zero was really not for me."
Entrepreneurship through takeover
It therefore seemed obvious to Bussières that she needed to buy her own business. But she still had to do some searching in order to find what was in fact a rare pearl, since not many tech companies were up for sale. She had no familiarity with Nubik before she first heard about it and took an interest in the company, and she did not find the project convincing at first. As a cloud-based tech firm involved in implementing management solutions on the Salesforce platform, Nubik had a lot of challenges ahead of it. But after many discussions, Bussières realized that the company had big potential for growth. Coming off the success of her last position, which proved to her that she actually was capable of more than she thought, she bought the company in 2015 and gave herself one year to learn about the business and its team. 
"Nubik was already a different kind of company when I first arrived. I've always loved things that are different and that blaze new trails. The company got me out of my comfort zone through its teleworking management methods and so I had to adapt. That taught me a lot about myself and presented me with a good challenge, which was to find the boundaries of the innovative model we were evolving in. There were 38 of us when I arrived, and now we're 110 and things are going very well!" 
Katie Bussières
Taking the reins
Upon her arrival, Bussières quickly capitalized on the staff in place by creating a management team out of existing resources. Her first year was devoted to constructing and working with budgets, which was new to the company. "With that structure in place, it's not just me that is managing the team. It's a whole group who bring their ideas, think about the company's future and really take it to heart." 
The new president needed to get used to the telecommuting model that Nubik already had in place—a way of working that requires different management, but which brings its share of advantages. In fact, the company that was awarded a prize for work-family balance by the Regroupement des jeunes chambres de commerce du Québec in 2016 was advantageous not just for employees, but also for managers, who were able to recruit the best job candidates no matter where they were located. "Their engagement and productivity was so high that this alone convinced me of the value of this way of working after just a few weeks. Actually it was really my methods and trust that needed some adjustment, since establishing your leadership from your office at home is a bit harder to accomplish." 
Growing the network
Although the new leader wanted to quickly begin acquisitions, she first needed to accomplish organic growth that was a bit stronger than she had anticipated—a type of growth she had never attempted before. "Growing organically is a lot of work," she says, "It's like your company becomes a whole new company every trimester." 
Finally an opportunity to buy out a company presented itself. On September 1, 2018, the entrepreneur completed her first U.S. acquisition and integrated its 15 employees into her existing team and business structure. In her first 37 months heading Nubik, Bussière has quadrupled its revenues and almost tripled its number of employees. She would like her next acquisition to be made in Canada within her area of expertise, specifically a company offering business solutions using the Salesforce platform.
Today Bussières accepts that idea of being "married to her business" and can appreciate the thrill of jumping into the void, since next year's unforeseeable future doesn't look nearly as scary when you're backed by a great team.
 
The Company in Numbers
110: Number of Nubik employees
15: Number of employees in the U.S.
400%: Growth in Nubik's revenues since the takeover
 
WANT TO LEARN MORE?
Visit Nubik's website