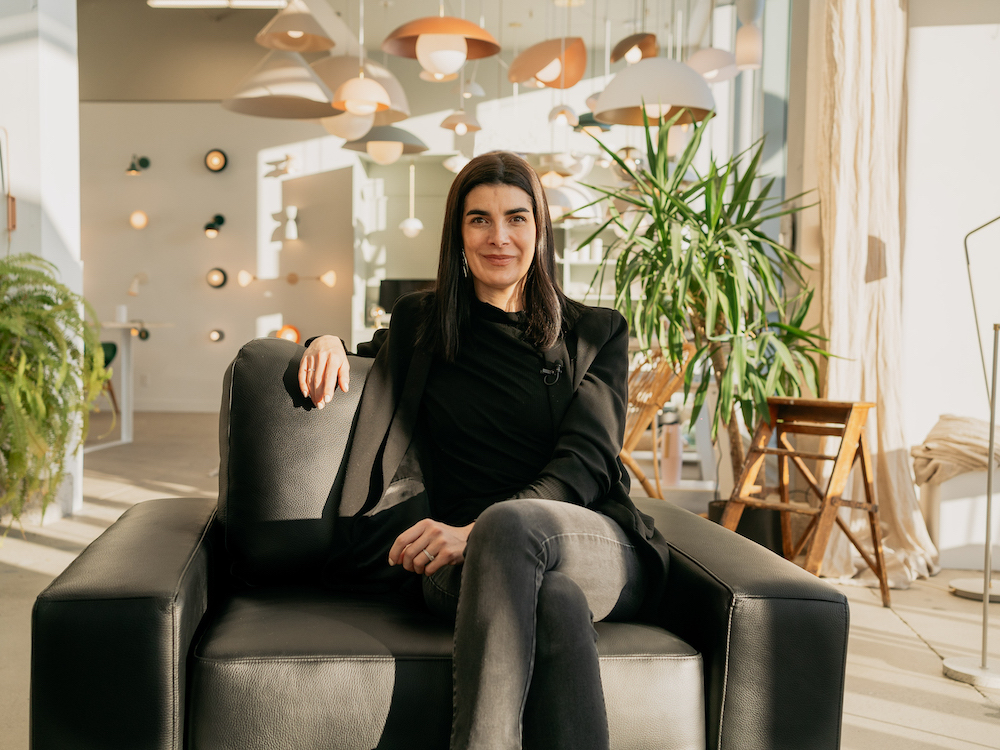 Luminaire Authentik: Shining a Light on Quebec's Expertise
Maude Rondeau's Story
Wednesday, November 23, 2022
Maude Rondeau, president and founder of Luminaire Authentik, welcomes us to her company's head office in Cowansville, in the Eastern Townships. The 55,000 square feet building houses the business's manufacturing facility, offices, boutique and custom lighting in a multitude of colours.
The former grocery store owned by a large banner was converted to accommodate a growing Luminaire Authentik. The company has a little more than thirty employees and offers lighting fixtures entirely made in Quebec.
A NEW SPACE TO DESIGN LOCAL PRODUCTS
Ever since she was a little girl, Maude dreamed of starting her own business. Luminaire Authentik came to be almost eight years ago in her garage. She had identified a gap in the lighting industry. "Products were either very low-end or very high-end," she says. Today, the company's new space is nothing like her makeshift garage office. Of the 55,000 square feet available, Luminaire Authentik occupies only a third: there's no shortage of space for growth!
From the building's boutique area, a large bay window allows customers to admire the artisans hard at work. "The only way to offer a customizable and accessible product was to do everything ourselves." More than 2,800 design possibilities, including 50 colours, are available to Luminaire Authentik customers.
"The experience allows consumers to develop a sense of belonging to the product. They feel like they've created their own luminaire, even though our team will be putting it together."
With this in mind, the company opened its first store in Montreal's Saint-Henri neighbourhood, then in Toronto. New points of sale in Laval and Quebec City will be opening soon. An innovative pilot project will be launched in Quebec City, where customers will be able to reserve an employee-free boutique. A person from the head office will offer a remote consultation, giving access to all materials, designs and colours to build their own luminaire. For the future, Maude is striving for retail outlets in Western Canada and on the East Coast of the United States, in cities such as Miami and New York.
AUTHENTIC AND TRANSPARENT BUSINESS
Maude draws a lot of inspiration from Nordic countries—especially the slow living and hygge movements—for her brand's designs. Luminaire Authentik's style is decidedly clean, minimalist, with a touch of femininity. You can tell there's a little bit of Maude in everything the company produces. "It was very important for me to offer a 100% Quebec product, not one designed in Quebec and made in China," she says.
"I made a point of manufacturing my lighting fixtures in Quebec, encouraging local artisans and driving our local economy."
It's even reflected in the company's name. "The word 'authentic' describes me as a person. I'm a real, transparent person, and that's how I wanted to run my business." One can't help but think back to that large bay window that gives a glimpse of the craftsmen's work. "I wanted to create an authentic work environment," says Maude.
A COMMUNITY OF WOMEN ENTREPRENEURS
Even in its marketing, Luminaire Authentik doesn't deal with fluff. "We've never advertised on highways or in magazines." The company bases its success on "organic" marketing, including word-of-mouth and social networks. On the one hand, the custom fixtures spark conversations around the dinner table when customers have people over. On the other hand, customers like to photograph their newly lit home on social media with the mention of Luminaire Authentik.
"All of our marketing budget is put into tools for our customers, research and development and the customer experience. Our marketing is self-sustaining."
Maude found a community that shares her values for authenticity and transparency at Cheffes de file, an initiative of the Caisse de dépôt et placement du Québec (CDPQ) to support the growth of women-owned businesses. "Having this space for non-judgment and collaboration is wonderful! It's a gold mine for new ideas and solutions," says Maude. You often wear many hats when you start a business. "The secret is to surround yourself with people, to seek mentoring, to talk to other women entrepreneurs. It's about being authentic to yourself," concludes Maude.
A FEW FIGURES
36 employees
25% increase in sales per year
2,800 possibilities in the Luminaire Authentik catalogue
10 000+ customers
4 points of sale in Canada
LEARN MORE
Visit Luminaire Authentik's website to learn more about their Quebec-made custom lighting products.