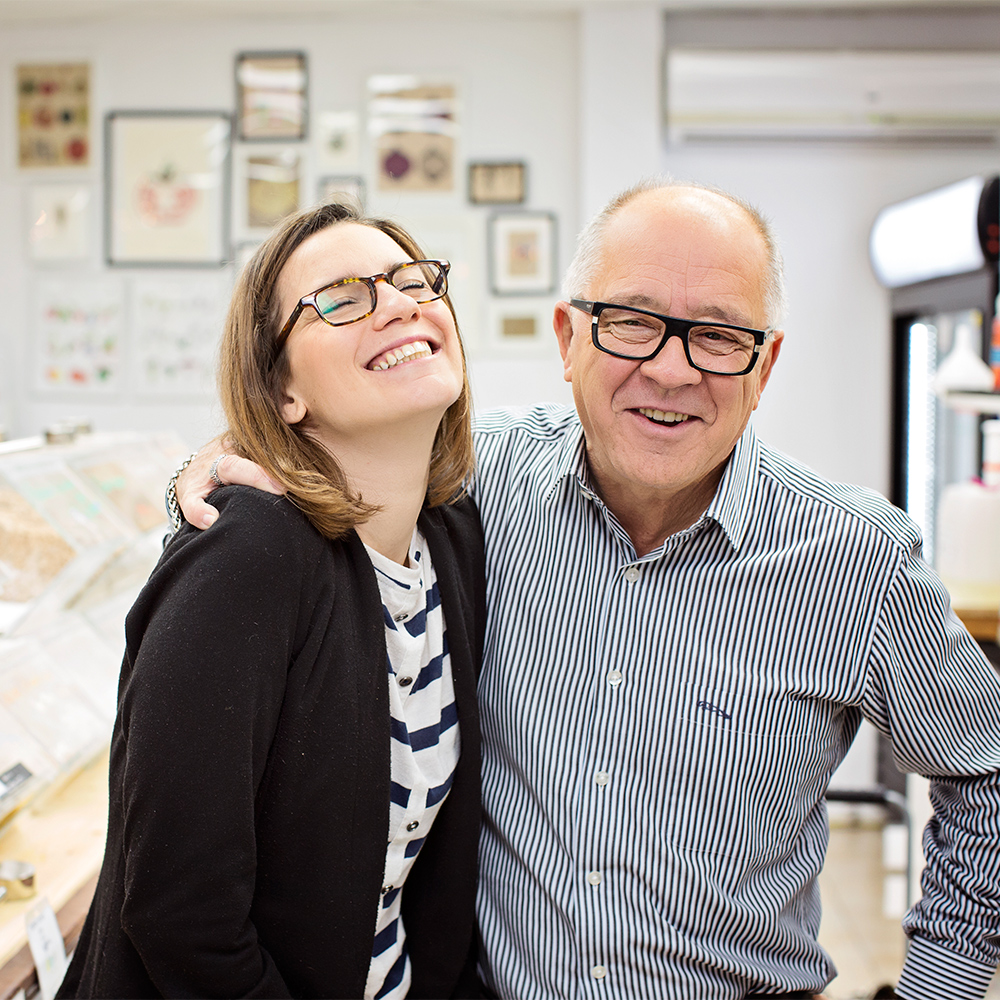 LOCO Épicerie: the taste of entrepreneurship
Marie-Soleil L'Allier and Serge Carpentier's Story
Wednesday, November 30, 2016
When it comes to Marie-Soleil L'Allier's LOCO grocery store, it all started with a discussion. After over a year and a half of preparation, the project finally came to life at the end of Summer 2016. She opened her first zero-waste ecological grocery store in Montreal: a project that was made possible by the guidance of Réseau M, who has supported Marie-Soleil for the past 6 months.
Mentored by Réseau M of the Foundation of entrepreneurship, Marie-Soleil co-founded LOCO grocery in August 2016. This new type of ecological grocery store with a zero-waste policy is becoming more popular in Quebec. For this software engineer, getting mentored from Réseau M was a given.

A journalist by trade with a strong incline towards entrepreneurship, Serge Carpentier has quite a few entrepreneurial successes before he got involved with Réseau M, first as a coach, and then as a mentor for six years.
Discover also : Mentor and mentoree: The winning entrepreneurial combo
Devenir Entrepreneur: Can you tell us about how you guys met?

Marie-Soleil L'Allier: I contacted Réseau M and went through an interview. I responded to a questionnaire and one of the points that stood out in my answers was that I was thinking about this mentor relationship as an exchange. From my first meetings with Serge, I knew right away that he would be a great mentor for me because we shared the same values.

Serge Carpentier: Marie-Soleil contacted Réseau M at the beginning of her project. Following an internal meeting, it was decided that I was the person who fit her entrepreneurial profile the best. At Réseau M, regardless of where you start, entrepreneurship and mentoring are seen as human adventures. Our business views were in tune and, after three meetings, we decided to live this adventure together. It has been going on for six months.

DE: What does the Réseau M mentoring program bring to you?

M. -S.L.: I found it interesting to exchange with an entrepreneur who understood why I wanted to launch my own business. It wasn't about becoming a millionaire. Of course, profitability is important, but LOCO grocery is not limited to that – our goal is way more ambitious.  Serge immediately realized that we wanted to surpass the simple economic imperative. My associates and I see ourselves as environmentalists in business, and Serge's questions and advice allow us to push our thinking further.

S. C.: I learn so much from young entrepreneurs. Their ardour, their passion: it's refreshing. It also allows me to innovate in my entrepreneurial approach and in my business thinking. My approach has changed so much in the last 15 years! If you don't interact with young entrepreneurs, it's difficult to inspire their vision and aspirations.
" Twenty years ago, LOCO's business model probably wouldn't have worked, but today it's the young entrepreneurs who sincerely invest themselves in making society better who will succeed."
Serge Carpentier 


DE: What would you say to someone who would hesitate to contact Réseau M to take advantage of the mentoring experience? Or become a mentor?

M.-S. L.: The success rate of entrepreneurs who have been mentored is much higher than those who don't have access to this kind of support. It's also important to exchange with someone who has a new and objective point of view. The mentors at Réseau M have a step back from entrepreneurial life. A mentoring relationship is a bit of history that comes in to help guide the future.

S.C.: No matter what experience you have, mentoring is a matter of vocation. A mentor-mentee relationship is usually brief (it lasts about a year), but it's often intense. It takes time to get invested. When you're a seasoned entrepreneur, it's not always easy. The mentor has to accept to be a transmission tool without waiting for anything in return. The ultimate goal is to share a vision of business and to value the success of the entrepreneurial succession. We derive great satisfaction and immense pride from this.
DE: What will be the challenges of tomorrow for mentoring in Quebec?
S.C.: Mentoring will develop more and more. Entrepreneurs are becoming increasingly generous in sharing their experiences. The intimacy in the metor-mentoree relationship will let us get to know the realities that the new generation face. To become sustainable, this entrepreneurial network will have to be renewed and expanded at the same speed as entrepreneurship, which thrives very rapidly in Quebec.
Épicerie LOCO in numbers
4: The number of co-founders
12: The number of employees
600: The number of products distributed at the grocery store
 
Want to learn more?
Visit the LOCO website
Photo credit: Stephane Vairo