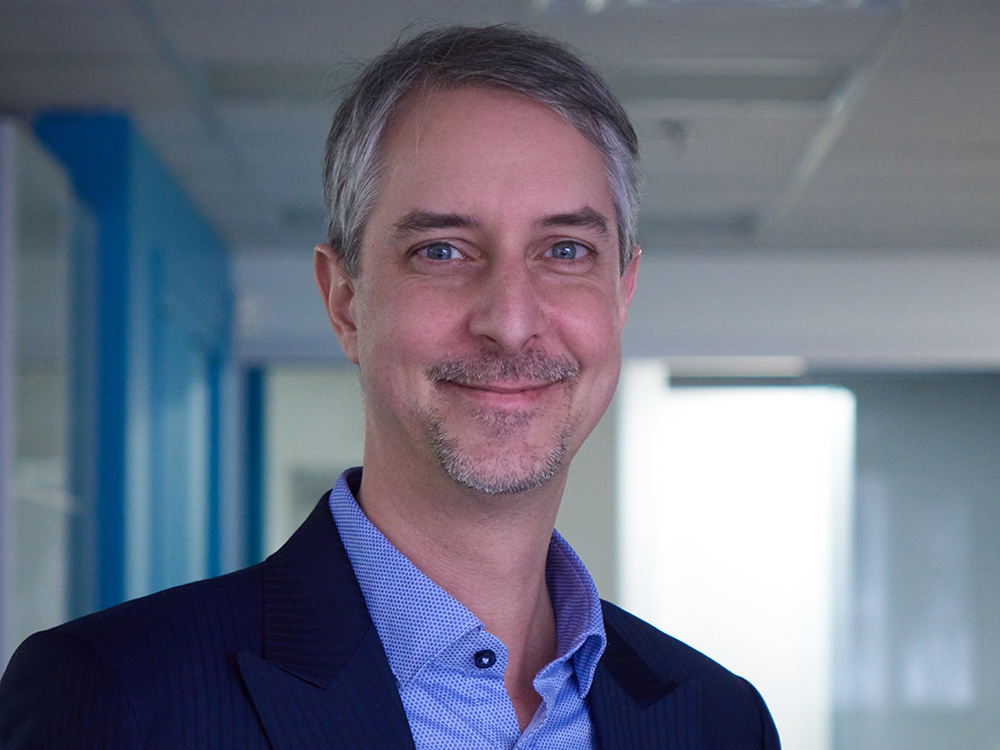 Imagia: Revolutionizing the world of medicine with AI
Alexandre Le Bouthillier's Story
With the help of big data and artificial intelligence, Imagia helps health professionals transform the process of screening and treating illnesses like cancer.
According to data provided in a 2017 report produced by the Canadian Cancer Society, close to one out of every two Canadians will receive a diagnosis of cancer at some point in their life—cancer is also the main cause of death in the country. The statistic demonstrates why it's so important to find solutions to prevent the disease and better treat affected patients.
This is the stated objective of Imagia, a company created in 2014 by Alexandre Le Bouthillier and Nicolas Chapados that relies on artificial intelligence to maximize the effectiveness of cancer screening and offer the medical community the possibility of speeding up development of new treatments. The platform created by Imagia, called Evidens, uses algorithms belonging to proprietary technology Deep Radiomics to produce biomarkers based on digital images—indicators that measure normal or pathological processes related to a therapeutic intervention—in order to track the outbreak and progression of illnesses within a patient.
When a patient diagnosed with cancer is offered two treatment possibilities with similar response rates, for example, it's hard to choose the one that could be more effective. "That's where AI comes in," explains Le Bouthillier. "We use large-scale data from digital imaging to quantify patient responses and provide accurate data to health professionals." The techniques developed by Imagia have the potential to enable screenings to be  less invasive, less costly and of shorter duration. 
Ahead of the AI boom, from computer science to the medical field
Le Bouthillier took an early interest in entrepreneurship and artificial intelligence. At the age of 18, he founded his own software company, and not surprisingly he pursued studies in the same area. Soon after completing his master's in computer science at Université de Montréal and while pursuing a doctorate, he co-founded Planora along with Louis-Martin Rousseau and Jean-François Gagné—a company specializing in optimizing employee schedules that used data generated by AI long before the technique became popular. "At the time, AI wasn't really a thing," explains Le Bouthillier. "But we had a feeling that we could solve a lot of logistical problems and respond to the needs of companies while still taking into account employees' own preferences." The schedule planning software developed by Planora can be adapted to sectors as various as agriculture, retail or air travel. 
When the company was bought out in 2012 by RedPrairie, an American firm operating in inventory, transportation and human resource management and optimization, Le Bouthillier started looking around for his next challenge. "I told myself that I should switch my focus to an area where I could have a positive impact on people. How could I apply recent breakthroughs in artificial intelligence to the medical field?" His new idea was also the result of a development in his personal life, since he had just learned his father had been diagnosed with pancreatic cancer.
"I felt there was an opportunity to use AI to make a difference in the lives of patients and health professionals." 
 Alexandre Le Bouthillier
 
Showing potential with tangible results
Le Bouthillier needed to prove the worth of his idea quickly in order to convince his peers he had a valid concept. To this end, Imagia partnered with Japanese manufacturer Olympus to enable the prediction of pathologies related to polyps photographed during endoscopies. This collaboration quickly attracted attention, which offered the company the means to realize its ambitions. Imagia is now working in close collaboration with pharmaceutical companies and medical equipment manufacturers to integrate the huge amount of aggregated patient data into the process of treatment and diagnosis. 
To be an entrepreneur, you need both passion and perseverance. "It's not really a 9-to-5 job," admits Le Bouthillier. "We have our share of all-nighters, you travel overseas to see what your competitors in other parts of the world are doing and research how you can differentiate yourself in the market. You need to keep your head above water, read a lot and collect information, never stop learning. Determination and perseverance are the two essential qualities for having a successful business." The company's success is also the result of teamwork. "You need to recognize people's strengths and weaknesses, to find team members that can push you to achieve great things, to rely on people who aren't necessarily like you so you can access a variety of points of view."
AI-focused expertise: A definite asset
According to Le Bouthillier, entrepreneurs are very well supported in Quebec and the rest of Canada in terms of research and development. "There's a healthy atmosphere amongst investors that helps companies during different steps of their growth by offering financing." Recently, Imagia moved its offices to the O Mile Ex complex, a centre for excellence in artificial intelligence that opened its doors last year, whose goal is to create an ecosystem of entrepreneurs and university researchers that can collaborate in the same space. "It creates a really dynamic milieu. Having AI professionals close by has a major qualitative impact on researching and developing solutions." 
In the B2B sector, Imagia is notable for its concentrated expertise in AI, which is at a higher level than the many other larger firms with whom they do business. "You need to develop partnerships between clients and new businesses like Imagia, who have decided to focus on innovation but need allies in order to deploy their ideas," explains Le Bouthillier. For the Imagia co-founder, the next step involves creating closer links with partners both here and internationally, since companies operating in the medical field are often international players. "For us it's a question of time. We need to be patient and wait to see the outcome of the efforts we've made with various global partners, but our approach is primarily a global one. First because it has to be in our sector, and second because that's the ultimate goal we're striving for."
 
Imagia in Numbers
50: Number of researchers employed at the company who specialize in artificial intelligence
94: Percentage representing the precision level of an Imagia prototype used to classify colon cancer polyps
2019: Year in which the first device incorporating technology developed by Imagia should appear on the market
$3 million: Amount of a loan provided by the Government of Quebec through its BioMed Propulsion program to support the development and marketing of Imagia's advances  
Want to learn more?
Visit Imagia's website