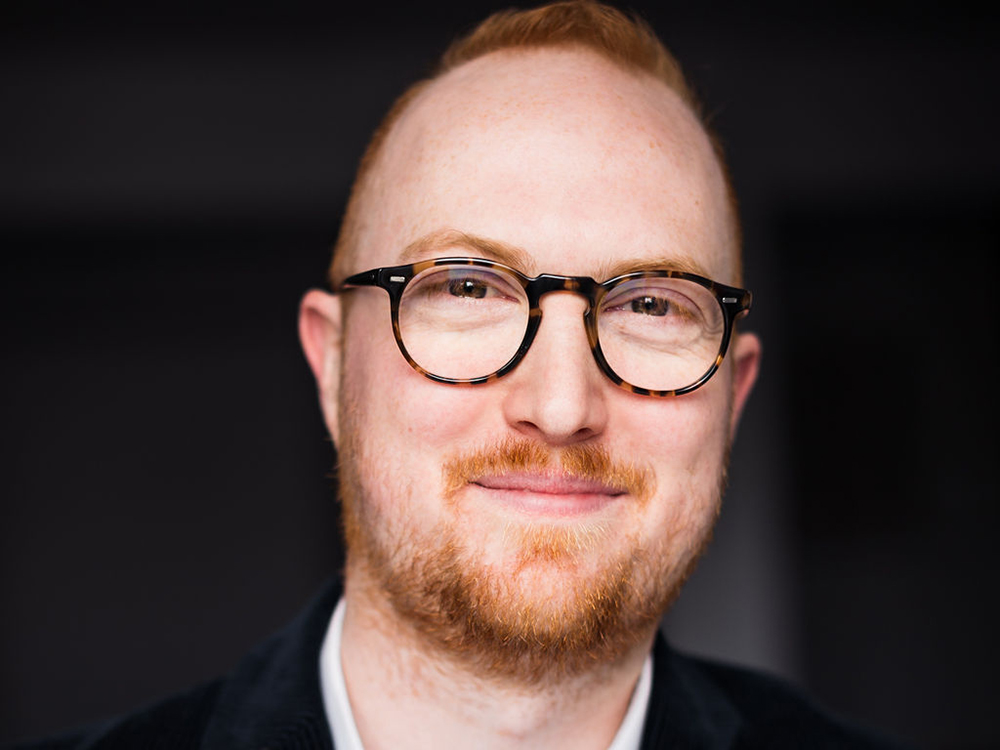 Heyday: Chat in the era of AI and social networks
Étienne Mérineau's Story
Friday, September 27, 2019
Étienne Mérineau left the ad agency world in 2016 to co-found a conversational marketing company for brands. One year later, he was already featured on Forbes' list of the top up-and-comers Under 30.
The son of an ad man, Mérineau has been immersed in advertising since the age of 5, when his father would bring him on set during filming. Starting his career at the age of 17, he climbed the ladder in the field for 10 years by working at a variety of Quebec agencies.
"Over time, I found that despite the close relationship between agencies and brands, we weren't able to induce brands to innovate, to move from a monologue to a real dialogue with consumers," he explains.
Disappointed in what he was seeing, he enrolled concurrently in a free online entrepreneurship course financed partly by MIT and Harvard University, which aimed to democratize advanced education.

Out of the 55,000 people worldwide who took the entrepreneurship 101 course offered once per week, 47 were selected, including Mérineau, to take on a challenge: launching a start-up in one week as part of a boot camp offered on MIT's campus. "That was a turning point in my entrepreneurial career. I really enjoyed the experience," he emphasizes. "It launched me into a kind of a countdown once I got back."
Jumping into the unknown
In January of 2016, he decided to quit his advertising job, even without quite yet knowing what he wanted to do. "Since I was working 70 to 80 hours a week, I had no time to step back and think, but I told myself that if I wasn't ready to do it now, I never would be," he says. "The only rule I gave myself was to do whatever was necessary, except freelance copywriting, to avoid getting stuck in a vicious circle."
For the following six months, he offered marketing consulting services. But when he learned that Facebook had opened its Messenger API to programmers, it was love at first sight. The technology combined his love of words and messaging with his geeky side. "It gave anyone who could code the possibility of building chat applications on the Messenger platform," he explains. "I recognized enormous potential for brands, from a marketing and customer service point of view, to reinvent their customer experience."
Unfortunately, Mérineau was no techie, so he needed to find a team to bring his venture to life.
At that time, the chatbot industry was basically nonexistant. He started writing blog posts for Venture Beat, an online publication specializing in technology. This led to his being noticed by Bridgestone's agency in Belgium, which tasked him with creating a prototype, and later by DDB in New York and lastly Cossette, who wanted him for their client the SAQ.
Next he met a few people who would later become business partners: Steve Desjarlais and David Bordeleau, both formerly of Ubisoft, as well as Hugues Rousseau, who also came from the technology sector, having worked at Matrox. "They had the technological background, but they didn't have the clients, while it was the reverse situation for me," he explains. "They helped me launch a prototype in three weeks at Cossette for the SAQ and our chemistry just took off from there."
In June of 2017, they officially launched Heyday. At that time, brands were intrigued by chatbots, but they weren't ready to make an investment. They needed to be convinced.
Developing a hybrid chat experience
For a year and a half, the team self-financed and succeeded in attracting its first clients—Danone, Décathlon and Videotron—who were early adopters of the new technology.
"By having retailers like Décathlon at the table, we quickly realized that the best possible chatbot experience would be neither human nor robot, but a hybrid of both," emphasizes the 31-year-old co-founder and marketing director.
Artificial intelligence would thereby enable workers to be freed from repetitive tasks, like having to constantly answer the same questions about, for example, store opening hours, thus allowing them to devote their time, energy and expertise to value-added questions, especially purchase recommendations. "It brought the expertise of in-store employees online," he specifies.
It was this element that created a domino effect for the young tech company, which saw its number of clients explode. In about six months, the team practically tripled in size, from 10 people to around thirty.
Spreading worldwide and democratizing technology
In April of 2019, the team finalized its first round of financing to the tune of $2 million, led by investment fund Innovobot, with the additional participation of Desjardins Capital and a group of angel investors.
The goal was to export the team's expertise internationally—it was the right moment, according to Mérineau, because the market and the technology had both reached a certain maturity.
"These are the perfect ingredients for stimulating growth. We also structured ourselves internally to be able to take the fast lane."
Étienne Mérineau
The start-up intends to have around forty employees by 2020. Heyday has already been able to break through internationally in an organic way, with particular thanks to Décathlon, whose innovation lab is located in Canada and who will attempt to launch its technological platform in every country it's located in.
While Heyday is devoted almost exclusively to retail stores, other sectors are coming online, including renovation and applicance centres, the auto sector, consumer packaged goods, the travel industry and luxury brands.
"We want to continue reaching out to flagship brands in every sector, because as we learned with Décathlon, when a big brand gets interested, others follow," emphasizes Mérineau.
Heyday also hopes to market a solution that will enable smaller companies to get into the live chat arena more easily.
Heyday in Numbers
$2 M: Amount of financing received in their latest round
30: Number of client companies
WANT TO LEARN MORE?
Visit Heyday's website