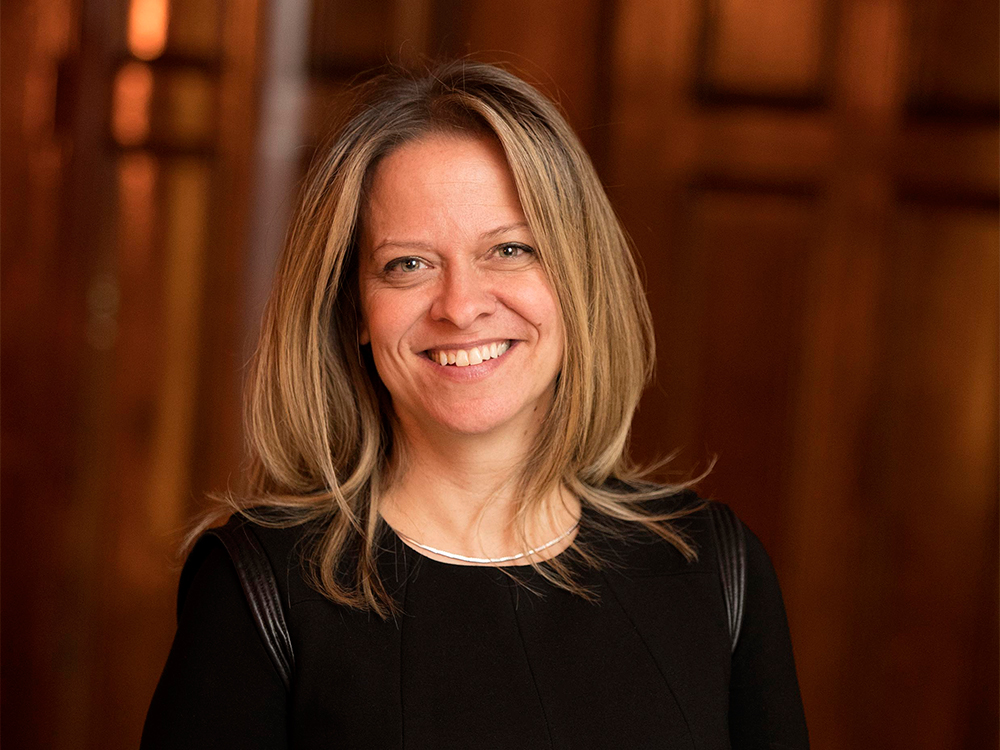 GI Quo Vadis: Changing the world through real estate
Natalie Voland's Story
Friday, February 17, 2017
Natalie Voland would have never predicted that she would become President of Quo Vadis Property Management. But this former social worker has made entrepreneurship a vehicle for social change.
When we entered Natalie Voland's office, which was illuminated by large windows, an eight-month boxer greeted us enthusiastically. Her name is Nelly, for Nelson Mandela.
"Nelson Mandela had just been released when I started my university studies. He is a huge source of inspiration for me." As she moved into a career in social work while preparing to take up a dream job at the Royal Victoria Hospital, she learned that her father had just been diagnosed with Parkinson's disease and asked her to take over the real estate company he founded in 1993.
The decision weighed heavily on her, but she decided to devote a year to try to give her father's company a boost. But as the year ended, she was still not ready to leave; the company was not as autonomous as she had hoped. "So I decided to use the company to help the community. So finally I had my cake and I could eat it too," she laughs.
Responsible Real Estate
Social work and real estate can work very well together. Natalie Voland soon realized that entrepreneurship stimulated the employability of communities. Moreover, the restoration of abandoned buildings enables it to enhance the history of communities while remaining ecologically responsible. Quo Vadis Real Estate Management specializes in the renovation of historic buildings and the creation of entrepreneurial ecosystems: in the same building, dozens of small and medium-sized businesses co-exist and advise each other.
"I like to put my tenants in touch with each other. If they have support and a good network, maybe even discounts on services, they will pay their rent. Everybody wins"
Natalie Voland
The GI Quo Vadis portfolio currently comprises 500 tenants, which have created over 3,000 permanent jobs. The company is also part of the BCorp movement, a commitment to sustainable development made by 150 companies in Canada, including about 15 in Quebec.
Discover also : B Corporation certification: Responsible entrepreneurship
To promote this professional ecosystem, Natalie Voland thinks of projects on a human level. "When you're doing the interior design of a building, you have to make sure the human is at the center. I always plan common areas where people can meet, "she says. The positive effects of these real estate projects on the community and the environment are at the heart of my daily motivations, a philosophy that is part of the "return on human investment" concept. Real estate can cause environmental problems, gentrification or the disappearance of built heritage, according to the president. "We should see these side effects as challenges instead: how can real estate respond to them? By buying, for example, a window made in Quebec instead of in China, local employment is promoted; our environmental footprint and transportation costs are reduced. If one is able to see that, the profits come. But the return on investment is not just money."
Rolling up your sleeves
Renovating historic buildings and doing business with the aim of promoting community involvement is not an easy task, she admits. Banks do not necessarily understand our choices at first glance and social acceptability is not always there. This was the case with the Salon 1861 project, a Petite-Bourgogne church renovated as an event room and a co-creation laboratory, occupied by associations and community groups, start-ups, more established companies and Universities. It took four years of patience and creativity to save St. Joseph's Church. "At first we were told that a church could not be used for any other purpose other than religious practices, although the building had been abandoned for eight years. The banks were struggling to give us a mortgage because they refused to consider the church as any other building. I said, "Yes, there are beautiful ceilings, but it's still a 32,000-square-foot building," she recalls.
When Natalie feels discouraged, she can count on her team to cheer her up. "It's not easy wanting to change the world every day! Entrepreneurship is not just a flexible schedule. It takes a higher motivation. You have to think that our product or service will make the world a better place," she affirms.
The Company in Numbers
17: the number of countries represented by the 32 employees
1.5M:  The portfolio in square feet
500: the number of small and medium-sized tenants
3000: the number of jobs created
 
Want to learn more?
Visit the Quo Vadis Real Estate Firm website