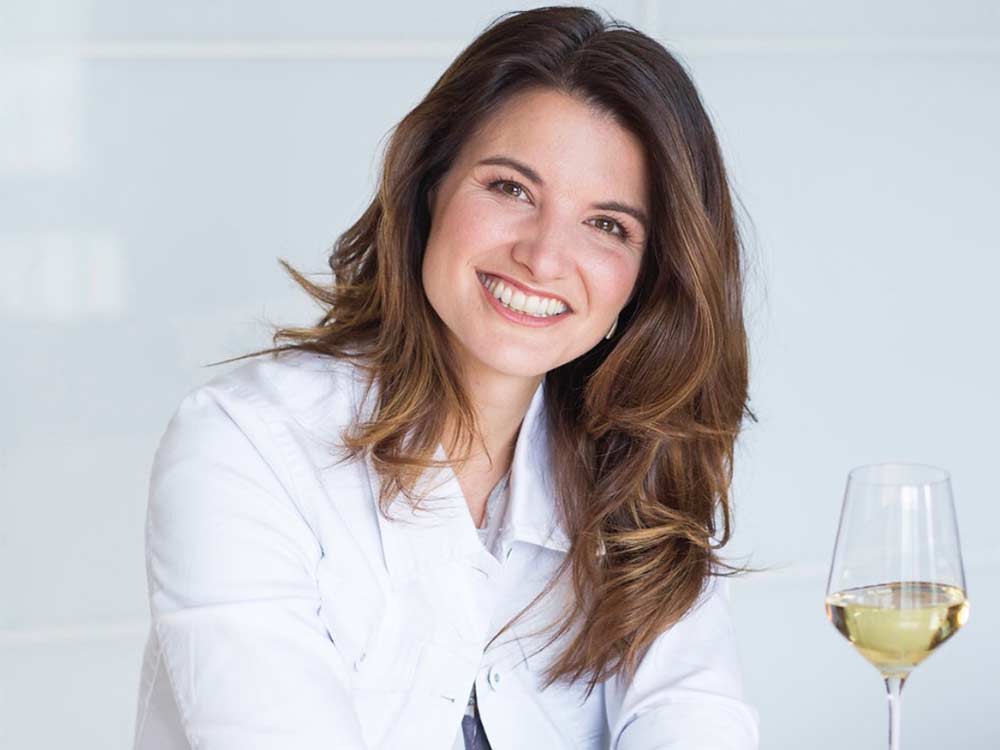 A flair for business
Jessica Harnois's Story
Jessica Harnois was still a teenager when she decided that her career would combine entrepreneurship with her love of wine (she had already discovered she had a natural sensitivity to subtle flavours and aromas). "I started working in restaurants when I was 14 with the idea of climbing the professional ladder," she recalls. "At first I thought I would just take the plunge and save all my money so I could eventually start my business."
Four years later, she took a mixology course at ITHQ. She then completed a bachelor's in communications, a specialization (ASP) in being a sommelier and an MBA, after which she travelled in order to learn English and Spanish and refine her understanding of wine-making around the world. 
At 21, she started working at Toqué's celebrated bar. "I worked as an assistant to Angelo Forcherio, who was their sommelier at the time. I tasted wines we served to customers—between 70 and 120 wines a night! That was definitely a formative experience."
Jessica Inc.
At around the same time, she achieved her entrepreneurial dream by launching an event-hosting sommelier agency. It's a company she has never stopped working at developing, even after being hired by the SAQ as a premium wine buyer, publishing specialized reference books and acting as president of the Canadian Association of Professional Sommeliers and vice-president of the Alliance of Pan-American Sommeliers. 
Today, her company has developed into three divisions: Jessica Harnois Médias, for which she has created her Bù range of wines; Dégustation Vegas, a mobile application to educate users on tasting various types of alcohol; and Vins au féminin, her hosting agency, which has undergone many transformations since its creation.
"In business, you can't succeed alone! A good leader is someone who is a visionary and knows how to ask the right people for help in bringing  her ideas to life. Once I reached the point where I had so many contracts I couldn't possibly fulfill them all, I created an agency and decided to ask other women to help me out."
 
Amongst them were Véronique Rivest, who earned second place in the World's Best Sommelier contest, and journalist Karyne Duplessis-Piché, a wine specialist and author of Vive le vin! 
Vin au féminin hosts are asked to give talks, moderate wine pairing workshops and give at-home Savori wine tasting courses, amongst other tasks. "I'm an ambassador for Éduc'Alcool," explains the entrepreneur. "So it's important to me to be able to offer people a risk-free service. With Savori, the host travels to where the participants are located, so they're free to enjoy a glass without having to worry about driving later." 
A role model for women and the next generation
Harnois is proud as an entrepreneur that Vins au féminin is a unique business model both here and around the world. "Being a sommelier has always been an exclusively male domain in the past, no matter where you were in the world. The fact that I was able to establish this agency composed of Quebec women who are well-known and recognized in the industry shows how far we've come in terms of equality in Quebec... despite the fact there's still some work to do!"
The young mother has also made it her mission to show women that is it entirely possible to combine business with motherhood. "With all the tools available on the web, not to mention telecommuting, which is becoming more widespread, the traditional model for entrepreneurship seems about to change into something more flexible that will allow more and more mothers to find a place for themselves in business."
And that place is one that not only suits their needs, but rightly belongs to them. "I want to lead my company according to my vision and on my own terms. I could just go for millions and millions in sales... but I'm not trying to get a lot of money and power. Instead my ambition is in achieving balance. And happiness. My nine-year-old recently said, 'When I grow up, I want to be like you and love my job...' Remembering that, I still get tears in my eyes. It's the best compliment anyone has ever given me."
Jessica Harnois in Numbers:
12: Number of sommeliers employed at Vins au féminin, a figure that doubles during busy periods
250: Number of employees at the plant where Bù wines are produced
2nd: Position of the white wine Bù Splendido in the list of the most purchased wines in Quebec
 Want to know more?
Visit Jessica Harnois' Website