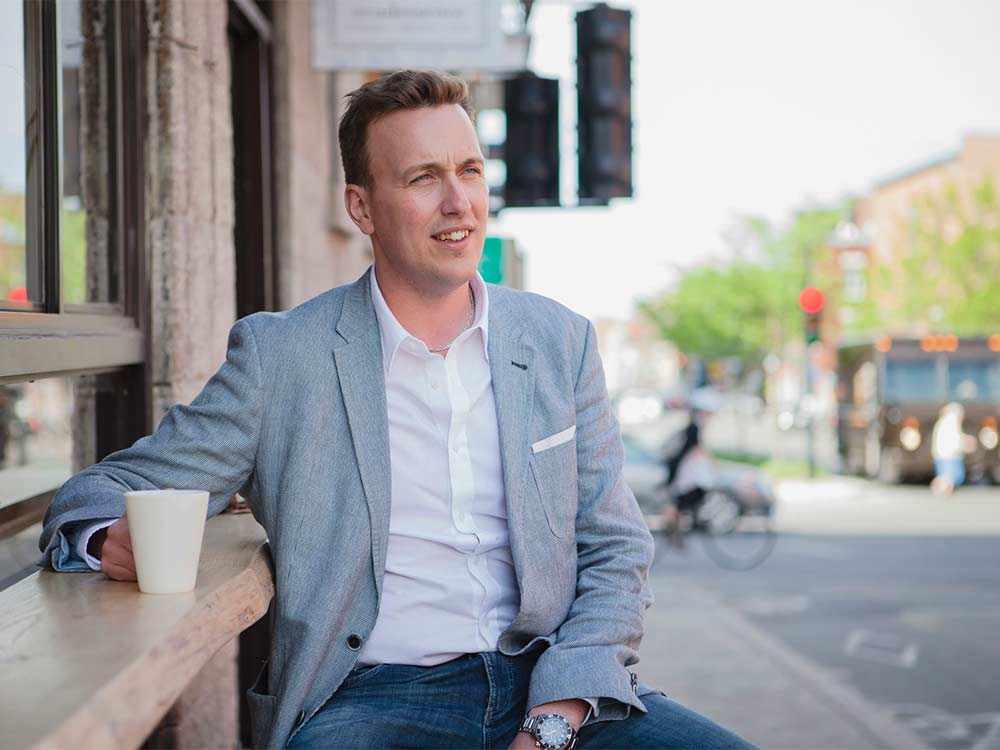 district m: Fast growth with a human touch
Jean-François Côté's Story
Ever since Jean-François Côté co-founded district m in 2012, the awards just keep rolling in. His company, which connects advertisers with publishers, has grown lightning-fast. Here's a close-up on a down-to-earth entrepreneur who's making the most of digital advertising.
For as long as he can remember, Jean-François Côté has always had a nose for business. In 1993, when hockey cards were all the rage, he sensed a good business opportunity and installed card distributors in arenas. A few years later, he launched a company that imported sweaters and caps in team colours in order to resell them.
After receiving his diploma in accounting and business finance, Côté joined Yellow Pages Group, where he launched their digital division Meditative in 2009. Things went well, but he and four colleagues (Patrice Marin, Sébastien Fillion, Dom Fortin and Adrian Pike) had a business idea that was not in line with their employer's economic model.
Without hesitating, Côté and his colleagues jumped into entrepreneurship by creating the district m platform, which helps publishers monetize their web traffic. "We had gathered the right people together to create a solid business, and at 35, I felt like I had all the skills an entrepreneur needed to have," explains Côté, who was named EY Entrepreneur of the Year in 2017 in the Emerging Businesses category.
Almost six years after its creation and with $100 million in annual revenue, district m has become one of the largest players in its sector. This budding business also has a growth rate of 16,000 percent and now has offices in Montreal, Toronto, San Diego and New York.
The explanation for such exponential growth? According to Côté, district m's CEO, the company stands out for the quality of its products and unrivalled customer service. "Our product is one of the fastest in the world," he states. "We can make an offer in 400 milliseconds—that's like snapping your fingers."
For example, if a user visits an airline's website to purchase tickets, then navigates to a media site like La Presse, an advertiser can make an offer to retarget the user on his device, whether it's a tablet, mobile phone or computer. "It's a bit like a stock exchange for media," he explains.
Keeping people at the centre of growth
The five founders backed their business gamble with their own money at first. "We wanted to wait to have customers, revenue and profits before conducting a round of financing," says Côté. To support its growth, district m turned to the Fonds de solidarité FTQ du Québec in 2016, which invested $8 million into the company. "We needed that money to develop district m," says Côté. "After the investment, the company tripled in size." 
In the following two years, district m aimed to double in size yet again and open offices elsewhere in the world, particularly in London. "We're about to hire 60 people within the next year and acquire a few companies."
Aware that district m's team is a key element in achieving his vision, Côté intends to offer its members the best conditions in which to do their work. In 2017, district m was counted among the 100 best small- and medium-sized employers in Canada, a ranking established by Mediacorp in collaboration with The Globe and Mail. "The human element is what you should bank on today," Côté recommends. "You have to win the talent war. Companies need to really understand their employees and offer them good benefits." 
When asked what he is proudest of in his entrepreneurial career, Côté responds, "Having created 85 jobs and fed 85 families—I find that incredible. For a little French-speaking Québécois guy born in Saguenay and from a humble background, that's pretty amazing."
The company in numbers
85:

Number of employees

10 billion

: Number of ad impressions

70:

Percentage of revenue from the U.S.