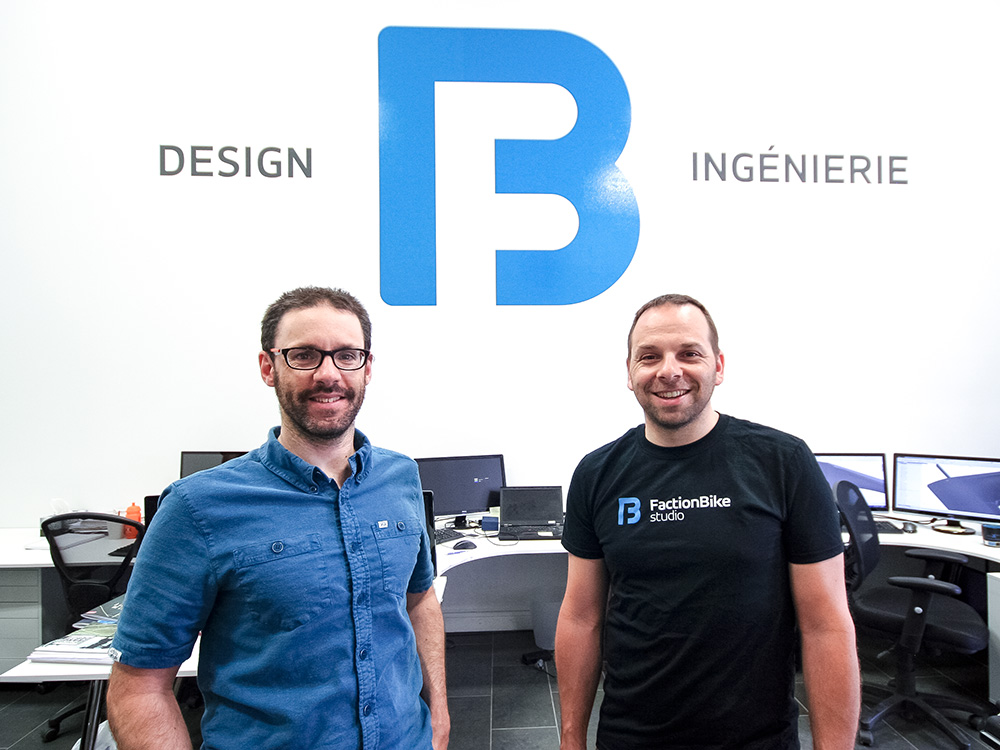 Faction Bike Studio: Expertise fuelled by passion
Érick Auger's story
For Érick Auger, the life of a cyclist is is a world of its own. Ever since creating his Jonquière-based company Faction Bike Studio, a shop that designs and produces bicycles, this former mountain bike champion has been out to conquer the world.
In 2009, Érick Auger won the title of "World Champion 24H Solo Mountain" after mountain biking alone for 24 hours in Canmore, Alberta. At the time, Érick had been working as an engineer for Devinci, a Quebec bicycle manufacturer, where he had spent the past 13 years serving also as Director of Research and Development and Director of Marketing. The year after his big win, he decided to go into business for himself and founded Faction Bike Studio with a partner, industrial designer Martin Portelance.
Expertise fuelled by experience
Before starting his entrepreneurial adventure, Mr. Auger had a lot of time to think back on all the years he had spent in the industry. His main concern was whether or not consumers really needed a new brand of bicycle, and it was this question that led him to start his own business. "When I became an associate at Devinci, I was able to explore all the different aspects of this field, starting with product design, of course, but also product development, managing resources and marketing. Because I had competed as a cyclist for so long, I was very familiar with being on both sides of the fence and I knew what clients were looking for. I was ready to get started." The result? An integrated bicycle design studio with Jonquière roots was born, complete with a mission to develop new products for road, mountain, city and electric bikes. Faction Bike is a studio of experts who specialize in bike engineering.
" For me, pedalling is the best way to not think about biking. Just is get your feet moving."
Érick Auger
Photo credit: Faction Bike Studio
Being an entrepreneur while staying true to your identity
The business plan remains the most important part of Mr. Auger's entrepreneurial venture. "It might sound a little cliché because we hear it so often, but the success of a business is based on the strength and implementation of the business plan. You need to stay true to your vision and be able to see it evolve without altering its DNA," he says.
Faction Bike Studio has built its reputation on a unique array of services focused on the development of cycling technology. Compared to several of its competitors, the Saguenay company is often a kind of centre for research and development for its clients. Faction Bike is one of the few bike shops to offer turnkey solutions to larger companies. From kinematic suspension and ergonomics through to structural and shape optimization and physical testing, Érick Auger's company can step in at any stage of the design and production process.
His bicycles' reputation is known well beyond Quebec. The company's expertise is recognized in North America and Europe as well as Asia, where it is exploring new markets. The automobile industry has its concept cars, but the bicycle industry also has concept bikes, and Faction Bike Studio is among those spearheading the cycling trends of tomorrow.
The entrepreneur and cost management
The bicycle industry is constantly evolving, which puts a lot of pressure on research and development. Faction Bike has to be able to create prototypes while guaranteeing efficiency in terms of costs incurred. "To better control our spending," he explains, "we focus on employee training and the development of unique, innovative tools that allow us to accelerate our work. We derive a substantial competitive advantage from that."
Thanks to its positioning, Faction Bike Studio foresees many long-term business opportunities since its increasingly innovative products will enable it to continue to stand out in the market. "Today," the cycling entrepreneur says, "we work a lot with bike mechanization and integrating electric components, which is a major trend."
This entrepreneur is definitely kicking it into high gear.
Photo credit: Faction Bike Studio
Faction Bike Studio in Numbers
12 : Number of full-time employees
15 : Number of countries where the company does business
200 : Projects executed
60 % : Annual growth rate
Want to know more?
Visit the Faction Bike Studio website