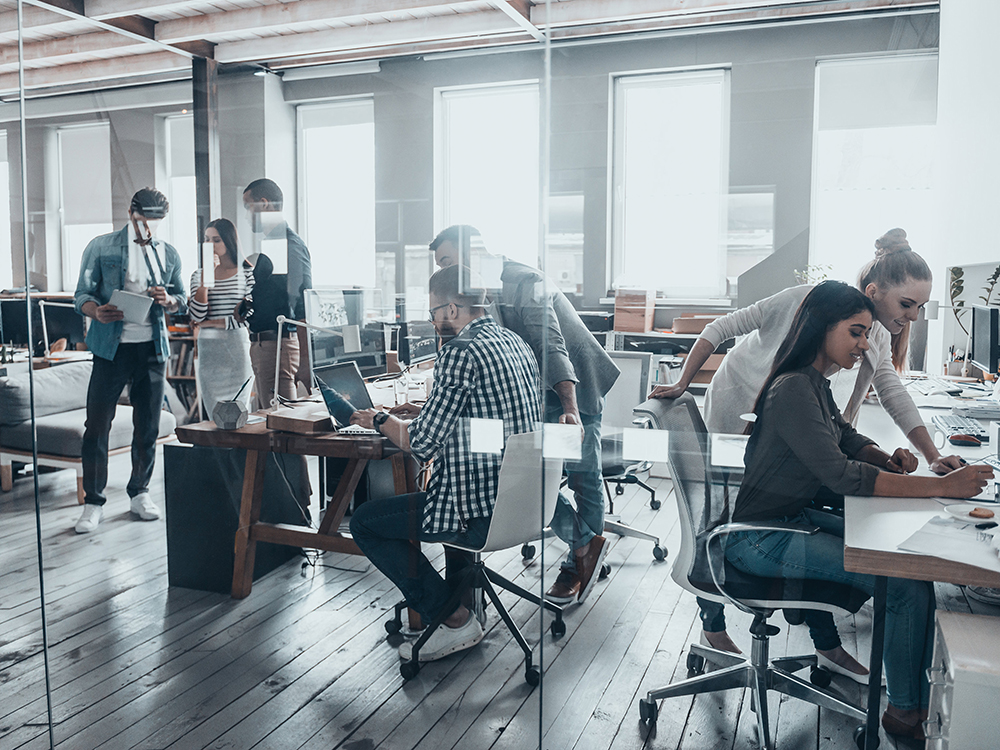 ACET: A home for technology
Horizons
Wednesday, October 3, 2018
ACET launched in 2011 with the mission of giving technology companies in the Sherbrooke area the best chance at success. The accelerator guides, supports and finances dozens of entrepreneurs using a model that is unique in the province. 
The accelerator ACET is a non-profit founded in collaboration with the University of Sherbrooke and financed in large part by the university itself, private donations and two levels of government. The University of Sherbrooke is also where ACET gets the majority of its clientele, given that the post-secondary institute produces many new technologies and innovations. Entrepreneurs are often just completing a master's or PhD and are using the results of their research to launch an entrepreneurial project. According to Ghyslain Goulet, the CEO of ACET, "There are several ways to add value to research. Basically, many technologies developed in universities are sold or licensed to companies, and some are also the basis of a start-up." It's the latter situation that interests ACET—researchers who have made discoveries during their graduate studies that they would like to turn into business projects, or research identified by an organization as having commercial interest and whose researcher fits the entrepreneurial profile. "University research is fertile ground for entrepreneurship and, inversely, entrepreneurship is the logical path for developing technologies created within universities," states Goulet.
But ACET's area of interest isn't limited to former University of Sherbrooke students. Some off-campus companies also benefit from ACET's guidance. Amongst these, 80 percent come from the region of Sherbrooke. The rest are based elsewhere along Highway 10 and owe their inclusion to the fact that they have some type of partnership established with the university.
From support to financing
From its very beginnings, ACET has benefited from the support of big players in the business world who accepted a place on its board. Their presence within the organization provides a source of concrete expertise and enriches the networks of budding entrepreneurs. "We support new companies for periods of two to four years by relying on our whole ecosystem," explains Goulet. "We have our own investment funds, which are very important because tech companies that are just starting up are always faced with the challenge of finding venture capital. Few investors are operating in this space, so our system facilitates the first round of financing."
One feature of ACET is the fact that it has its own investment fund dedicated to companies that are supported by the accelerator and that are either ready to come to market, or have started their commercial efforts in order to help them receive financial support for the first time. The first fund, ACET Capital 1, has already been entirely invested in 16 companies and has achieved its objectives. The organization just launched its second fund, ACET Capital 2, which will invest in starting up and launching technology companies. This fund will have a lifetime of almost 10 years and will support between 20 and 25 new businesses within the next few years. 
Learn more about three ACET companies in our video "Objectif croissance" 
Goulet explains that these funds exist due to the close involvement of limited partnerships, venture capital firms, the private sector, the National Bank of Canada and the Quebec government. "Many investors who contribute to our fund are working to create successful companies," says Goulet. 
A unique model?
While several entrepreneurial initiatives exist at Quebec universities, ACET stands out for its involvement in the business community and its funding system. This structure allows the organization to provide a solid base to the entrepreneurs it supports and to improve their ability to break through internationally. In fact, that is one of the goals of the accelerator: to create prosperous businesses that will achieve success beyond our borders and promote Quebec's expertise. 
"We're having a major impact for a young organization, since we already have 80 projects under our belt, plus close to $50 million in investments. Because of the technology companies we have supported, some 300 high-quality jobs have been created. I think we're a good source of inspiration for other regions or incubators in Quebec, because we've been able to innovate by establishing our own fund and using effective tools," concludes Goulet.
ACET in Numbers
70: Business projects supported since 2011
260: Number of jobs created
62: Percentage of founders with a graduate degree
50: Percentage of companies currently being supported that are in entering the market
50: Percentage of companies' revenue coming from outside of Quebec
$15 million: Amount of financing obtained by companies in 2017  
 
WANT TO LEARN MORE?
Visit ACET's website