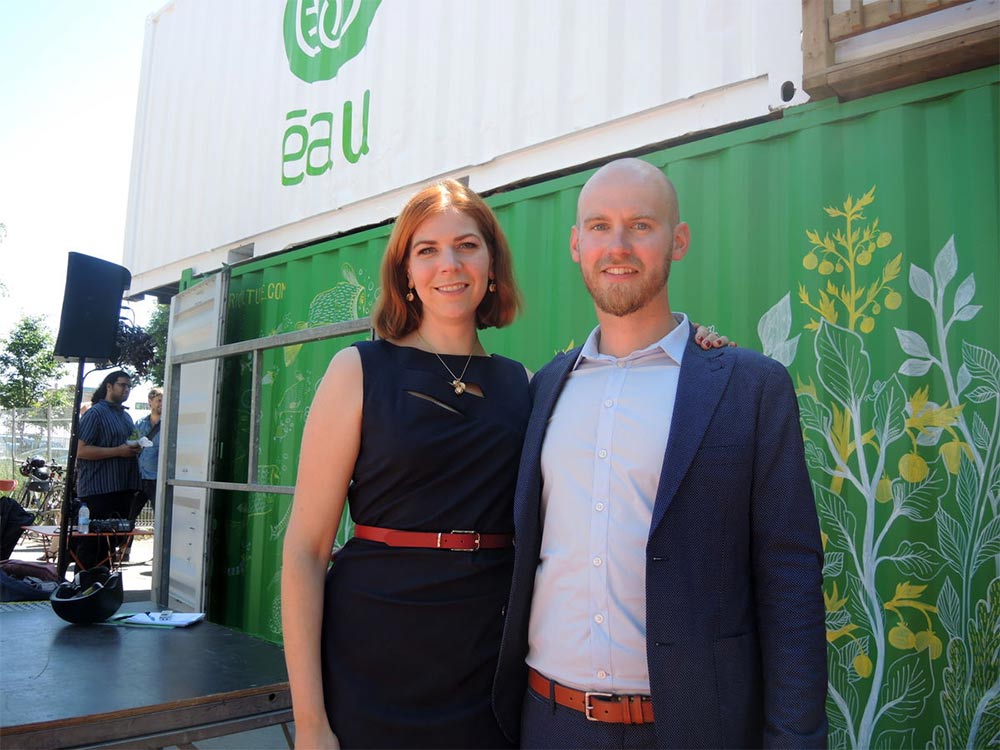 ÉAU: Developing local food sustainability
Émilie Nollet's story
While some entrepreneurs find motivation in conquering the business world, Émilie Nollet and her partner Olivier Demers-Dubé created ÉAU in September of 2015 out of a sense of social responsibility. Here's an overview of a business tackling the problem of food security by combining aquaponics with technology.
ÉAU (Écosystèmes Alimentaires Urbains, or "urban food ecosystems" in English) makes use of aquaponics, a food production system that can provide fresh fruits, vegetables and even fish all year long by using closed-loop aquaculture. "Closed loop" means the waste products from the fish, which are nutritionally rich, help the plants to grow, while the plants purify the water the fish live in.
This technology, which has become increasingly popular in the last 10 years, is used by the two entrepreneurs as a tool to create local food autonomy for various communities. Their target includes communities in the north of Quebec that face food insecurity as well as so-called "food deserts" in urban Montreal. (A food desert is defined in this case as a place where residents do not have access to fresh produce within at least a two-kilometre radius.)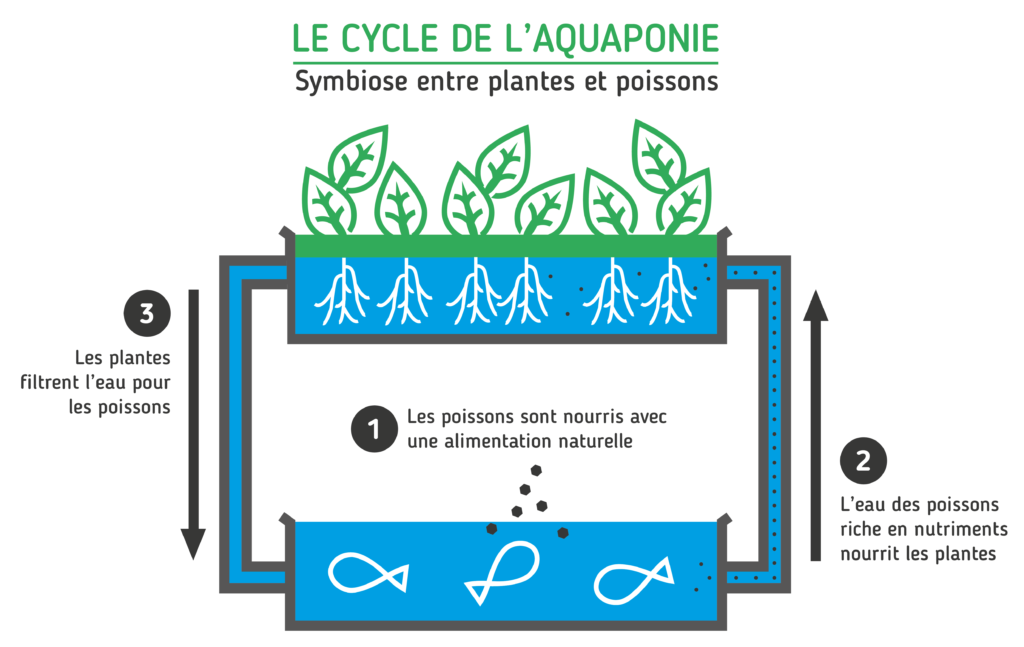 Shamrock Place, located close to Jean-Talon Market in Montreal, welcomed the first vertical aquaponic farm in the summer of 2016, which was established by ÉAU.
Discover also: The future of ecologically responsible food: Balancing nature and technology
A professional couple
Émilie first met Olivier in the studios of Montreal radio station CIBL. They immediately recognized in each other a professional connection and a shared sense of values.
Given that they were both concerned about the issues involved in sustainable development and nutrition, they started thinking about developing a joint entrepreneurial project. But before embarking on a partnership with someone with whom you will be sharing not only your vision but many hours of work, the pair decided to first test their business relationship. Over the course of several months, they met for coffee twice a week. "It's called professional dating," jokes Émilie, adding that their meetings allowed them to confirm a few practical elements of their partnership before they started work as a team.
A strong social element
"We grew up in exceptional families, we both received a great education, and we said to ourselves that our ideas could help to make the world a better place," explains Émilie.
Her eclectic education allowed her to accumulate a range of diplomas. She studied literature in CEGEP, geography and languages for her degree, organizational studies for her master's and is currently finishing a doctorate in business administration.
Nevertheless, she admits that she really learned business management on the job as she gradually developed her project. "My studies and those of my partner provided us with another layer of additional solutions for our business. It creates added value," she states.
When asked what it was like to combine studying with entrepreneurship, she doesn't hold back. "I'm not going to lie, it was extremely difficult. It takes a lot of self-discipline. The trick is to combine your business tasks with your studies," she says.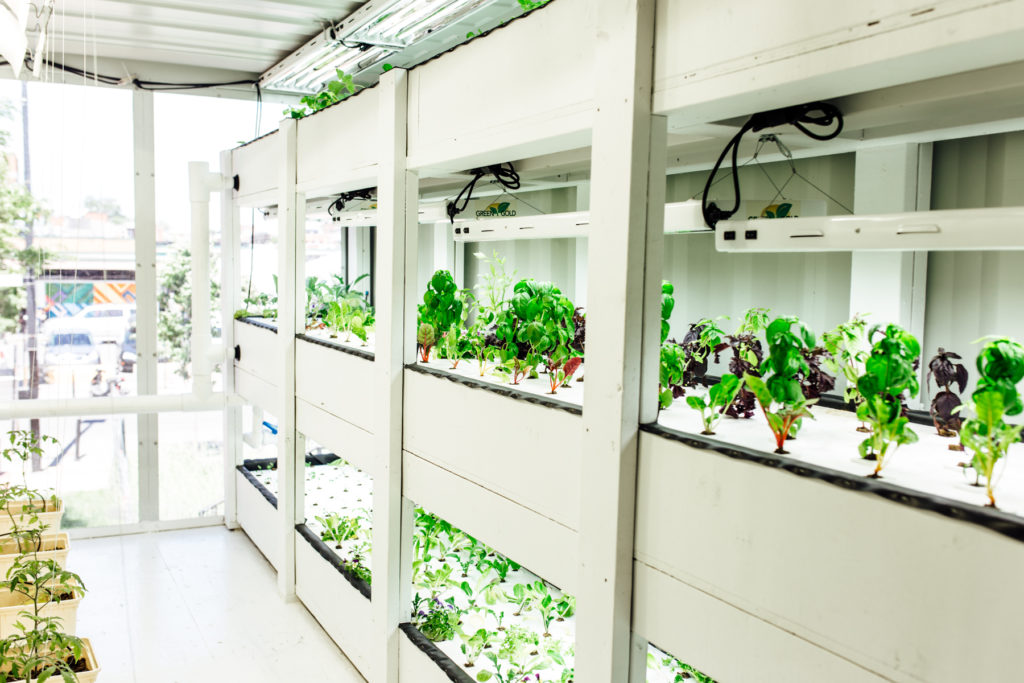 Luckily Émilie and Olivier are good students. Both entrepreneurs have won several entrepreneurship prizes and contests. They also paid their dues while part of the Institute for Entrepreneurship's incubator, supported by the National Bank and HEC Montréal. "That really turbocharged our business  idea," emphasizes Émilie, who adds that the experience allowed them to refine their business model.
"There are companies that think of nothing but profit, but ÉAU has a solid business plan that works and that will generate profit as well as have a social impact. We decided we would not go into business to negatively affect the environment and communities, but in order to support them."
Émilie Nollet
Several ÉAU farms are currently under construction in ten different communities in Quebec, but the company is already considering installations in China and Germany. "There are communities in several countries experiencing realities that would justify the use of aquaponics. We are in the process of developing an international network," explains Émilie, who adds that she has also received recognition for the social aspect of her business. A gratifying pat on the back for an entrepreneur looking to shake things up in both the social and entrepreneurial sense!
ÉAU in Numbers
4: Number of full-time employees
150: Number of plant species that can be grown using aquaponics
80%: Reduction in the amount of water used by aquaponics compared to traditional agriculture
Want to learn more?