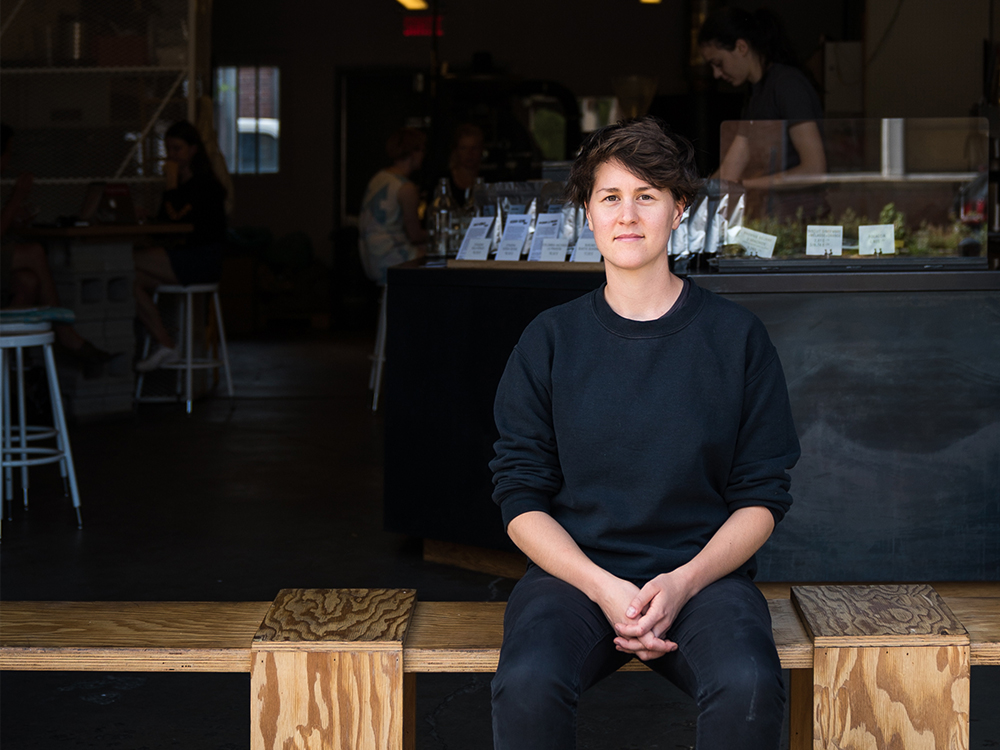 Dispatch Coffee: Reducing inequality one cup at a time 
Chrissy Durcak's Story
Monday, December 14, 2020
Having worked as a barista for 10 years, Chrissy Durcak felt like her customers were missing out on an entire universe when they came in to pick up their coffee, whether in terms of the quality of the harvested beans or the often misunderstood supply chain that was disadvantageous for small growers. But three coffee shops and a home delivery service later, she's found a way to improve standards in the coffee market.
Chrissy Durcak started serving coffee when the "third wave" of coffee hit Montreal, a movement that was born on the West Coast of the U.S. and in Australia. "It's an approach that considers coffee as a gourmet product instead of just a regular commodity," she explains. "You could compare it to natural wine or artisanal beer."
She adds that when processed and grown the right way, coffee presents even more aromatic notes than wine. Therefore, as with wine, one can speak about the terroir of a coffee, which has a different flavour depending on the quality of the soil in which it was cultivated.
The customers she served in the artisanal coffee shop she worked in at the time were unaware of what goes into a high-quality product and didn't understand why it was more expensive. "We didn't have time to prove our expertise to customers," she says with regret. "I wanted to offer them a better experience."
This desire to communicate her knowledge came in part from her parents, who were both teachers. "My father, an immigrant from the Czech Republic who was always a bit of an entrepreneur, launched three or four ventures in parallel with his work," says Durcak. "His ingenuity definitely influenced my entrepreneurial career."
Transparency as a business perspective
In 2012, she founded Dispatch, an iced coffee delivery service, which was later transformed into the first "coffee truck" in Montreal. "At first, I sourced my beans from another roaster, but I had no control over the amount he paid to the producer, so I wanted to shorten the supply chain," she says.
Not only were producers susceptible to climate catastrophes that could wipe out their entire crop in some years, but historically they received the smallest portion of the profit made from selling a cup of coffee to a consumer. "It was important to me to find a vertical integration model so that my business could offer a fair price to both customers and farmers," confirms the entrepreneur.
During the first two years, Durcak's business activities only succeeded because of the money she received from sales and investments received from her family. Then, in 2014, she presented her vision to a customer who visited her truck: She wanted to import and roast her own coffee beans and offer her customers workshop-based learning experiences. "He was an angel investor who decided to support me financially in my venture," she explains. "Thanks to that funding, I was able to open my first roasting workshop on Saint-Zotique, in the Mile End area of Montreal." Almost at the same time, she opened a kiosk on McGill University's campus. "That signalled the start of Dispatch's growth." 
She began creating her own coffees and offered a 10-hour theoretical training program to baristas (the term of art for those who specialize in preparing coffee). As with wines and their varieties, the names of the coffees she sold were composed of the name of the producer of the beans and their place of origin. Dispatch offered six coffees from six territories and its menu changed depending on the season, since coffee is itself a seasonal product. "Around 80 percent of producers return with a crop the following year at the same time," emphasizes Durcak.
Following the trend
In 2017, after a round of financing, Dispatch opened its third shop in Plateau–Mont-Royal on Saint-Laurent Boulevard. The following year, Durcak starting thinking about a more long-term growth strategy, one that followed the omnichannel and online purchase trend found in other retail product categories. "Starting in 2019, we had built a marketing and content team so the brand could be competitive online." She also established the online sales infrastructure that could make high-quality coffee accessible to consumers. This niche hadn't yet been explored by the industry's biggest players.
Even though Dispatch as a company was well positioned when the pandemic hit, it still needed to make some adjustments to cope with the situation. "We had to close our three locations for two months, which is where we made 80 percent of our sales," states Durcak.
Fortunately, she had just concluded a round of financing which enabled her to collect $1.26 million for funding the implementation of her new online initiative selling beans directly to consumers. "We had invested more in March and April to stimulate online sales, and that enabled us to attain growth of 300 percent." Today, 80 percent of sales are generated online, which represents a 180-degree change of course for the company. "That was a goal we established for ourselves in 2021," states Durcak.
Exporting your vision
For the time being, 70 percent of online sales come from within Quebec, with 28 percent from the rest of Canada and 2 percent from the U.S. "In 2021, we planned to grow our sales in Ontario first to saturate the market in these two provinces," states the entrepreneur. "We hope to open coffee shops in Toronto to offer the same omnichannel experience as in Montreal, and also in order to intensify our marketing efforts in the province." 
Attacking the U.S. market might seem logical, given the larger population of that country compared to Canada, but it involved higher logistical costs that conflicted with Dispatch's vision: to ensure customers didn't need to spend more to obtain high-quality coffee with traceable origins, produced responsibly and delivered straight to their home.
"Next, our strategy will involve opening shops in key cities, as well as planning for the distribution and roasting of coffee in these cities to reduce delivery costs," she explains.
According to Durcak, micro-roasters will multiply in the coming years and the third wave of coffee will become the norm. "We want to penetrate the coffee bean market online," she declares. "That's the reason we've invested in e-commerce and the education of our customers, and also why we sell equipment and accessories, amongst other things, for preparing coffee at home," she confesses.
Dispatch in Numbers
3: Number of Dispatch locations
15: Number of employees
70%: Percentage of online sales made in Quebec
$1.26 M: Amount received during their last round of financing
WANT TO LEARN MORE?
Visit Dispatch Coffee's website
Photo credit: Bruno Florin