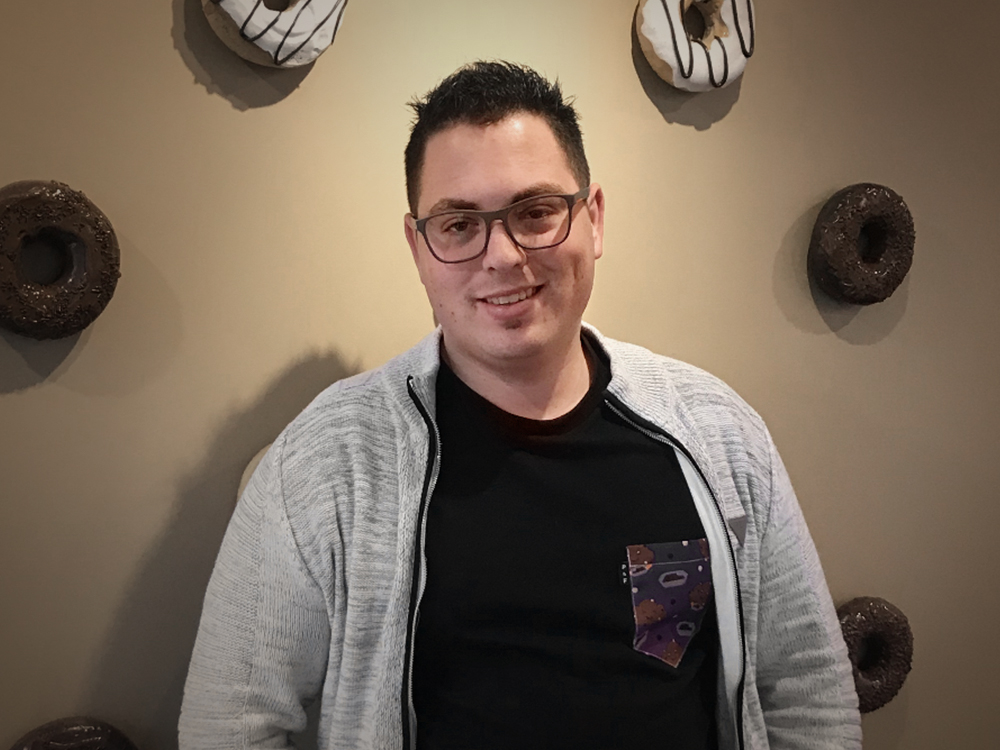 Cookie Bluff: Reinventing cookie dough
Sébastien Fiset and Charles Simard's Story
A viral video was all it took for Sébastien Fiset to make up his mind to launch a business creating cookie dough, learning everything he possibly could to successfully establish the first Quebec company offering this unusual gourmet product.
Sébastien Fiset stumbled on the idea for launching his own business while he was surfing the web one evening. Specifically, he happened to see a Facebook video featuring a cookie dough bar that was taking New York by storm. He also noticed that a lot of Quebecers were commenting on the post and complaining that they would have to visit our neighbour to the south in order to try it. "I did some research and quickly realized no one was offering that kind of product here, despite the fact that it was creating huge buzz in the States and there was demand for it in Quebec." Charles Simard, a mechanic operating his own garage, would become his partner in the adventure; Fiset himself specialized in human resources. Even without having any knowledge of the food-processing industry, the two friends were convinced of the potential of a brand offering this classic childhood treat, often made by mom back in the good old days. 
Fiset decided to visit New York to check it out. He waited over three hours in line just to try a cone filled with the cookie dough, but it confirmed his expectations: This was definitely a product Quebecers would go crazy for. After Fiset returned home, the co-founders began experimenting in their kitchens, but very quickly realized they would need to contact the Centre de développement bioalimentaire du Québec (CBDQ) and perform a multitude of tests to find the perfect recipe. The problem with cookie dough is that there is a risk of contracting an E. coli infection if it's eaten raw. But working in a laboratory, they found a solution for making the product risk-free, developing the five flavours that would earn Cookie Bluff its reputation—decadent products prepared with ingredients like milk chocolate, maple syrup, rainbow candy sprinkles and Oreo cookies.
Rolling in dough 
Fiset and Simard launched their company on their own. Not only did they invest $80,000 out of their own pockets to develop a high-quality product with the help of the CDBQ, but they also took responsibility for every step in the development of the company—from buying the plastic containers to creating a brand identity and website. In fact, they started the company without even waiting to hear whether their requests for funding were successful. "We had been told 'no' by all the banks," explains Fiset. "But we put everything we had into it because we believed in our idea, and finally we ended up getting help from MAPAQ and QuébecInnove." 
They pair gave the company their all. After only starting work on the project in March of 2017, Cookie Bluff cookie dough was being sold in grocery stores barely one year later, in May of 2018. They found their first customer in a group of five IGA stores, where Fiset's brother worked, operating in the Les Sources region. "When we presented our product, we just had samples with no packaging. But we were still able to convince them. They had told us it might take two to three years before we would see our product on grocery store shelves, but it was a done deal within one month." 
Just a few months later, Cookie Bluff had over 1,000 points of sale across Quebec, in addition to partnerships with retailers like Sobeys, Metro and Couche-Tard. Soon after the company's cookie dough would be found in the Atlantic provinces. Their goal now is to establish themselves across Canada within the next year, in addition to opening their first cookie dough bar at Galeries de la Capitale.
Sweet tooth success
To say that Fiset and Simard's business is successful is an understatement. Immediately after arriving on store shelves, 4,000 containers of Cookie Bluff were sold in four days—the number of containers they had planned to sell over three months. Given that every product needs to be analyzed in a lab to ensure quality control, the company saw its stock depleted in two weeks before they were able to recommence production. Cookie Bluff also has no direct competitors, which is one reason Fiset and Simard worked so hard to create their own cookie dough as quickly as possible. "What distinguishes us in the marketplace is the way we sell our product, our vision for the company and what we offer people. We want to create a whole universe around Cookie Bluff," explains Fiset. 
For Cookie Bluff's co-founder, it's not strictly necessary to bend over backwards trying to find an original idea.
"Everything has already been done before, and in the end, sometimes all you need to do is take a product that already exists and reinvent it. And that's true of any kind of product at every level of society. What I often say is that when people laugh at your idea and find it ridiculous, that's when you know you've found something good. We were ridiculed by the biggest players in the food industry, but we proved we were able to do it."
Sébastien Fiset
 
Cookie Bluff in Numbers
2: Number of employees at Cookie Bluff
65: Number of formulas it took to create its cookie dough flavours
$100,000: Initial investment to launch the company
$1.75 million: Revenue barely one year after the launch of Cookie Bluff's first products
 
Want to learn more?
Visit Cookie Bluff's website
 
 Pictured: Sébastien Fiset