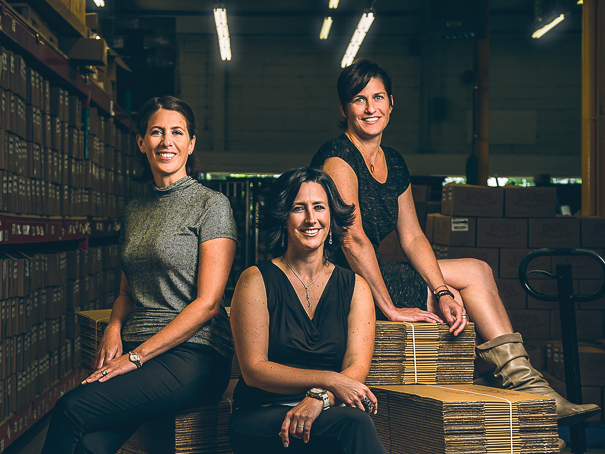 Les Sœurs en Vrac: Sisterly growth
Natalie Catherine, Stéphanie and Claudine Provost's Story
Montreal company Les Sœurs en Vrac, an importer and distributor of dried foodstuffs such as nuts, beans, spices and snacks, is very aptly named. In existence for over twenty years, the growing company is the brainchild of three sisters who have worked hard to continue its reputation for excellence. 
Les Sœurs en Vrac's story started at the end of the 90s, when the father of the three Provost sisters, himself an entrepreneur and approaching retirement, decided to help his daughters find a business they could buy out. Several companies in a variety of fields were considered, always keeping in mind that the chosen candidate needed to allow the sisters to maintain a positive work-life balance (including the care of very young children), without the need to put in night shifts or weekends.
An opportunity finally presented itself in the form of Importations et Distributions BH, a company that had been doing business since the 70s, owned by a young Quebecer, who himself had bought the business out of a desire to try his hand in a different sector. Once the negotiations were complete, the former owner stayed in place for one year in order to help the new owners learn the ropes.
Once the sisters took over, Natalie Catherine went out on the road along with the former owner to sell their products, quickly discovering the enthusiasm their customers had for their products. Thus a passion was born in the entrepreneur, who explains that "when people love your products, selling is easy."
The birth of Les Sœurs en Vrac
At the start of the 2000s, Claudine, the youngest and a graphic designer by training, got together with her sisters to develop a brand image and the labels for what would officially later be named Les Sœurs en Vrac, in order to more fully reflect the brand's DNA. It was during this period that the logo featuring the three sisters was designed by a friend of Nathalie Catherine, thereby contributing to positioning the brand amongst consumers. Since that time, roles at the company have been shared amongst the three women, who each bring different and complementary skills that enable them to constantly innovate, though wisely. "We really see eye to eye in terms of business," explains Natalie Catherine.
Growing up
At the turn of the millennium, the company's products were very popular with small fruit-and-vegetable shops, but not with the big chains, which were still reluctant to stock a wide array of dried foods. But that situation changed a lot over the years as big retailers' consideration of bulk foods slowly came around. "We grew along with the development of the growth of bulk foods," explains Natalie Catherine, who today heads a team of eight sales reps crisscrossing the roads of Quebec.
The brand also won big when it introduced spices in little metal pots, "a big bang," according to Natalie Catherine. The arrival of products in this type of packaging created a lot of enthusiasm due to their uniqueness and the sought-after visual aspect of the little containers. To this day, these products represent one quarter of the company's business.
It should be noted that the team, who prioritize the quality of their products, also put a lot of work into the visual aspect of their offering. In addition to relying on the introduction of new products and new blends to stimulate sales, the sisters have found that it's crucial to refine new packaging ideas, labels and presentation cases in order to attract consumers' attention in-store.
The attention paid to such details and to the brand's reception, by both customers and retailers, is part of Les Sœurs en Vrac's desire to always bank on the service they are providing.
"It's important to listen to our customers' needs, to maintain our existing customers and to work together to achieve a common goal. To grow, it's important to take risks, but to choose them wisely."
Natalie Catherine Provost
In the long term
Never ones to rest on their laurels, the three sisters continue to stay on the cutting edge of new products and popular trends by talking to their customers and travelling.
Now that it already has a presence in Quebec—from Abitibi to the Magdalen Islands—and in Ontario starting in 2009, the brand can soon spread its wings internationally. But in keeping with their entrepreneurial venture thus far, the sisters will be sure to take it one step at a time, to ensure things are done well while being able to maintain their quality of life. "It's always been important to us to have control of our company and to feel good about what we're doing so we can keep growing every year."
Les Sœurs en Vrac in Numbers
550: Number of products offered
(Close to) 1,000: Number of points of sale offering Les Sœurs en Vrac products
24: Number of employees of the company
WANT TO LEARN MORE?
Visit the website of Les Sœurs en Vrac