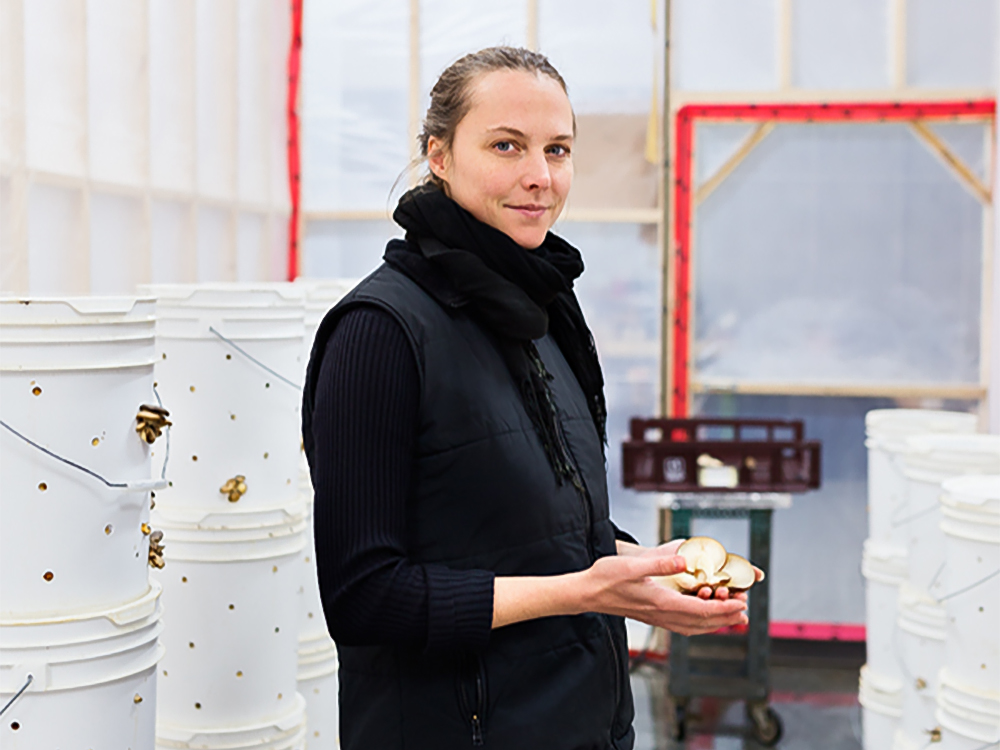 Blanc de Gris: Making a difference with mushrooms
Lysiane Roy-Maheu's Story
Friday, September 1, 2017
Growing oyster mushrooms in the middle of Montreal using coffee-based compost might sound a bit crazy, but that's exactly what Lysiane Roy-Maheu and her partner, Dominique Lynch-Gauthier, are doing. Their company, Blanc de Gris, is growing like crazy as well, demonstrating how fertile the urban agriculture sector is for entrepreneurship.
If you had told Lysiane Roy-Maheu that one day she would start a career in fungiculture and co-found an oyster mushroom farm in Hochelaga, she never would have believed you. But that's exactly what the young, dynamic Montrealer has been doing full-time since 2013.
 
Finding your path in entrepreneurship
Lysiane has always been up for adventure. She accumulated a range of enriching experiences while searching for her true calling, having worked in the restaurant industry, artistic woodworking and a nature adventure park in Saguenay Lac-St-Jean. The launch of Prana by her childhood friend Marie-Josée Richer instilled in her the idea of starting her own company.

During that time, Lysiane developed a steely will and determination that allowed her to find a project in which she could blossom as an entrepreneur. It was her friend Dominique Lynch-Gauthier who first suggested the idea of growing mushrooms in Montreal. Doubtful at first, she allowed herself to be seduced by the idea and ended up deciding to take on the adventure.
Photo credit: Didier Patrice
"Being an entrepreneur means launching yourself into the unknown. Ideally you want to do that with a safety net. It's all a question of timing—you need to give yourself time."
 
Organic fungiculture and the circular economy
Bland de Gris's business model is innovative. No waste is produced—everything is reused. Starting with a compost substrate made of a range of materials (straw, fish by-products and coffee grounds), the two co-founders pasteurize the mix before adding the oyster mushroom mycelia, then mix everything in white kettles placed inside grow rooms. Four or five weeks later, mushrooms have magically appeared, ready for harvesting. Two hundred kilos of oyster mushrooms are harvested every week and are prized by many Montreal restaurateurs, who appreciate having a fresh, high-quality supply.

Blanc de Gris's real innovation was in its pasteurization process. Partnering with another Quebec firm, the company developed a pasteurizer that could remove micro-organisms in only a few hours, compared to the two days or more that are usually needed for this process at some mushroom farms.
 
Well-supported Quebec entrepreneurs
Lysiane modestly credits her success to her supporters, first mentioning the sound advice she received from long-time friend Marie-Josée Richer of Prana. She also gives credit to Fondation Montréal Inc.—in particular the foundation's business network and the grant received by her company—whose assistance allowed her to develop a shareholder agreement for free and to meet mentors in the agribusiness industry. And finally she thanks her family, who were always there for her, especially in those times when she was overloaded with work.

When asked what Blanc de Gris's next steps will be, Lysiane answers without hesitating. "We need to standardize our production in order to restock more regularly. We also need to diversify. We're about to start promoting dried oyster mushrooms. We're also looking at getting into edible flowers and horizontal agriculture. We need to keep innovating." Blanc de Gris's future in urban agriculture is looking rosy indeed.
 
Blanc de Gris in Numbers
30:

Number of restaurants who are customers of Blanc de Gris

4,600:

Square footage of their mushroom farming operation

15:

Volume (in metric tons) of oyster mushrooms produced each year
Want to learn more?
Visit Blanc de Gris's website