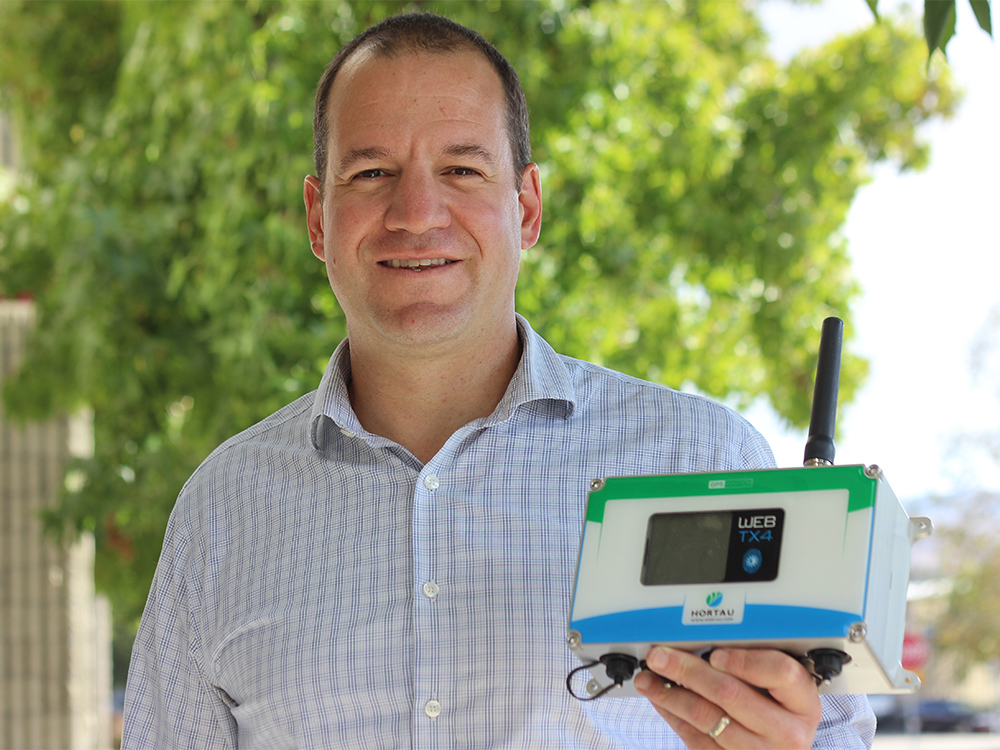 How Hortau is revolutionizing the agricultural world
Horizons
A true market leader in irrigation management systems, Hortau has come a long way since its humble beginnings in Lévis. Enjoying a presence across North America today, the innovative Quebec company offers eco-friendly solutions that reduce the impact had by agriculture on the environment.
Founded in 2002 by Jean Caron, PhD in soil physics, and Jocelyn Boudreau, agricultural engineer, Hortau is a company that is at the forefront of the technological revolution in the agricultural world. Their innovative approach is centred on the "Internet of things"[1]. The company offers software that transmits data in real time and ensures a reduction in water and energy consumption. The data collected by intelligent systems allows farmers to detect plant stress and prevent dryness. The irrigation systems adapt to the soil tension to create an environment that is optimal for growth. What is Hortau's mission? To simplify the lives of farmers.
Discover also: The Internet of things: connected in Quebec
International positioning
The Lévis company landed its first contracts in California in 2007.  Jocelyn Boudreau considers the addition of these US clients as a major milestone in the company's history. "It was our first step into the international market, it took us away from our local base. It is our biggest success to date. We had to mobilize many resources in order to develop this market. When thinking about exporting, do not scatter efforts, but rather focus on a specific area. "
Today, Hortau is present throughout the Western Plains (Nebraska, Colorado, Kansas, Texas), in northwestern United States bordering the Pacific (Oregon, Washington), Quebec, the Maritimes, Ontario, British Columbia and a few farms in eastern United States (Massachusetts, North Carolina).
Investing in technology
Web, mobile technology, the Internet of things, automation of data acquisition: innovation is at the heart of Hortau. As a result, in order to stay competitive, Hortau had to invest heavily in technology.
Several rounds of funding were organized to secure investments. January 2013 yielded $3.5 million from Avrio Capital; at the time it was a second investment in 14 months. In 2016, Hortau obtained $14 million from various sources such as Canadian and US venture capital funds, as well as Quebec financial institutions.
"As a technology company, we must seek external funding, often in venture capital."
Jocelyn Boudreau
These funds have enabled Hortau to accelerate its expansions into other markets in the United States by establishing an office in San Luis Obispo, California.
At the forefront of its industry
In 2016, the Quebec company was included on Global Cleantech's 100 companies to watch. Hortau started a trend in an industry already going through major operational shifts. The agricultural market is relying more heavily on digital solutions. Today, farm management has become more systematic and focused on software data.
Jocelyn Boudreau affirms that "Hortau was exploring the Internet of things well before it was trending. Today, we talk about the Internet of things as the fourth industrial revolution. In technology, there is a risk in being too early; it is necessary that the market understand and be receptive to the product. There is no point in going to market too quickly. It's all a matter of timing."

Hortau in Numbers
70:

number of employees

750:

number of customers

50%: sales growth in 2015
 
Want to learn more?
Visit Hortau's website 
 
1The internet of things represents the exchange of information between objects from the real world to render them proactive and able to improve our everyday lives.