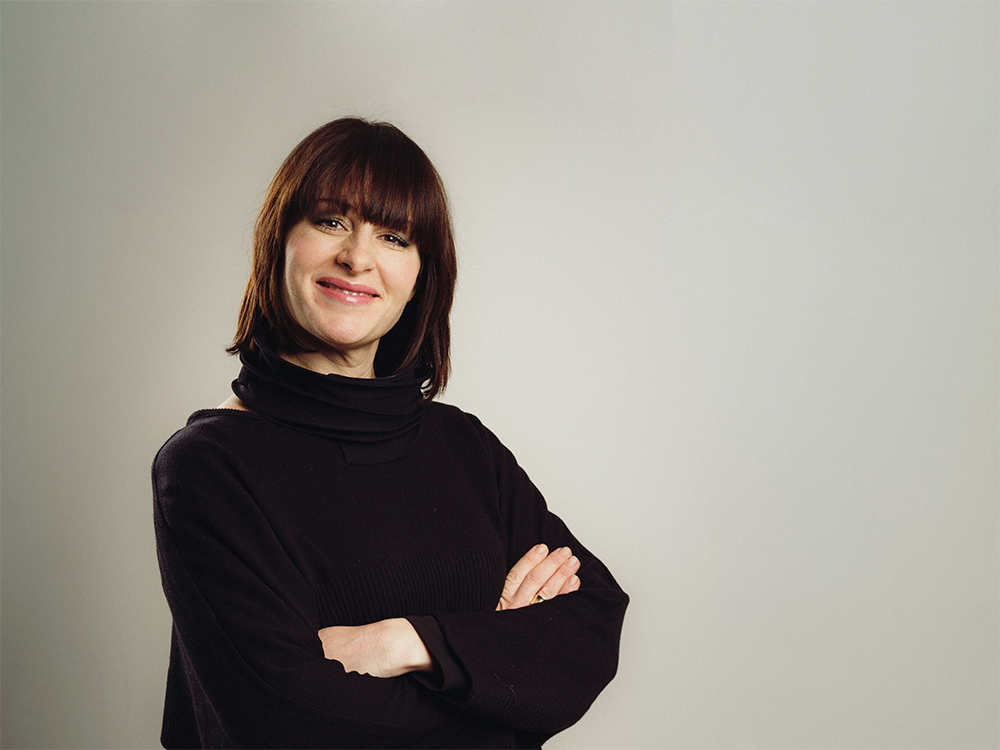 Baril: Growth on tap
Marie-Ève Baril's Story
Every day after school, Marie-Ève Baril and her brother would join their parents working at the family faucet-making business, founded in 1986. While some secondary students have no idea what career they want later in life, Marie-Ève, who has been Baril's president since 2009, had never even asked herself the question—she always knew that one day she would own her own business.
After spending their entire childhood working at the family business, Marie-Ève Baril and her brother both went on to study business administration.
Following their father's death, their professional careers accelerated more quickly than they had planned.
"After I finished school, my mom received a buyout offer and she wondered if she should sell or not, since she had started feeling like she had less energy," explains Marie-Ève. "Even though it wasn't part of our career plans to start working there immediately after school, that's what we decided to do."
Sharpening their skills
In the beginning, Marie-Ève would travel back and forth between Montreal, where she was studying, and Trois-Rivières, where Baril was initially based. Her first position at the company was as a travelling salesperson.
This is when she first learned the importance of customer relationships, specifically understanding customer needs and the possibility of changing aspects of the company in order to better satisfy them. "That was how I developed my whole idea of where I wanted to take Baril," she emphasizes.
Learning the basics of the trade happened gradually. Owing to certain posts being vacant, she was able to explore all aspects of the company, such as customer service and operations management, as well as sales, marketing and development. "The only department I never worked in was accounting," she says. "That experience helps me understand the reality of people working in those areas from my position today as president, even though I'm not an expert in any of them and I surround myself with competent people."
During those years of learning, her brother handled all the technical aspects. "He's a bit like our own Professor Cuthbert Calculus: When he was a kid, he would take motors apart and create little universes out of Lego," she relates. "He quickly turned his attention to our product, particularly our after-sales service and research into solutions to improve our offering."
Ensuring a smooth transition
The succession process started in 2008. "We found ourselves in a period when competition had increased, and so we had changes that we wanted to bring to the company to adapt it," explains Marie-Ève. "But at the same time, my mom had become less inclined to take risks and had gotten to a point in her life where she wanted to do other things."
It was the ideal moment to revamp the company. Marie-Ève and her brother sought out guidance for a two-year period to ensure the success of the takeover, including psychometric testing, value and ability analyses for each of the siblings and some reflection on their vision for the company.
In 2010, they bought out the company from their mother with the idea of growing Baril and taking the company to a new level.
Reviewing the company's services structure was one of the first projects towards bringing their vision to life, since it involved ensuring their team would be able to manage an increase in sales.
Fundamental work on repositioning the brand was also undertaken.
"We had really positioned ourselves as manufacturers and not as a mix of distributors and integrators. We have our own designers and engineers and we design our products—that needed to be communicated externally."
Marie-Ève Baril
The company evolved from being Distribution JL Baril at its very beginning, to JL Baril, then finally to just Baril in 2012, which coincided with the opening of an office in Montreal. Located on Saint-Laurent Boulevard, the office included a showroom for professionals. The design, marketing and sales teams are located there, while the Trois-Rivières office consolidates all the company's operations, logistics and customer services.
Many investments were necessary for the revamp, particularly in its sales force and establishing a customer relationship management (CRM) tool.
Refocusing in order to grow
What enabled Baril to stand out from the competition from the beginning was its desire to offer well-designed, quality products to consumers through retailers that specialized in plumbing.
"Over the years, we added a new construction niche through wholesalers and distributors, then later a big-box store niche," explains the president.
While sales have progressed in all three niches, the big box market was abandoned because it did not align with the company's positioning.
Effort was instead invested into increasing Baril's presence at Quebec retailers. In 2017, the company launched in the American market. "We have a major advantage," explains the president, "since our style has always been very European and contemporary and that trend is becoming increasingly popular there."
The company's development in both Quebec and the U.S. has enabled it to double its revenue. Baril will attempt to pull off the same increase in revenue by the end of the next four years.
"Our goal in the short and medium term is to assume leadership in the Quebec market amongst our preferred partners and to break even more deeply into new markets," states Marie-Ève.
Baril in Numbers
2: Number of times their revenue has doubled since Marie-Ève Baril and her brother took over the company
50: Total number of employees
50: Number of new products offered by Baril each year
WANT TO LEARN MORE?
Visit Baril's website