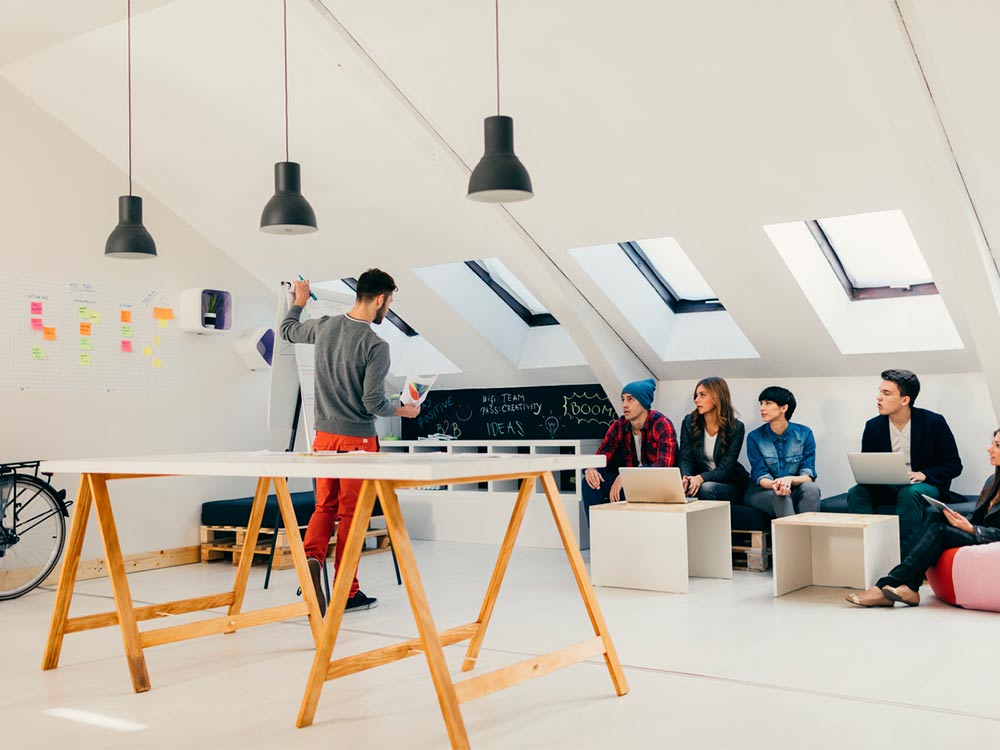 Enactus: A social entrepreneurship student network
Horizons
Launched in 2013, Enactus Concordia gathers together teams of dedicated students who are passionate about entrepreneurial projects that create social, economic or environmental benefits. 
At a time when many large companies are launching projects with a social bent, the need to arm the next generation of entrepreneurs with the training and tools they need to innovate in this sector has become crucial. This has led to social entrepreneurship sprouting up in the university environment through various specializations (sustainable development, ecological responsibility, etc.) as well as student associations. We all need to start thinking differently—on long-term goals rather than short-term financial gains—and it needs to happen sooner rather than later, so that a culture of social entrepreneurship can take root amongst future generations of businesspeople 
Discover also : B Corp certification: Responsible entrepreneurship
Enactus and student social entrepreneurship
To encourage social entrepreneurship amongst students, international networks of universities were created in order to offer pedagogical training and respond to the concerns of future business leaders.
A non-profit organization founded in the U.S. in 1975, Enactus maintains a presence in 36 countries by creating collaborations between economic entities and college or university groups. Every year, students create three or four projects that combine business goals with social effects. In Canada, Enactus has a presence on 69 campuses, including the five universities in Quebec (Bishop's, Concordia, McGill, Laval and Sherbrooke). 
Enactus Concordia benefits the Montreal community just as much as it does the students involved. Seventy-five percent of students polled at the university participate in social entrepreneurship in order to develop entrepreneurial qualities that will come in handy later in their careers.
Reasons for engagement
When she joined the John Molson School of Business at Concordia University in 2015, Christina Drimaropoulos was looking for a way to give direction to her student experience by combining her educational ambitions with social aspirations.
Getting involved with Enactus has allowed Christina, and many other future leaders, to develop a social conscience while contributing to economically viable entrepreneurial projects.
Student entrepreneurship and social benefit
Every year, students contribute to a group project involving around 15 people. In 2016, Enactus Concordia created four projects in different domains: Nü offered ethical, ecologically responsible clothing; E-Vision helped Syrian refugees with their education; PEELE promoted the importance of saving energy; and Foster fought against food waste.
 "The social development of a society happens through business. Entrepreneurs are first and foremost facilitators of social progress."
– Christina Drimaropoulos, President of Enactus Concordia
Christina points out the effectiveness of these initiatives: "Take for example E-Vision, which we created last year for women. We offered participants courses in literacy and entrepreneurship in three languages, Arab, English and French. We received a lot of feedback from these women who decided to continue with entrepreneurial projects, which they had been prevented from pursuing for their entire lives. These are the kinds of small victories that keep us going."
In a Canada-wide contest, E-Vision also won this year's award for Best Project in the RBC's new immigrant awards. 
In 2017, Enactus launched four projects to help Montreal artists, Syrian refugees and other people in need.
The social entrepreneurship World Cup
Each year, Enactus holds its very own World Cup, a kind of celebration of student social entrepreneurship. A group of ten Concordia students travelled to the 2016 edition in Toronto in order to participate and represent their school along with 10,000 other international student participants.
"You present your project in front of hundreds of juries. You can also check out all the other projects coming from places around the world. The goal is to break out of your particular silo and learn about what your Indian or German colleagues are working on."
Christina believes Enactus's activities will increase in coming years and hopes her own association can attract even more people and extend its reach—in her view, student social entrepreneurship has bright years ahead in Quebec.
During the 2016–2017 school year, 586 businesses were launched by Enactus Canada nationwide, involving more than 3,300 students across the country and employing close to 2,000 people. Encouraged by academic counsellors and experts in the business world, the student leaders of Enactus Canada create and establish community-minded business projects amongst groups across Canada. Worldwide, close to 2 million people are affected each year by these student initiatives. 
Enactus Concordia in Numbers
500: the number of Concordia students who have participated in Enactus Concordia projects since the group was founded in 2013
$13,000: Enactus Concordia's annual budget
10,000: the number of people affected by Enactus Concordia's projects since its creation
Want to learn more?
Visit the Enactus Concordia website