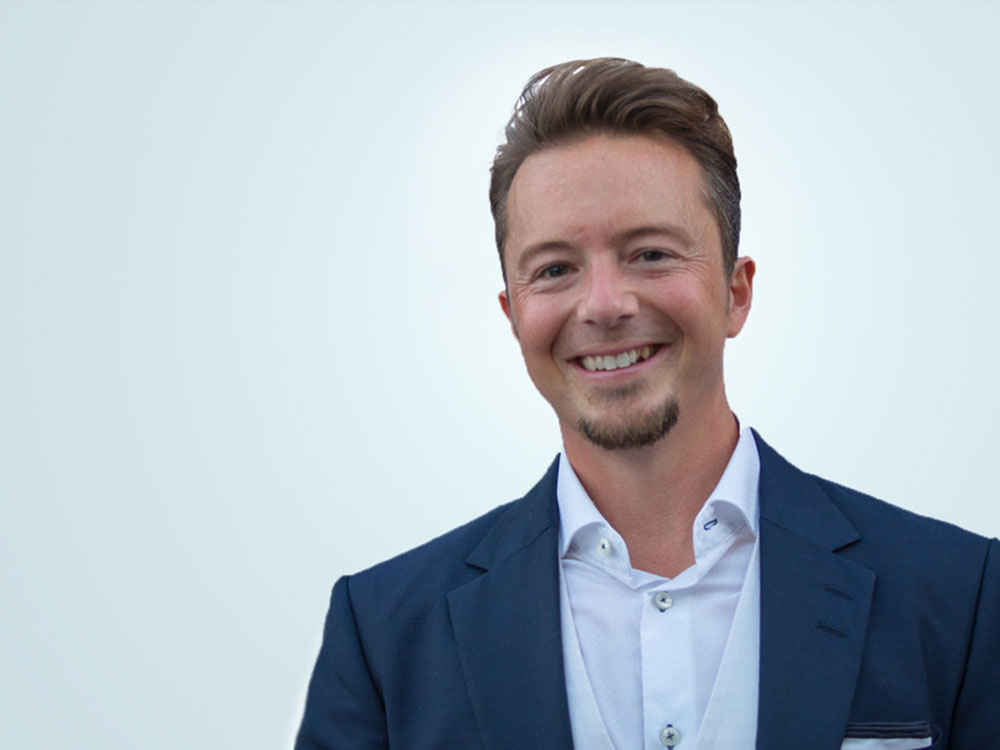 Xpedigo: A new kind of delivery service
Jordan Arshinoff Foss's Words of Wisdom
Jordan Arshinoff Foss is a co-founder of Xpedigo, a delivery company that has integrated the sharing economy and artificial intelligence into its business model. He and his partner have created their own software to ensure the efficient delivery of parcels to their recipients.
An entrepreneur since forever
I've always dreamt about owning my own business. The day my little sister celebrated her third birthday, I set up a kiosk selling wooden swords I had made myself. They cost 10 cents each. My only regret that day was running out of stock because I had sold them all. That experience was all it took. I knew what I wanted to do with my life: be an entrepreneur. I was just five at the time. 
When I was 19, I started working for Contenants Industriels Ltd., my family's business, founded in 1916. I represented the fifth generation of our family in the industrial packaging industry. I had the opportunity to explore the various departments that contribute to running a business. When the company was sold in 2007, I found a job in the same sector. I quickly moved up the ladder from sales rep to sales director, then on to becoming the general manager of a distribution centre and a manufacturing company.
Throughout my career, I've worked for bosses who were looking for employees with an entrepreneurial spirit. Under their direction, I turned myself into an intrapreneur. But in 2015, everything changed. When the group I was working for was sold off, I felt like the moment had come for me to start my own business. All I needed was the right idea…
An ordinary conversation
The idea of creating Xpedigo came out of a conversation I had with my brother-in-law Paul about an especially negative delivery experience. We wondered why the parcel delivery industry wasn't taking advantage of technology that was available at the time. As an entrepreneur who was passionate about information technology, Paul was also looking for a new challenge. We realized right away that we had just found the idea I was looking for. 
After we each did a bit of research, we determined that there was definitely an existing problem that needed a solution: We needed to tackle the last mile of delivery, meaning the last step in the distribution process that connected the retailer and the consumer. We decided we would resolve that problem. That's how, in November 2016, Xpedigo was launched. 
Our vision was to offer a white glove delivery service to retailers and consumers using the sharing economy and artificial intelligence. 
From concept to prototype to the first delivery
We started by developing a prototype—a series of screens that were interactive, but which in reality were simply images created with a drawing tool. We polled around 300 people in order to verify the relevance of our idea and the simplicity of our process. Once we were convinced we had a good prototype, we launched the Xpedigo mobile app V0.1. 
We sought out our first customers and spent a lot of time understanding exactly what they were looking for in terms of the experience and service. We spent 18 months developing our interfaces as well as Xpedigo's artificial intelligence.
In fact, when I say "customers," I mean our expediters as well as our delivery partners. These two groups with very different needs must be perfectly in sync to enable the execution of our service offering.
Xpedigo's reinvented delivery
Our door-to-door delivery service is available on demand every day and within a maximum window of four hours. We deliver anything that fits inside a car. 
The more our transactional volume increases, the more the algorithmic calculations complexify. We quickly realized we needed to add an AI component to our system to allocate our parcels to our delivery partners and optimize our delivery routes in real time. That's how the AIDA (Artificial Intelligent Dispatch Algorithm) component was created. AIDA always has the last word. She's the one who decides who the packages need to be given to and when. 
We serve clients of all sizes. Through our free mobile app and web platform, we can respond to the needs of individuals and SMEs in Montreal. Our programmable API also enables us to fulfill the needs of large retailers. 
Green delivery options
At Xpedigo, we take the environment seriously. By 2020, we'll offer a range of green options to our customers. We're exploring two avenues: integrating a fleet of electric vehicles and launching an electric bike delivery option for our downtown Montreal clients.
Plus, thanks to our optimization algorithms and our small vehicle–based model, we reduce the amount of traffic by lowering the number of trucks on downtown's main arteries, we well as by reducing the amount of carbon released into the atmosphere. 
Growth and expansion
We currently serve the Greater Montreal region. It's a perfect geographic area for testing and refining our algorithms.
We have over 85 delivery partners and 175 clients. The Xpedigo team is composed of enthusiastic people, including two co-founders, a main programmer, a beginning programmer, two coordinators and a director of operations. 
We expect to expand Xpedigo's activities to other Quebec cities by the end of 2019 and we're aiming to reach Toronto by 2020. 
A business adventure
From wooden swords to my ambition to revolutionize the delivery industry, the basic principles that guide my activities are the same: to offer a product or service that answers a need and to do the best I can. 
But entrepreneurship is far from being a solitary pursuit. An entrepreneur's success depends basically on the quality of the network supporting them, both professional and personal.
When I step back and see our devoted and passionate team, where everyone is aiming at achieving the same objective and sharing the same vision, I feel proud and get an indescribable sense of accomplishment! 
Despite the obstacles and the need to always get outside your comfort zone, becoming an entrepreneur is without doubt the adventure of a lifetime.
 
WANT TO LEARN MORE?