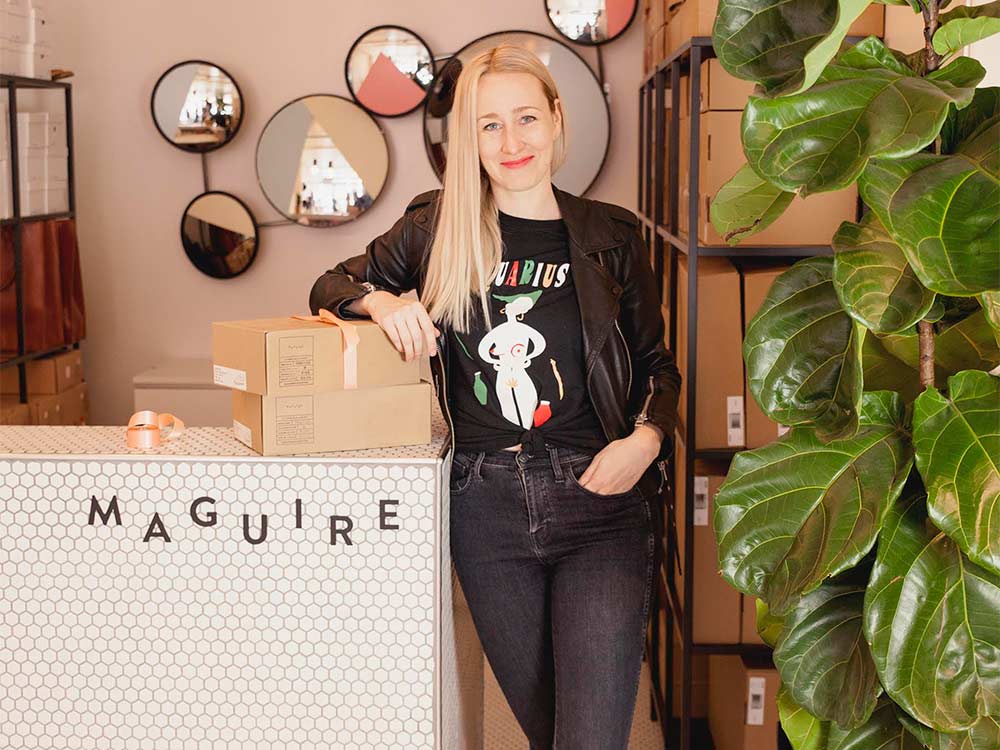 Maguire: Making high-end shoes accessible
Myriam Belzile-Maguire's Words of Wisdom
Shoe designer Myriam Belzile-Maguire is the founder of Maguire Boutique, launched in the spring of 2017.
You could say I've followed a very straight path. While some entrepreneurs experience many chaotic twists and turns in their career, that hasn't been my experience. Every decision I've made over the last 20 years (I'm 33!) has been towards the goal of becoming a shoe designer, ideally for my own brand. First I studied industrial design at Université de Montréal, then I discovered Cordwainers College in London, one of the only shoe design programs in the world (for which I'm still paying off my student loans).
After my studies and against all expectations, I was selected for a one-year scholarship at Fabrica, United Colors of Benetton's research centre in Italy. I then decided to return to Quebec to work for Aldo, one of the biggest shoe companies in the world. This was the best training in terms of learning professional shoe design. It also connects to the advice I give all young people who want to start a business: Go and work in the domain you want to start your business in. If I had launched my company after graduating from school, my entrepreneurial trajectory would definitely have been longer and tougher. Working in the industry allowed me to develop a clear vision of my business and to launch my first collection quickly, and without (too much) stress.
Challenge the standard business model
When I left Aldo to start my own company, it was clear that I would not be trying to compete with my former employer. I wanted to do something different. I found the traditional business model to be overwhelming, since it requires a lot of investment right from the beginning, international shows, agents, distributors and, above all, boutiques and/or resellers who dictate the price of your goods. I didn't like the idea of sales where in the end no one buys at full price. It's a vicious circle that inflates sale prices and in which the consumer just doesn't know anymore what the true value of a product is.
I just wanted to design high-quality products without compromising and to be able to determine the true price right from the start. By working in the industry, I also realized that the cost of products and sale prices were often very far removed from each other. I wanted to make high-end shoes, but with as few intermediaries as possible and while limiting costs in order to offer the best product at the best price all year long. No Boxing Day or Black Friday deals. That's how our "Affordable luxury" concept was born.
Transparency as an ally
As a foundation for my business, I also wanted to present people with a behind-the-scenes view of the shoe trade, since it's not a very well-known sector. I try to bring transparency to everything I do every day so that my clients can better understand all the work behind producing a pair of shoes, but also the elements to consider in their purchases, whether relating to design, material, provenance or price.
We're not only highly transparent regarding our production costs—we also choose each manufacturer with care and share as much information as possible about our production. Last year we created partnerships with seven manufacturers based in Italy, Canada, Ethiopia, China and, soon, Portugal. I personally visited each manufacturer in order to ensure the conditions were right and the owners shared the same vision as we did: a retail business that was more transparent and fair for everyone.
I was also inspired by other emerging direct-to-consumer businesses like Everlane, M Gemi and even Linjer in the States. When I tried ordering through their site, I realized that after you factor in the exchange rate, customs and shipping it wasn't worth it. We saw an opportunity there to become Canadian leaders, since we still have too little choice in Canada.
Women in business
Strangely, it is still mostly men who are in the leadership positions in the shoe business. Plus all the manufacturers I work with are headed by men. I believe women need to have a bigger presence in the shoe sector, especially in shoes for women. That seems like an obvious idea, but it's not often applied! When I make a product, I think about a lot of details, like what you can wear the shoe with, whether the heel is too high, if the shoe is comfortable for more than two hours, etc. On the flip side, I'm now starting to make shoes for men for the first time and I really need advice from my male friends to understand their reality. Proof that we all need a variety of people to make up a team.
Visit the Maguire Boutique website
Photo credits: Naomie Tremblay