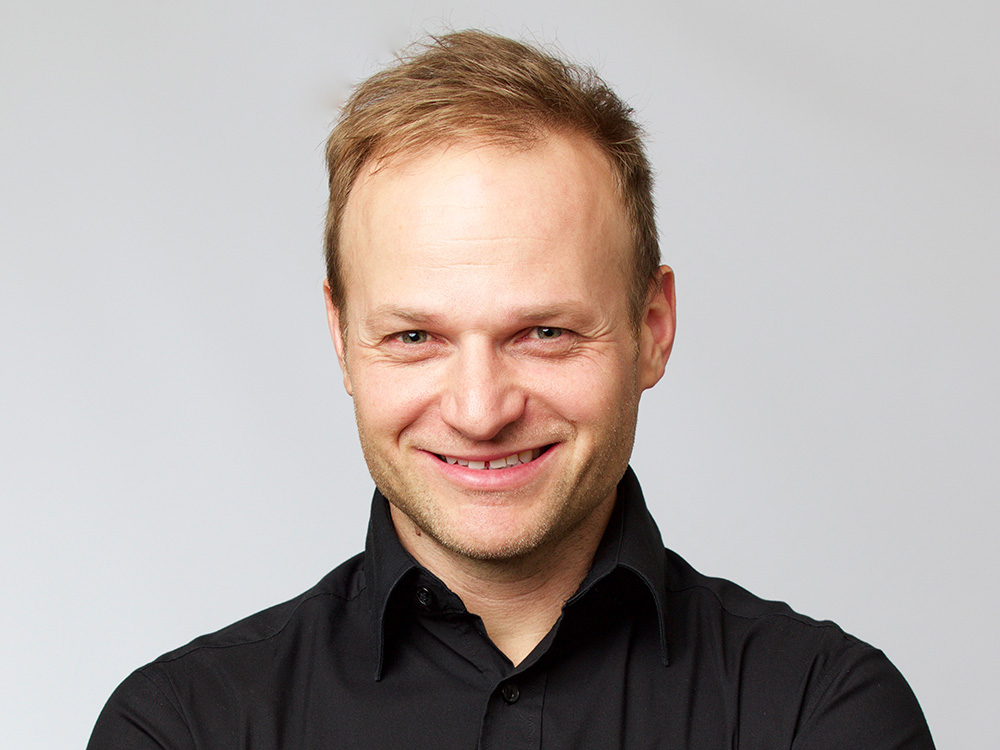 Squeeze Studio: Animating growth
Denis Doré's Story
Squeeze Studio was founded by two video game veterans, Denis Doré and Patrick Beaulieu, who had a shared desire to launch a high-end animation studio. Today the Quebec company is a leader in animation and a good example of how to achieve international success with original Quebec-made content.
The adventure began over coffee in November of 2011, when the two co-founders met to discuss future projects. The idea of launching a studio producing locally created animation arose early in the conversation, which made sense considering Beaulieu specialized in illustration and Doré in production and conceptualization. They quickly agreed that Squeeze Studio would be oriented towards a very specific niche market: 3D character animation. "Our entire vision for the company was to stay focused on this one direction," explains Doré. When they announced the launch of the studio, the pair's former employer, Ubisoft, immediately asked them for help with a project. Two months after the launch and with their first contract in hand, the co-founders set up in a small apartment in Quebec City working alongside their first five employees.
From ads to films
At the start, Squeeze Studio worked mainly on advertising and trailers for video games. Then their projects grew in size. While today the studio still offers animation services for all kinds of content, films and TV series are their star products.
The shift toward working on TV series began in 2014, when the co-founders felt that their team was mature enough to start developing the company's first original work. The founders knew nothing about television, but what they did know was that they wanted to create a product that would be exportable. So they did their homework, attended the international content market at Cannes to see how things were done, took some notes and came back home to get to work. The following year they produced Cracké, their first original film, starring an ostrich father and his hatchlings. The acclaim was immediate, and thus Squeeze's production department was born. Since the, Cracké has been shown in 210 countries around the world—a significant feat when you consider that the studio handled its own distribution.
The secret to Squeeze's success lies in part in its co-founders' experience in video games, which allowed them to have a clear idea of what goes into making a high-quality piece of animation. Doré also emphasizes the importance of the support they received from certain key people they sought out, who participated in the development of the product. But more than anything, the co-founders relied on their own strengths to stand out in the market. "We don't have the same budget as Disney. So how could we provide the same high-quality look? By being smart and working on what was within our control: the creative narrative framework. We focused on a central figure and a fairly simple background, with everything being able to evolve depending on budgets."
Team strength
In 2017, Squeeze Studio doubled in size in expectation of future growth. The offices didn't remain empty for long, since the team grew at the start of 2018 to 108 people, 35 of which were located in the company's new offices in Montreal.
Conscious of the fact that artists form the heart of the company, the co-founders put a lot of emphasis on the quality of their team and in taking pride in locally created products. Squeeze also works to ensure employee permanence and retention, which greatly contributes to the quality of the company's products according to Doré. As for recruiting, although it's not always an easy task, Squeeze is viewed as an attractive employer because of its very specific niche.
"What we want to build in Quebec is knowledge about international marketing. We always thought that our long-term value would reside in retaining our intellectual property."
Denis Doré
 In order to find the best talent and ensure continuity, Doré and Beaulieu even established a school (a project which has been on ice for the past two years due to a lack of time), called Les Popettes. Composed of small groups of five handpicked participants, this program allows promising young professionals to receive accelerated training so they can then go out and become ambassadors for our culture.
Following major investments made in the company's infrastructure, Doré states that he would like to see the company continue with balanced growth. "We've reached the plateau we were aiming for, where our structure and number of employees are well matched. Next year, we can start optimizing our teams, which we were never able to do before because we were managing our growth."
But 2018 will be far from calm, since the studio will be launching its latest original creation while working on five new productions and keeping an eye on the possibility of getting involved in games and granting licences for its work. Which is good, because calm is not Doré's cup of tea—what he likes is freedom. "Getting up every morning and realizing you hold the keys to your own future is pure gold."
Squeeze Studio in Numbers:
108: Number of employees
210: Number of countries in which Cracké has been shown
WANT TO LEARN MORE?
Visit Squeeze Studio's website