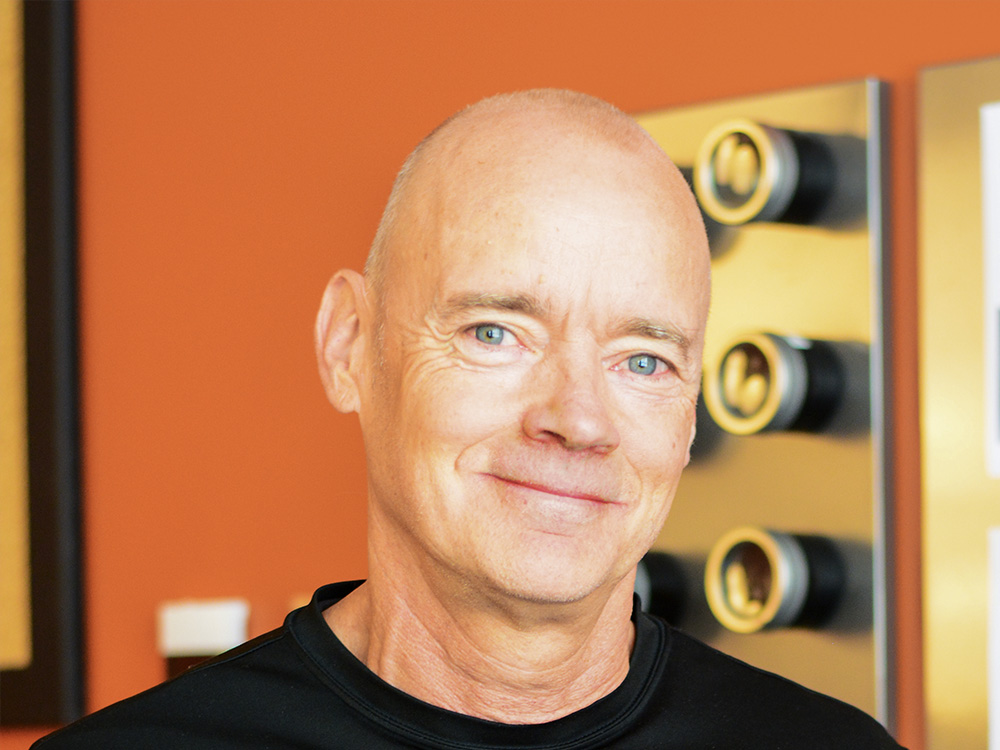 Sinopé Technologies: Innovation as the driver of entrepreneurship
François Houde's Story
"Good things always come in threes" as the saying goes. Sinopé Technologies is the third company founded by François Houde, and as with his two previous businesses, the entrepreneur and mountain climbing aficionado has once again successfully reached the summit of his goals. 
After his studies in applied sciences, Houde taught courses at a Cegep for three years in electronics and computerized systems, a field he excelled in.
"I noticed a few needs not being fulfilled in the market and I decided to leave teaching to start my own business in computer manufacturing with a partner," he explains.
Over time and following a number of changes in his life, particularly the birth of his children, his vision and that of his partner were no longer in sync, especially when it came to work-life balance, so he decided to leave the company.
"At the time I was living in Sainte-Thérèse and I was looking for a programmable thermostat for my baseboard heaters, which I noticed didn't exist," he says.
The thermostat therefore became another business project, called Aube Technologies, which established itself as a flagship Quebec company whose products were sold in 14 countries around the world.
After all the effort expended to position the company at the forefront of the sector, Houde decided to sell at the age of 45, while his children were at university, in order to devote more time to mountain-climbing, another of his big passions.
When the appeal of entrepreneurship is too strong
The break didn't last for long. After five years, former Aube clients got in touch to convince him to start another business. He ended up giving in and created Sinopé Technologies in 2010.
"I didn't want to make just a thermostat, but to take things further and make it a connected device with other functionalities," confirms the founder. "We were the first to put such a device on the market for electric heating."
His intuition paid off: Being able to remotely control thermostats opened the door to a multitude of other markets, such as those of electric distribution companies (New Brunswick Power, BC Hydro), who could control load capacity through the use of this equipment.
Today, Sinopé Technologies is also involved in power and home automation controllers through its platform, Neviweb.
Doing business to innovate
For Houde, innovation is at the core of his desire to be an entrepreneur.
"I don't pay myself a salary at Sinopé Technologies, first because I don't need it after selling my other companies, but also because I'm a fan of technology and being able to keep on developing tech is what motivates me," he admits.
Today the company is developing thermostats and related products. While Sinopé was initially financed for its first thirty-odd months through the development and sale of basic thermostats, from now on its developments will by supported through Sinopé's platform, Neviweb, which enables the management of connected objects.
Connected objects offer a range of applications to which it's possible to add functionality. For example, remote control for heating could be supplemented with a sensor to prevent water leaks and flooding, gauges for propane tanks, etc.
Today Sinopé Technologies offers around fifty products. "As soon as the engineering team develops one, it gets right back into developing another," states Houde.
Since certain products are aimed at very specific niches, such as water leak management for condo towers, the company hopes to revamp its structure to create satellite companies for some of those niches, so that it can provide a clearer offering to those looking for specialists in a specific domain.
Around 50 percent of the company's profits are invested in research and development. Furthermore, out of the fifty or so employees it currently has, around thirty-five are involved in product development.
"Everything is done internally: the idea put down on paper by our team of industrial designers, which is composed entirely of women, the plastic injection moulding, the integrated software, the electronic design for certification, the web environment and the computer graphics."
The production line was also developed by Sinopé, but assembly is completed in China.
There's no secret to growth
Sinopé Technologies has a head office and development centre in Saint-Jean-sur-Richelieu, but also satellite offices in Quebec City, Vancouver and, soon, Toronto.
Throughout his entire career as an entrepreneur, Houde has never asked for funding.
"A lot of start-ups launch their business by relying on external capital," Houde states. "Since the money is coming from somewhere else, they don't always think about commercialization and profitability from the beginning, but it's possible to be profitable from the first year if you plan it right."
In his case it's a proven method: Sinopé Technologies has experienced an annual growth rate of 25 to 30 percent of its revenue and plans to multiply this figure in the coming years.
A new range of products was recently launched for American consumers, however the recent tariff imposed by the U.S. government on Chinese imports has led the company to postpone the venture. Sinopé is currently developing a second production line in the Philippines which might contribute to resolving this impasse at the start of this year.
While its products are aimed at the North American market for the time being, due to their electronic nature, Houde is not excluding the possibility of adapting them to European standards. Many related products also continue to be added to the Neviweb platform.
In terms of the company's future direction, the founder has no intention to sell. In fact he's already thinking about who will take over after him. "When the time comes, I'll quietly withdraw from its activities, but I plan to keep a presence one week out of every month to contribute to the company's strategic direction and new product development."
Sinopé Technologies in Numbers
50: Percentage of profit invested in research and development
50: Number of employees
25: Annual growth percentage since 2011
WANT TO LEARN MORE?
Visit Sinopé's website