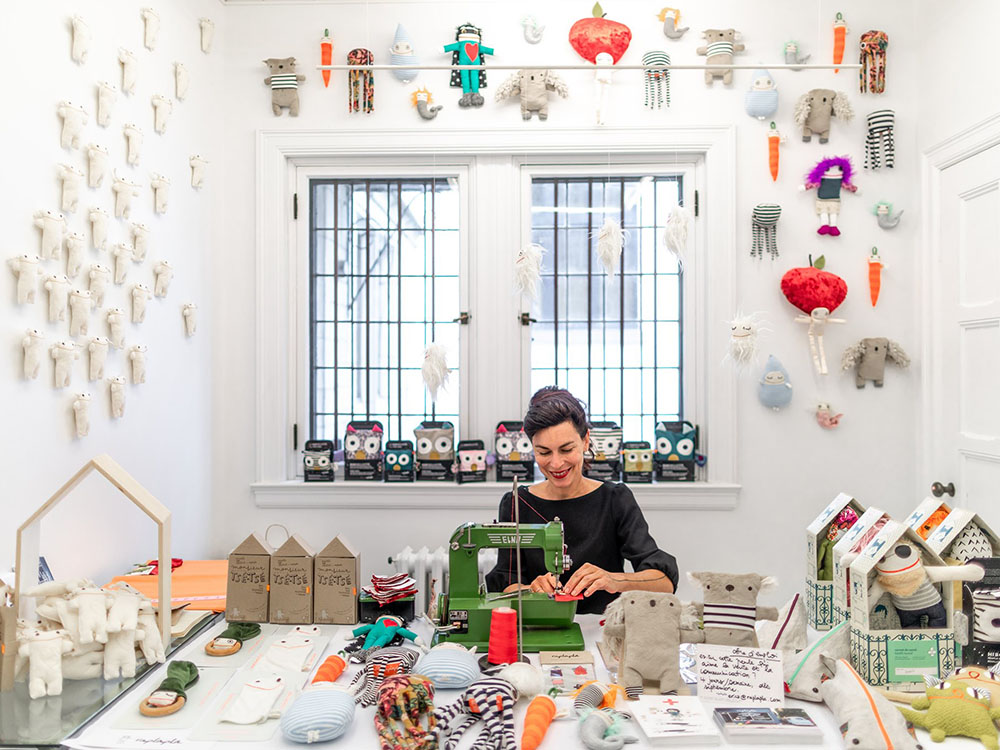 Raplapla: Making a place for yourself in the heart of the community
Érica Perrot's Story
Friday, November 22, 2019
Raplapla is a venture Érica Perrot began 14 years ago in her kitchen, one that has since given birth to many little stuffed friends. It's also the story of a company making beautiful products at its own pace and growing up right alongside its cute little customers.
In 2005 during a transitional period in her professional career, Érica Perrot used her training in fashion design to make her first creation out of some old cloth for one of her children—a doll named Églantine. A big hit with her two daughters, this doll was followed by another, and another… And thus Raplapla was born.
Right away, the young maker participated in the SOUK@SAT show (renamed SOUK MTL in 2018), which enabled her to introduce her creations to a wider public. This was followed by a grant from SAJE and an internship to enable the company to take form.
Business at a slow pace
The idea behind Raplapla, which has driven all its decisions from the very beginning, is to create objects that are both durable (and therefore repairable) and cherished, both by the children receiving them and the hands that produced them. This means producing locally with great attention paid to product quality, the quality of life of workers in the supply chain and the importance of making objects that will outlast changing fashions.
"Today, there's a real movement towards more responsible consumption, but for the past 14 years we haven't talked much about the idea of creating under fair conditions, or the conditions of workers in the toy sector. I wanted to offer an alternative regarding the quality of materials and the appearance of toys. I wanted to make things that were a bit different, that were a bit odd."
Érica Perrot
At the start, only the founder worked in the business along with her sewing machine. Most of her creations were made out of remnants of material provided by local creators, given that for those creators, the remnants had low value compared to the time it would take to turn them into finished goods. But Perrot quickly realized that while working with remnants was a challenge, it wasn't worthwhile. So she began working with rolls of new fabric, but rethought her designs in order to optimize her cutting and keep waste material to a minimum.
"Slowly but surely we became more aware through dealing with questions of waste and of food production, but also about the production of objects," explains Perrot. "There's a real trend towards consuming less, but consuming better. Our customers aren't necessarily rich, but they choose what they consume carefully."
A business model that takes root
The first four years were the company's most difficult in the new entrepreneur's opinion, both in terms of making a name for itself as well as in putting together a viable financing model.
But one thing led to another and soon Perrot was able to surround herself with a team of four people, while also finding a trendy location on Villeneuve Street which enabled her to open a store in 2009.
In addition to what it produces on site, close to half of the company's revenue comes from wholesaling their most popular models, which are produced in part by a team of subcontractors (local, of course). Recently Raplapla has started trying its hand at online sales, a venue which is slowly but surely picking up steam.
A hospital for dolls
While Raplapla may not do a whole lot of traditional marketing, they do talk quite a bit about their ideas. The best example of this is probably their ragdoll hospital initiative, which began in 2015.
This hospital, a service offered in the physical store, gives roughly treated toys a chance at a second life thanks to some attentive repair work. The idea came from requests by loyal customers who not only wanted their Raplapla dolls to be repaired, but also other types of toys. "We repaired our own toys at the beginning because it was part of our idea of supporting local production, but we realized that the ability to mend stuffed toys was a skill that was kind of lost. So we brought it back to life." In 2014, the opening of their hospital for rag dolls was announced and quickly brought the boutique good visibility, with some people paying a visit simply to see it in action. Today the service receives several cases every day, some coming from as far away as the opposite end of the country, and even the other side of the Atlantic. What was basically a community service has become a kind of marketing tool, as has the store itself, which has had quite a bit of media attention.
Quality before quantity
The company founded by Érica Perrot is doing well today. In addition to the products it sells, Raplapla offers a range of activities and workshops through their Montreal location and is also working on new collaborations.
For the future, Perrot's goals will remain faithful to her longstanding mission: to increase online sales and consolidate her achievements in order to continue to ensure good working conditions for everyone involved in the Raplapla venture, as well as to find the right balance between fair prices and quality of life. For her part, the entrepreneur will continue working increasingly with local fabric. She will also lead other entrepreneurial projects, such as Marché Nënë, a fair aimed at children and families (she was also previously a partner at Dinette Nationale, a candy and pastry shop). She will also continue to take advantage of the freedom her entrepreneurial life gives her to create a kinder, gentler world, one Raplapla at a time.
Raplapla in Numbers
60: Number of Raplapla products (approximately)
4: People on the Raplapla team
9: Number of beds available in the ragdoll hospital
WANT TO LEARN MORE?
Visit Raplapla's website
Photo: Katya Koioukhova