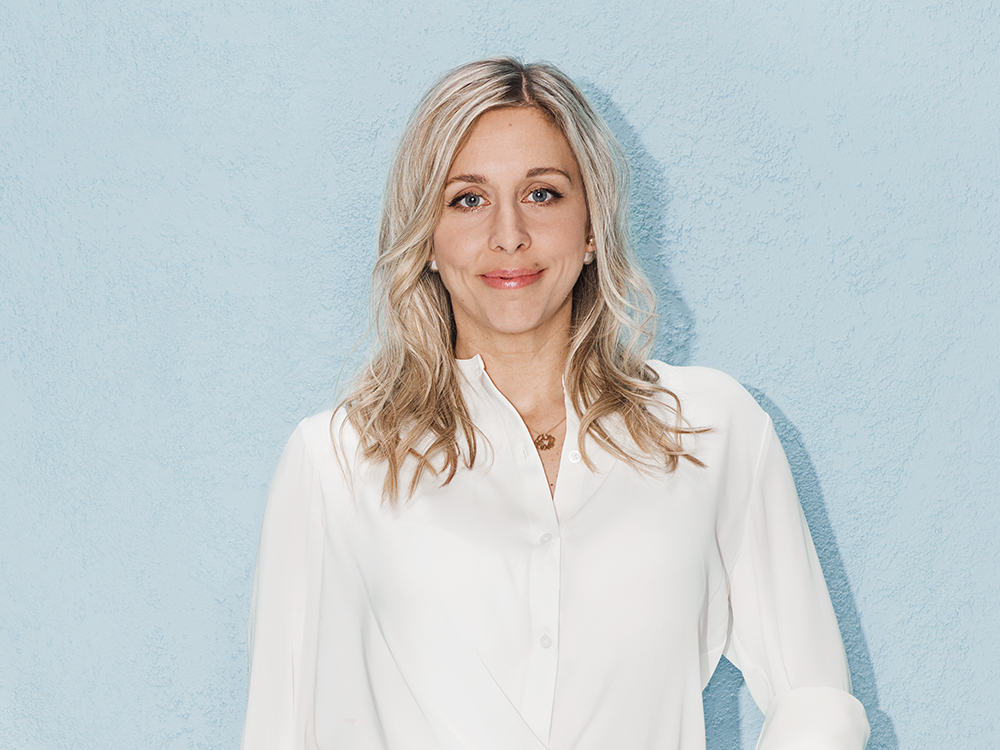 Management that is constantly evolving
Marie-Pier St-Hilaire's Story
Even as a child, Marie-Pier St-Hilaire was always a rallying force. Her career journey was driven by her abundant energy and optimism. She never hesitated to seize opportunities as they came, and is now the head of a flourishing business, AFI Expertise. Take a closer look at a Quebec entrepreneur who has created her own success and continues to strive for better!
Entrepreneurship is a part of Marie-Pier St-Hilaire's DNA. At the age of 10, she hired her brother to distribute Le Soleil, a local newspaper, throughout their neighbourhood in Quebec City.

As if that is not enough, she is the mother to three children, a half-marathon runner and seasoned golf player, with an impressive track record. She was even listed in the prestigious top 40 Canadians under 40 in 2011.
Business acumen
After graduating in Business Administration at 22, she got a job at AFI Expertise. At the time, the company offered training in computer science and new technologies for businesses in the Quebec City region.

"I joined the company on 10 April 2000 as a Business Development Officer. This marked the beginning of my entrepreneurial adventure. I developed my market and surrounded myself with collaborators. When the opportunities presented themselves, I seized them. And then one day I realized that I was running a business, "she says.

Before the end of her thirties, she had become so comfortable managing the growing responsibilities of an expanding company; she decided to buy the organization. Marie-Pier St-Hilaire sees herself as an opportunist. To her, it is not a dirty word when it comes to entrepreneurship.  
See also : Rodeo FX: Entrepreneurship with an artistic core
« My business idea was nothing extraordinary when you think about it. I was teaching people how to use "bold" in Word documents! But I knew how to commercialize it and evolve it. »
Her advice to young aspiring entrepreneurs is that it is important to first confirm that an idea is economically viable. It needs to answer three fundamental questions: Does it solve a problem? Is there a market? Is it simple to implement?
Marie-Pier St-Hilaire also knows that it is necessary know your market inside out and develop your network. Entrepreneurs need to meet with and respect their customers as if they were partners. Finally, you have to trust your gut. "I made mistakes because I did not listen to that little voice inside me. Today, my I think of my intuition as my 6th sense, "she adds.
Credibility and tenacity
When AFI became a medium-sized company, a dilemma arose. While many in Marie-Pier St-Hilaire's position would have abandoned and sold the organization, she chose to reinvent it instead.

Her time at Harvard between 2010 and 2012 opened her eyes to her need to develop her management and leadership skills. "For us women, the major challenge is earning credibility. In the consulting, training and technology fields, the firm is strongly associated with its leader. It is important to stand strong and be tenacious. "

When discussing AFI's future, the Quebec entrepreneur's ambition and passion is palpable. She sais she wants to be a leader in the field of training, but remains aware that you can't be the best at everything. "Remaining a private company, accelerating growth with foreign investment, while retaining control: that's what I want for AFI in the coming years. " She aims to achieve 50 million in revenue within five years by continuing to grow their business offering while seizing the opportunities that come their way!
AFI in Numbers:
17:

the number of years AFI Expertise has been in operation

17:

million Canadian dollars in revenue

150:

employees

100:

collaborators