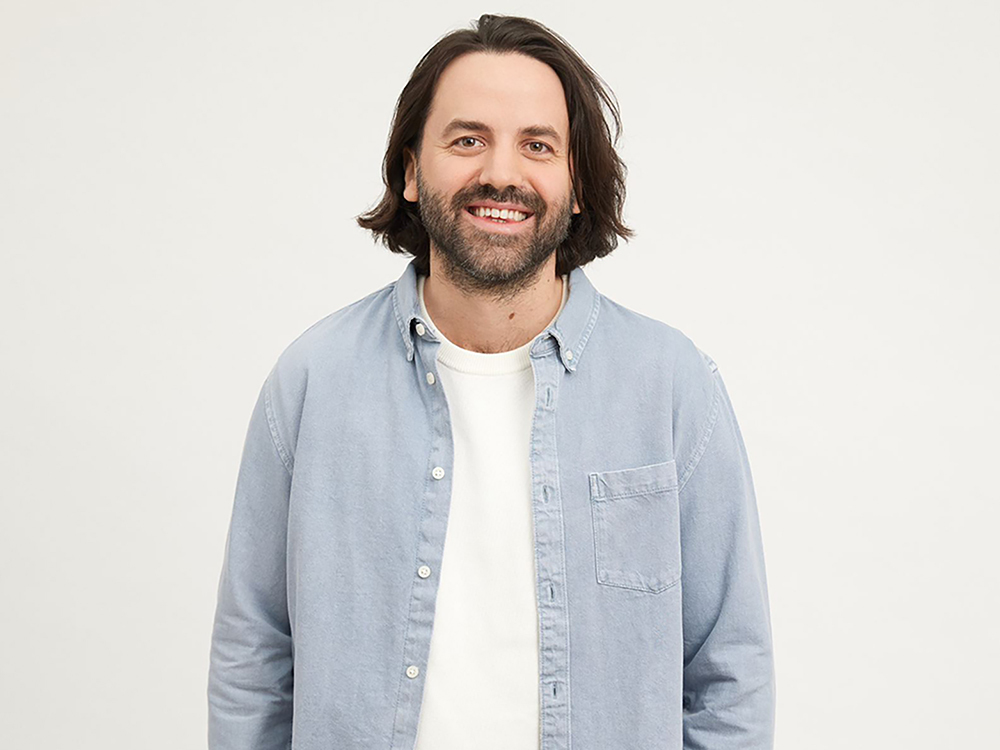 GSoft: Successfully Gearing Toward a Fully Remote Business
Simon De Baene's Story
Wednesday, November 2, 2022
Created by Simon de Baene and his two partners, GSoft has been at the forefront of software innovation since 2006 by catering to the needs of those who work a 9 to 5. In 2020, the COVID-19 pandemic disrupted our conventional workplaces and shed a new light on the relevance of GSoft's offer at the dawn of a new era.
"We have become the clients for our own products. We are the best guinea pigs to try out and develop better, more innovative software products." ShareGate, Officevibe and their latest addition, Softstart, are central to the company's desire to design a portfolio of products that cater to every level of the employee experience.
16 YEARS IN THE MAKING
Simon was attending the École de technologie supérieur (ÉTS) when he and his friend Guillaume Roy decided to set aside their books and become entrepreneurs. "University was boring me. I couldn't imagine spending three years of my life there." At 20 years old, the two software engineering students and their friend Sébastien Leduc set out to revolutionize the techno startup industry. Sixteen years later, with over 100M$ in revenue, we can say that their gamble has been more than successful! Simon believes GSoft's next challenge is to reinvent itself.
"How can we make it another sixteen years? How can we maintain such growth with such high—and unexpected—numbers?"
Certainly, the pandemic has strengthened the Montreal-based company's positioning in the employee experience software industry. GSoft has even grown during this period, which is quite exceptional after 16 years in business. "Our flagship products have become even more popular." To innovate, it is likely that the company will rely on complementary products, such as Softstart and a new software that will be released in late 2022 or early 2023.
SOFTWARE TO SOFTEN EMPLOYEE ONBOARDING
Launched in 2021, Softstart is a platform that specializes in the onboarding and integration of new hires. With the rise of remote work, this important step of any new employee's journey has been completely transformed. "In the past, we were greeted on a Monday morning at the office with a few handshakes. Today, we spend our first days at a new job in the comfort of our home." GSoft put its money on this insight and created a software that helps companies build more structured and engaging onboarding plans. Softstart gives new hires a sense of direction and autonomy as they explore all the facets of their new organization. "With today's retention rate, employers can't afford to take six months to onboard new talents when they might leave the company after twelve months."
"Our platform truly addresses the challenges of hybrid or remote work, which is increasingly the reality for many organizations."
Simon isn't a stranger to this reality. COVID-19 pushed GSoft to make a complete shift from a workplace-centered business to a fully remote team. Three months before the start of the pandemic, he was ready to cut the ribbon on a brand new office in which his company had invested millions of dollars after two to three years of work. "The pandemic forced us to take our office out of the equation. We had been putting too much emphasis on this physical space that was, in reality, superficial to our work." In August 2020, GSoft announced its permanent shift to remote work, which enables the company to recruit across the country. From British Columbia to Prince Edward Island, from cities like Calgary, Winnipeg, Ottawa, Toronto and Quebec City, GSoft has been able to attract talent it could have never worked with otherwise.
LOOKING FORWARD AND CHOOSING YOUR TEAM
In the face of such a hard, unexpected blow, Simon could have tried to justify this investment despite the profound changes that were shaking our economy. "It's what we call the sunk cost fallacy." This concept refers to our tendency to pursue a project we've already invested time, effort and money in, regardless of whether its costs exceed its benefits. To avoid falling into this trap, the entrepreneur chose not to wait for the pandemic to end before switching to remote business and forgetting about the office that had been built. "You have to accept your loss and look forward. Our work culture has been completely transformed. We are more efficient and we have a better quality of life."
To better manage his company's growth, Simon also made the decision two years ago to hire a general manager, Martin Gourdeau, who took over many of the responsibilities he had assumed since the start of GSoft and beyond. "It is easy to neglect reaching for the right help. Getting the support you need at different stages in your business's growth. It's something I haven't done enough and would advise entrepreneurs to do."
A FEW FIGURES
365 employees
~20,000 organizations use GSoft software products
US$100M in revenue
100+ countries in which GSoft software products are used
LEARN MORE
Browse GSoft's website to learn more about their software products that facilitate hybrid and remote businesses.