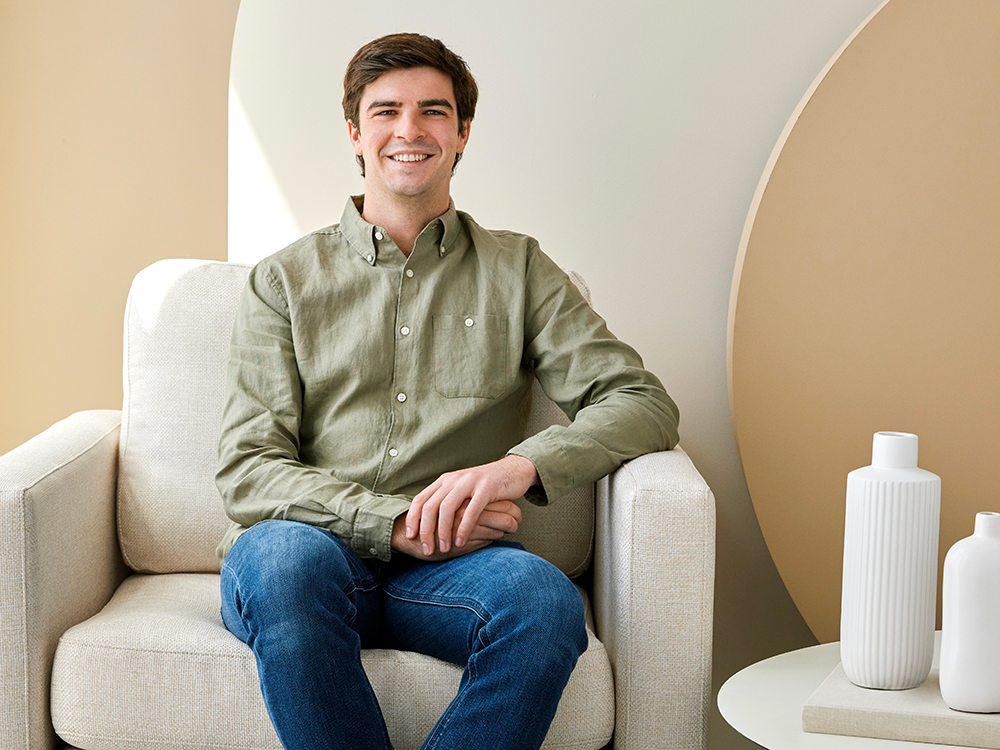 Cozey: Sofa in a Box
Frédéric Aubé's Story
Friday, November 25, 2022
Frédéric Aubé, CEO and founder of Cozey, had big ambitions for his company: to transform the furniture industry across Canada. And to achieve this, he had to find a way to deliver sofas in boxes.
An avid field hockey fan, Frédéric thought he was destined for a career on the ice, but his passion for the field of finance led him on a different path. He went on to study finance and economics at McGill University. While working for Tonus Capital, a firm investing in Canadian and American companies, he realized the ingenuity behind some of them and dreamed of having his own.
EASING FURNITURE DELIVERY
The entrepreneur quickly realized that in Canada, there were very few (if any) furniture companies offering a simple delivery experience, while guaranteeing a quality product at a good price. He noticed that in the United States, Europe and Australia, many furniture companies used a boxed delivery system. He was confident that he could implement this technique in Canada. As his father was the owner of a furniture company, he understood the market and had the necessary contacts to make it happen.
And why start with couches? The answer to that question is simple: it was the biggest challenge. A sofa is a bulky piece of furniture, and one of the most expensive. "When you think of a bad furniture delivery experience, it's often related to sofas," explains Frédéric.
"I figured if Cozey started with couches and it worked, all the other furniture in the house could be delivered."
After 18 months of research and development, a modular couch in four colors that is delivered quickly and free of charge was launched on the Cozey website. It requires no tools and is easy to assemble. Frederic guarantees it, especially since he is, in his words, "not a very handy person."
PROVIDE COMFORT TO CUSTOMERS, STAFF AND THE COMMUNITY
Cozey is a brand that focuses on comfort and Frédéric knows that not everyone can afford it. From the very beginning of the company, it was clear that community involvement was going to be a big part of it. Partnerships were formed with organizations such as the Old Brewery Mission, and later with Le Chaînon and the Furniture Bank in Toronto. Since Cozey's inception, between 600 and 700 couches have been donated.
"To build a company for the long term, society must be in good shape for the long term as well."
The company is always looking for new ways to help and get involved. This matters to employees, as they "feel that they are not just selling couches, they are also working to make a difference in their community." Frederic emphasizes the importance of a corporate culture where people feel heard and comfortable sharing their ideas. In fact, it was an employee initiative that led to the sofa refurbishment program. It is possible for consumers to try a couch for a period of 30 days. If the product is not suitable, it is taken back free of charge by the company and refurbished. Then, it is either donated to a charity organization or put on sale at a discount on the website. This way, it is ensured that "every Cozey finds its home!" This keeps couches out of the landfill and reduces the company's environmental footprint.
When Frédéric thinks about the future, he has the ecological footprint of his business in mind. Nook, another brand launched by the entrepreneur, puts forward the same principle of modular furniture as Cozey, but it is manufactured entirely in Canada. The materials are of high quality and the products are guaranteed for life.
PUT MORE FURNITURE IN BOXES
The entrepreneur seems to have a lot of ideas for upcoming years. In addition to working on the development of Nook, he wants to grow Cozey to the maximum with the support of his partner, Dominic Létourneau. "The name of the company is Cozey, not Cozey Sofa or Cozey Canada, so our goal is really to expand our products," says Frédéric.
Recently, the company has added tables and accessories to its offering. Gradually, other home furnishings will become part of Cozey's inventory. However, three key elements will remain unchanged throughout the different products: convenience, elegance and affordability.
LEARN MORE
Visit Cozey's website to learn more about its modular couches and home furnishings.