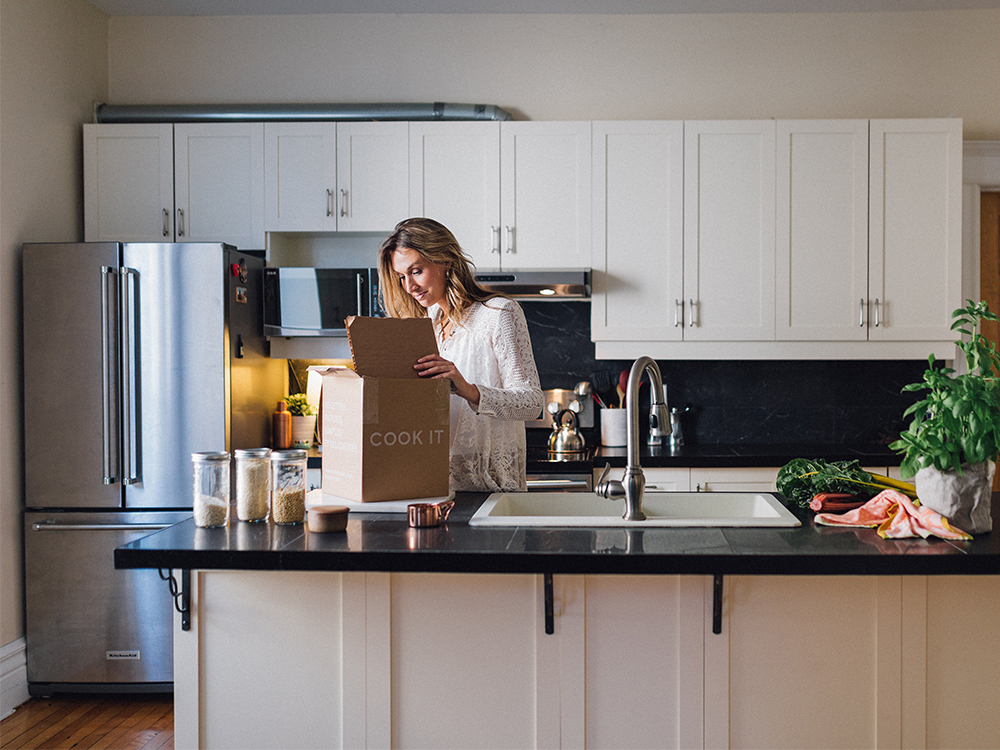 Cook It: Leading the ready-to-cook trend
Judith Fetzer's story
Thursday, January 19, 2017
The moment she heard about ready-to-cook meals, Judith Fetzer fell for the idea completely and decided to bring the concept to Quebec. More than two years after the launch of Cook It, the company offers its services to more than 80% of Quebec and Ontario residences via ready-to-cook meal kits.
Some entrepreneurs start a business without a business plan. Others go overboard on the planning stage. Judith Fetzer was definitely in the latter category.
«I made 28 different business plans before falling hard for Cook It," she recalls. "I always knew I would go into business, but I was waiting for just the right idea.»
Judith Fetzer
Watching the trends 
Judith first heard about ready-to-cook meal kits around 2010 during a conversation with a friend. The young 30-something learned that having ready-to-cook meals delivered right to your door via an online business, recipe cards included, had been a common service already available in Europe for around a decade.
Discover also : The FoodRoom: A collaborative kitchen for culinary artisans
"Over there, buying food online accounted for 6 to 10 percent of the industry's revenue. In the States, where there are more than 250 ready-to-cook businesses, it's more around 3 percent. In Canada, on the other hand, we're at less than 1 percent," confirms Fetzer, who holds a bachelor's degree in business administration from the Université du Québec à Montréal. Sensing a hot concept, Fetzer started developing Cook It in 2013, first asking for a leave of absence from her employer, then finally quitting her job in order to work full-time on the idea. It's a decision she has never regretted. During the same period she met her romantic and business partner, with whom she founded Cook It in 2014.

Beginnings are never easy. Inspired by the intelligent use of e-commerce by brands such as Frank + Oak, Cook It focused its efforts on young people by offering them their online service à la carte. Still, the company's growth was slow until a subscription formula was put in place. "We started out using a trial-and-error method, as start-ups usually do," explains Fetzer.

In May of 2016, Cook It headed off in a new direction by targeting families. By analyzing its sales, the company realized this new market segment was on the rise. "Young professional mothers would rather spend more time at the office or their youngest child's game instead of wandering grocery store aisles or exhaustively searching through recipe sites to figure out what to make for dinner. As a mother of three kids, that was a reality I knew something about," Fetzer admits.
 
A piece of a bigger pie
While Cook It was the only business of its kind in the category when it first launched, today competition is stiff. But the market is not yet at its saturation point, believes Fetzer. "I'm convinced there's room for more players since it's highly likely the market will continue to grow in the coming years. Saving time, the educational value, reduction of waste—these are all arguments in our favour."

The gradual arrival of online grocery shopping doesn't worry her. "The supermarket business model is not adapted to e-commerce or the needs of consumers. They have way too much square footage to monetize to make it worth the effort. On the other hand, ready-to-cook services, like Cook It, are focused on the needs of consumers and on what we are able to offer them," she explains.

In the short and mid-term, Cook It is not looking to enlarge its coverage, which already includes 80% of Quebec and Ontario residences. But in the long term, the company aims to break further into anglophone markets. "Those markets are three times more receptive to e-commerce than Quebec," she asserts.
 
Cook It in Numbers
25,000: Number of meals delivered each month (480 per week and 300,000 per year)
1,000: Number of subscribers
$8.75: Cost of a meal in Canadian dollars
$1.5 M: Sales revenue
18: Number of employees
Want to learn more?
Visit the Cook It website