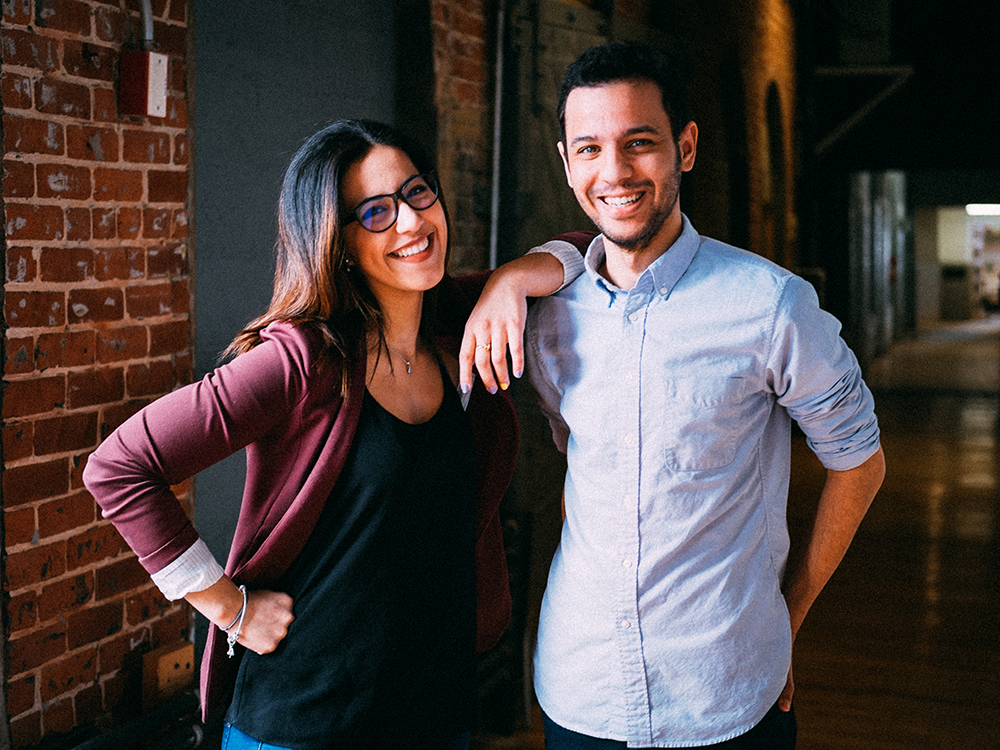 BRIDGR: Building bridges
Amira Boutouchent's Story
BRIDGR's co-founders, Amira Boutouchent and Mehdi Drissi, took up the challenge of driving the industrial sector's digital and technological revolution by offering a customized service to pair its needs with the right resources. Thus was born the company's web platform offering solutions involving artificial intelligence and bringing together consultants, experts and suppliers.
Amira Boutouchent, the co-founder and CEO of BRIDGR, is a computer engineer with an educational background in management. During her master's program, her research led her to develop an interest in the industrial sector, which in turn led to an idea for a future business project based on the huge gap that existed between what today's technology is able to accomplish and what is actually used in industry, particularly in Quebec.
Concept
Based on this observation, the entrepreneur and her co-founder tried to conceive of a system that would enable manufacturers to not only understand what technology could offer them, but what specifically it could help them with and how it could be implemented. Thus was launched a constantly evolving reflection on what constitutes a good partnership between suppliers and manufacturers and the ways in which such a relationship could be provided.
The web platform, launched in March of 2016, enables manufacturing and industrial businesses to access advanced expertise and precision technology depending on their specific needs. For example, a given company could ask for its inventory management to be automated and provide a list of its requirements, budget and deadline for completion. Using this information and its platform's parameters, BRIDGR would offer a solution backed by the appropriate suppliers. The platform then enables project management, tracking and quality control as well as the addition of other requirements as the project progresses.
The company's business model is based on two kinds of clients: manufacturers and suppliers, which may include consultants, equipment suppliers, freelancers, etc.
"We want to help this fairly traditional industry to grow. We aim to support local business and take part in the economy by creating links around the world, which will make everybody's work easier. That's why we called ourselves BRIDGR."
Amira Boutouchent
Resources
At the moment, BRIDGR brings together suppliers based in 22 countries. Why are they so spread out? "Because we go where the experts are," answers Boutouchent. In terms of its clients, the company is involved mainly with manufacturers in Quebec, but also has some clients in France and North Africa.
Using its established framework, BRIDGR aims to become the industrial sector's go-to support solution for accelerating the transition to cutting-edge technology. This shift, though already underway, is happening quite slowly, with only 25 percent of Quebec companies on the road to a technological transformation, according to Boutouchent. But while the market for BRIDGR's services may still be in its infancy, its future is promising. "We're talking about a very traditional industry in which changes will be stretched out over a long period of time," explains Boutouchent. "People talk about Industry 4.0 like it was a new thing, but I don't think that term will still be used in three years. Productivity and competition, to mention just two challenges, will still be an issue and tools will be needed to cope with them."
The company was able to rely on financial support from investors that saw potential in the business. However, Boutouchent remains realistic about the significance of that support, stating that "receiving financing isn't a goal in and of itself, but a way of achieving your objectives."
The promising domain of artificial intelligence in which BRIDGR is evolving is still in its very early stages. According to Boutouchent, although certain highly interesting solutions and applications have been developed, only a few industry leaders and very large companies make use of the potential of these new methods in their activities. "On the ground, we realize how much work still remains to be done. For some companies, trying to manage their stock better means pulling out a pencil and paper. Our work involves profound transformation, this isn't just about installing some software. Many sectors are involved and that's why a solution that enables you to automate the process is valuable."
Involvement
As an entrepreneur, Boutouchent is following the career path that has always felt most natural for her, being involved not just in developing her new company, but in a number of other projects and associations as a creative collaborator. In her view, the freedom to create something she personally believes in is priceless. In addition to working to increase access to technology through her company, she aims to inspire other women to follow in her footsteps. As an ambassador for Femmes en Tech, the entrepreneur claims that since tomorrow's technologies are being developed today, it's important this be accomplished inclusively so that those advances can truly respond to everyone's needs. "As an ambassador, it really excites me to show how technology can lead people to get involved in things they feel passionate about. They enable me to do so many things, to build things with my team and my amazing co-founder."
BRIDGR in Numbers
7: Number of people on the BRIDGR team
22: Number of countries in which BRIDGR's resources are located
WANT TO LEARN MORE?
Visit BRIDGR's website
Pictured (from left to right): Amira Boutouchent and Mehdi Drissi