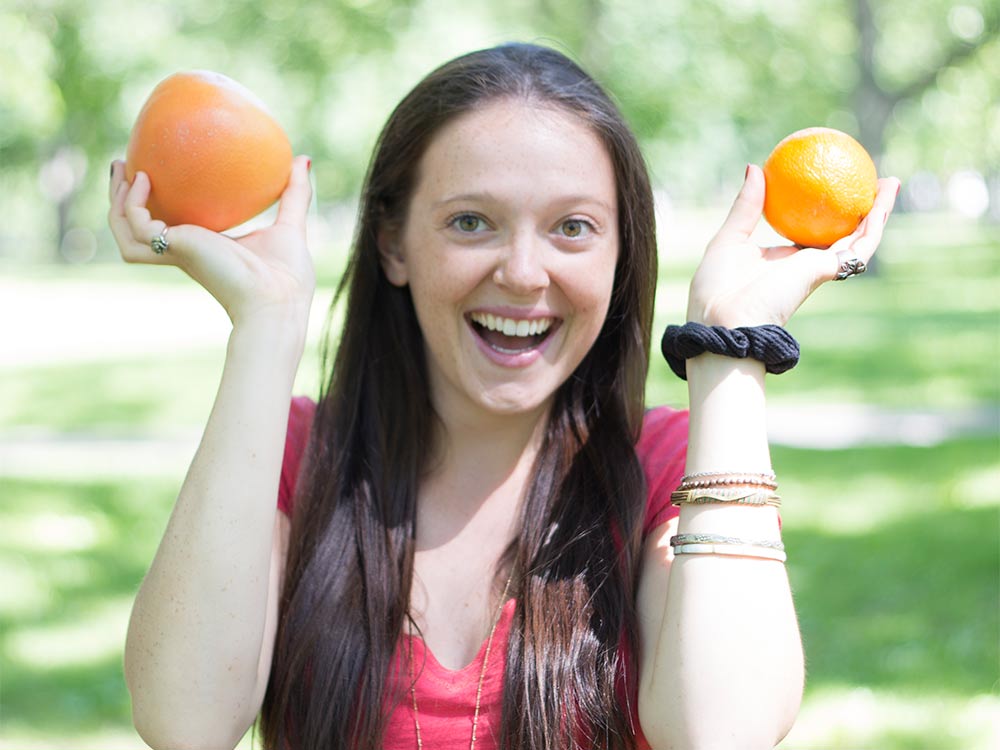 BonApp: a start-up to combat food waste
Anna Chif's Story
Worried about the extent of food waste and its consequences on the planet, Geneviève Rousseau thought of a project to counter the phenomenon during a competition. Almost two years later, the BonApp concept was transformed into a concrete initiative deployed throughout Montreal.
What started off as just a short project turned into a full blown entrepreneurial adventure. In March 2015, Geneviève Rousseau's friend challenged her to sign up for Startup Weekend organized by HEC Montreal's Business Relations Society. The theme of the competition was SmartCity. At the end of a 54-hour marathon, she and her six teammates won the competition with their project Tribe, BonApp's predecessor.
At the center of this very embryonic idea, was a will to establish connections between people who wanted to share their food instead of throwing it out. "We throw away the equivalent of 31 billion dollars of food a year, Geneviève points out. Collectively as consumers, we are responsible for 47% of food waste, which puts us in the driving seat for change. If we represent half of the problem, why don't we propose half of the solution?"
Discover also : Fillactive: Ascending the path to social entrepreneurship
First fridges
Surprised by their unexpected success, Geneviève Rousseau and a programmer from her team pursued the project. In September 2015, an agency offers to support them as an incubator for their start-up business. Thanks to this yearlong association, BonApp was born. Its mission is to provide citizens with a network of refrigerators that enable them to exchange their surplus fruits and vegetables, dairy products and products in sealed containers for free (except meat and cooked dishes).
To finance the first BonApp fridges, Geneviève Rousseau called upon the generosity of the public and set up a crowd-funding campaign in the summer of 2016. In two months, she collected the necessary amount to purchase and install five fridges. The places where she chose to install them, such as the zero waste coffee shop Le 5ième, was not a coincidence.
"Unlike other community fridge concepts, we have privileged secure and supervised places of confidence and placed our refrigerators inside these places. Also, it was important for our partners to share the Bon App values."


-       Geneviève Rousseau
The reaction has been positive since they installed their first fridge on October 25, 2016. "Our partners enthusiastically adhere to the concept. With the limited communication and marketing efforts we have deployed, we consider the experience to be very successful."
The importance of establishing a strong business plan
In the following months, Geneviève Rousseau slowed down the speed in which she was operating in order to study the consumer response to BonApp. Are people using the fridges? How can we improve their experience? From this "pilot phase," she hopes to draw useful lessons that will enable her bring the project to the next level. "We want to make sure it's relevant. We have no desire to install fridges for the pleasure of installing fridges," explains the young social entrepreneur, who also strongly believes that consumer awareness towards food waste needs to continue as well.
Geneviève Rousseau is also concerned about the financial sustainability of BonApp. "Initially, we chose to fund the initiative ourselves, waiting to see what kind of response it would receive – this is where we are at now. In hindsight, however, I realize that it was a mistake to get into this project without a solid business plan," she says.
Should we face the reality that this could be the end?" Not at all! We are convinced that in the next few years, food sharing will become an integral part of our habits. In other words, BonApp will gain relevance over time. There's no way we will give up now!"
BonApp in number:
2: The number of employees
5: The number of interns since the beginning
5: The number of fridges BonApp has installed in Montreal
Want to learn more?
Visit the BonApp website